Rediff.com's A Ganesh Nadar meets up with 10-year-old Praggnanandha -- the world's youngest International Master -- and his elder sister Vaishali -- a woman International Master -- to find out more about about their extraordinary journey.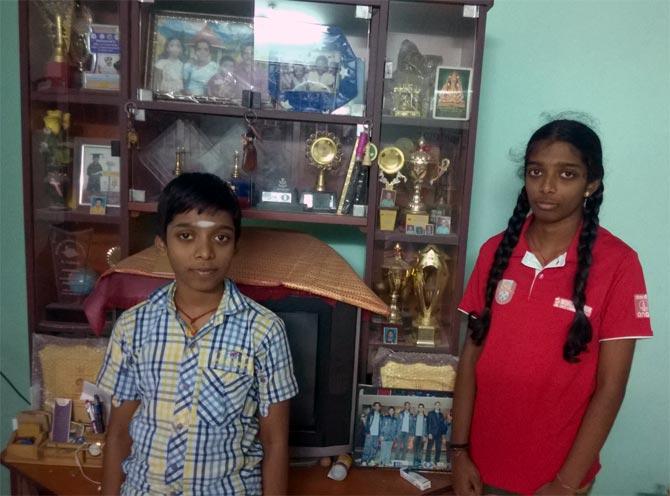 IMAGE: Praggnanandhaa and his sister Vaishali. Photograph: A Ganesh Nadar/Rediff.com
It's a typical middle class neighbourhood in Padi on the outskirts of Chennai.
Rameshbabu is a bank manager while his wife Nagalakshmi is a science graduate. The couple do not play chess.
They live in a simple home with two of the finest young chess players in the country, indeed the world -- their son Praggnanandha and their daughter Vaishali.
A chance glance at a chess school board and a mother's desire to deter her daughter from continuously watching television turned out to be the starting point for two youngsters on the road to international stardom.
Praggnanandha is not yet 11, but has already scaled the International Master ranking in chess.
His elder sister Vaishali, who will appear for her SSC exams this year, is a woman International Master in chess.
It all began when Nagalakshmi thought Vaishali was watching too much television for her age.
One day, on the way back from school, she saw a small board which said 'School of Chess'. She immediately decided to enroll her daughter and also in a drawing school.
'Please learn chess and drawing instead of sitting in front of the TV,' she told the young girl.
Vaishali readily agreed to try out something new as long as it made her mother happy.
It was at this small chess school that the teachers seeing Vaishali's potential told Nagalakshmi, 'This is a school for beginners. Your daughter is very good, please put her in a proper chess academy.'
Following which Vaishali was enrolled in the Thiruvottiyur Chess Academy, which also has a branch in nearby Puthur.
The young girl won every tournament from the under 8 to the under 10 to the under 12 -- soon she was a women's International Master.
Praggnanandha had been watching his sister play chess since he was three. He decided he wanted to play too.
Just like Arjuna became a better archer than his guru Dronacharya, the little boy overtook his sister in achievements.
Praggnanandha is the world's youngest International Master with an ELO rating of 2455.
He is aiming for 2500, which will make him the youngest chess Grandmaster in the world.
And Praggnanandha can do it in the next three games if all goes to plan.
"God willing," his parents say.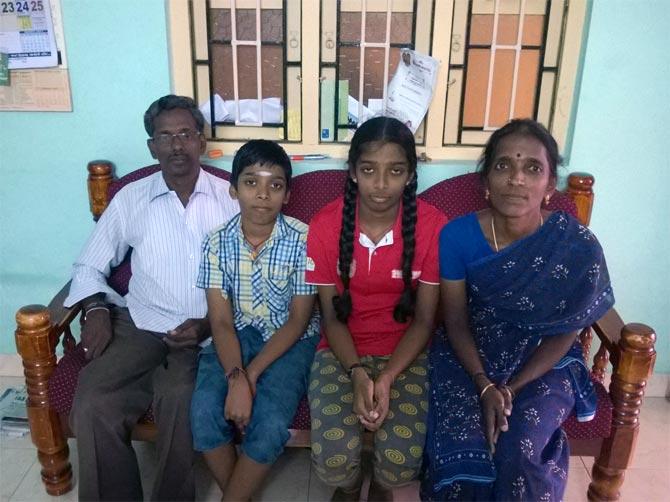 IMAGE: The two chess prodigies with their parents Nagalakshmi and Rameshbabu. Photograph: A Ganesh Nadar/Rediff.com
Praggnanandha will next be seen in action in Moscow on February 19 followed by a tournament in Sharjah on March 22 and in Dubai on April 1.
If he achieves the norm in all three tournaments he will gain membership to the elite club of Grandmasters, home to superstars Like Gary Kasparov, Vishwanathan Anand and Magnus Carlson.
The little boy has invested enormous hard work to get where he has. Praggnanandha devotes most of his time to chess. He attends the chess academy for six hours a day and practices at home on his laptop.
"I love watching the Pogo channel and Chutti TV," he says, reminding us that he is still a child.
Both he and his sister study at the Vellamal Matriculation School in Mogapair.
Chess has made the 10 year old something of a modern day Marco Polo. Praggnanandha has travelled around the world -- to the Czech Republic, Sri Lanka, Slovenia, Iran, Dubai, The Netherlands, Uzbekistan, South Africa, Russia, Greece, Georgia...
"I have been to all the countries that my brother has gone to," says Vaishali, and points out that, "in addition, I have been to Bulgaria, Scotland and Mongolia."
"I too have been to Scotland," chips in Praggnanandha, not to be left out in this game of sibling oneupmanship.
Both children say they don't have many friends in their neighbourhood or at school. "All our friends are from the chess academy," they say.
Vaishali, who started playing chess at the age of 6, is a woman International Master with an ELO rating of 2259. She aims to catch up with her brother after her secondary school certificate exams.
"I have not been able to play for the last three months as it is my SSC exams. I will go back to the circuit once the exams are over," Vaishali says.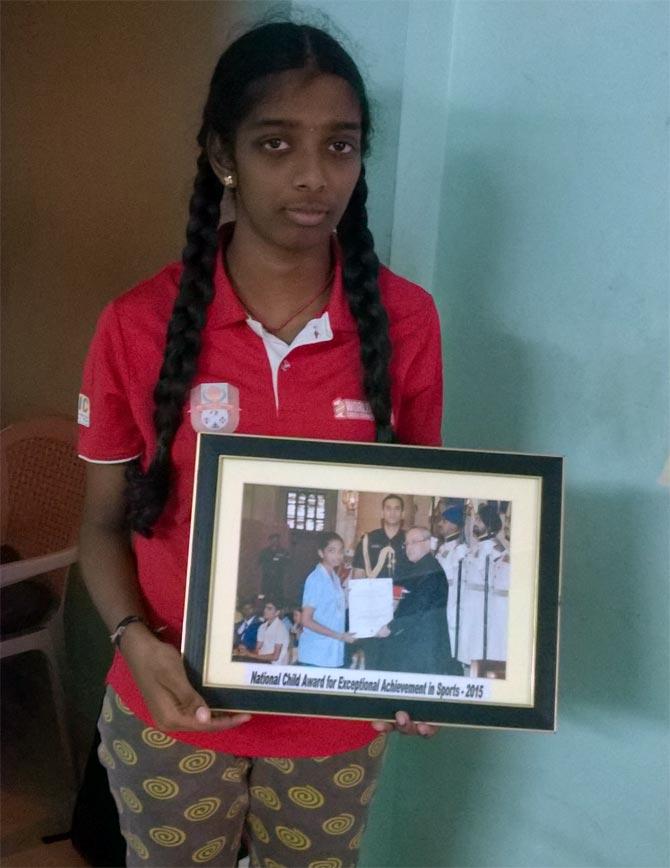 IMAGE: Vaishali with a photograph of her receiving the National Child Award for Exceptional Achievement in Sports - 2015 from President Pranab Mukherjee. Photograph: A Ganesh Nadar/Rediff.com
Praggnanandhaa has won the World Youth Chess Championship Under-8 boys' title in 2013 and the Under-10 boys' title in 2015.
Last year, he became the youngest International Master in history, at the age of 10 years, 10 months, 19 days.
Vaishali is a two-time youth chess champion.
Both children are currently coached by Grandmaster R B Ramesh.
Asked why she named her son Praggnanandhaa, Nagalakshmi reveals: "We are devotees of Kalki Bhagwan. When the kids were born, we wrote to the temple. They sent their names."
Nagalakshmi travels with her children when they play abroad. "I don't know English," she says, "but my kids speak fluent English."
"They are like all kids and fight with each other, but make up immediately. They are at their best when they discuss chess," Nagalakshmi says, her eyes lighting up.
Success sits lightly on Praggnandhaa and Vaishali. Both children are grounded and their parents are humble.
Social media says Praggnandhaa is not getting the recognition he deserves. Surely, all that will change once he become a Grandmaster, and we hope that is very soon.