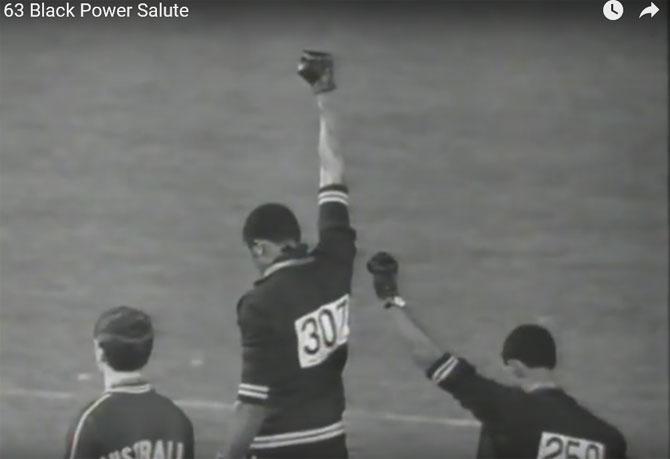 The Australian Olympic Committee on Saturday awarded a posthumous Order of Merit to Peter Norman, a record-holding sprinter who supported two Americans in their famous Black Power salute at the 1968 Mexico Olympics, AFP reported on Saturday.
At the Games Norman split US track stars Tommie Smith and John Carlos to snatch silver in a 20.06 seconds, setting a national record for the 200-metre sprint that still stands after 50 years.
Australian athlete Peter Norman, supported African-American athletes Tommie Smith and John Carlos on the podium as they wore Olympic Project for Human Rights badges during the medal ceremony.
African-American athletes Tommie Smith and John Carlos raised their fists in a 'Black Power' salute, a mark of protest, while the American flag was being raised and the US national anthem was played during the medal ceremony.
Both Americans were suspended from the Games Village, but that gesture brought the civil rights situation in America before the world.
"This is an overdue award there is no doubt. The respect for Peter and his actions is still enormous to this day," AOC President John Coates told the AGM in Sydney on Saturday.
"He believed in human rights throughout his life.
"We lost Peter in 2006 but we should never lose sight of his brave stand that day and further as a five-time national champion, his Australian 200-metres record set in Mexico has never been matched.
"His athletic achievement should never be underestimated."
In 2012, Canberra passed a motion of apology to Norman "for the treatment he received upon his return to Australia, and the failure to fully recognise his inspirational role before his untimely death in 2006".
Australian Olympic officials deny Norman was ever blacklisted or shunned, and was only cautioned at the time to be careful about his public statements.
Coates also awarded Orders of Merit to Olympic greats Raelene Boyle, Cathy Freeman, Shane Gould and Ian Thorpe.
An Order of Merit is awarded to a person who in the opinion of the AOC Executive has achieved remarkable merit in the sporting world, either through personal achievement or contribution to the development of sport.