World indoor shot put champion Vita Pavlysh has been banned for life after testing positive for the anabolic steroid stanozolol for a second time, Ukraine's athletics chiefs said on Tuesday.
Pavlysh, 35, failed the drug test at this year's world indoor championships in Budapest after easily winning her event.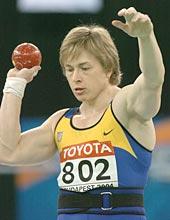 "We have decided to ban her for life because it was her second offence," said a spokesman for the Ukrainian Athletic Federation. "Enough is
enough."
Pavlysh served a two-year ban in 2001 after testing positive for stanozolol at the 1999 world indoor championships in Maebashi, Japan, where she also finished first.
She also won the world indoor title in 1997 and was twice a European champion.
Pavlysh is the second world indoor champion to test positive for stanozolol.
Russia's Anastasiya Kapachinskaya, who won the 200 metres in Budapest, was banned for two years by the country's athletic federation last week.