Pierce heads out of Rome Masters, Hingis on course
Eleanor Preston
French Open champion Mary Pierce tumbled out of the Rome Masters Series event on Tuesday, losing 6-2 6-4 to Russian teenager Nadejda Petrova in the first round.
World number one Martina Hingis made no such mistake, beating Russia's Tatiana Panova 6-2 6-3 in her second round match in the $1.2 million event.
Four-time Rome champion Conchita Martinez joined Hingis in the third round when she beat Janette Husarova 6-2, 6-1.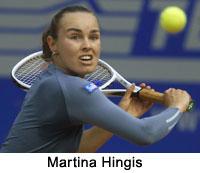 But Pierce's defeat leaves the Frenchwoman desperately short of match practice ahead of the defence of her Roland Garros title.
She heads to Strasbourg next week in the hope of finding form and fitness before the Grand Slam event begins in Paris on 28 May.
"I just have a lot of work to put in," she said. "I only have two weeks to go, so we'll see what happens."
Pierce has been sidelined for much of this year through a series of niggling injuries and she looked slow and out of shape against the powerful 18-year-old.
"I'm healthy right now but it always seems like I'm recovering from something," said the Frenchwoman. "She played really well and she hit some really good shots."
Pierce, seeded 10th, lasted less than an hour against Petrova.
MATCH READY
"I didn't think it would go that quickly," admitted Petrova. "But I was ready for the match.
"I knew Mary didn't play that many tournaments and probably she's not that well physically. I just knew to play my game and move her around."
Hingis, the world number one, wasted little time in beating Panova in straight sets.
"I felt every time I really needed it I was able to step it up and it came out good at the end," she said afterwards.
"I just went for it more compared with other matches when I played in Berlin last week and I feel more confident. I just tried a lot of different things and it was an experimental day a little bit."
On a windy, overcast day in Rome, Pierce was not the only big name to fall. Germany's Anke Huber, seeded ninth, fell 6-2, 6-3 to another Russian teenager, Lina Krasnoroutskaya.
Japan's Ai Sugiyama is also out, beaten 6-4, 6-0 by Italy's Francesca Schiavone while 12-seeded Frenchwoman Sandrine Testud was upset 6-1, 1-6, 6-3 by veteran Italian Silvia Farina Elia.
Former Australian Jelena Dokic made it through to the second round. Dokic, now playing for Yugoslavia and accompanied this week by her controversial father Damir, beat Sweden's Asa Carlsson 6-3, 6-2.
The evening session on Tuesday came to a premature end when Italy's Tathiana Garbin was forced to retire at 4-6, 7-5 in her match against Switzerland's Patty Schnyder. Schnyder plays Dokic in the third round on Wednesday.
Back to top
(c) Copyright 2000 Reuters Limited. All rights reserved. Republication or redistribution of Reuters content, including by framing or similar means, is expressly prohibited without the prior written consent of Reuters. Reuters shall not be liable for any errors or delays in the content, or for any actions taken in reliance thereon.