Lea, and behold!
Rohit Brijnath
We take him for granted sometimes, don't we?
It's bewildering. It's also a trifle belittling.
He does it so often, time after time, on different continents, on varying surfaces, playing this short, tiring David with a ragged slingshot but well enough to keep the myth alive, that it's become a habit for him and routine for us. We don't say 'wow' that loud anymore or race to the airport to welcome him home. We certainly don't stay up nights talking about him.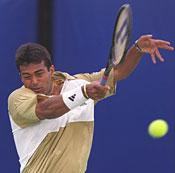 We should. There's nothing routine in what he does.
We're not much when it comes to a stomach for a fight. And when that fight's in a foreign land, when no one in India is watching, and it's just a fight for mere qualification, and money's not at stake, it's easy to say what the heck, who cares. Just lose, become a statistic, a footnote, say the conditions were tough, and it wasn't the best of days, and carry on.
Who'll remember?
He cares. And, he, remembers.
It's what I like best about Leander Paes.
Last week he overcame Japan single-handedly more or less (winning all three matches, but still talked 'team'), and people said, good 'n' ya mate, and he got a slap on the back and it was back to business.
Ten years ago, more or less, says Sanjay Manjrekar, when the Indian returned after a whipping in Australia, he was stunned to find thousands of people at the airport.
When Leander Paes came home from Tokyo the other day, this is what happened. Four photographers were present. Flash bulbs went off. Two strangers turned around to see what the commotion was about. One said, "What's happening?" The other replied, "Oh, they're just some tennis players."
Welcome home, hero.
Forget recognising what he did in Japan, forget being astonished. We should have been moved.
The Davis Cup gives him nothing, certainly no ATP points, and that sends its own message: he plays for us. You and me. And so rarely he, of all India's sportsmen (Tendulkar being the other exception), lets us down. We're not talking one match; we're talking 11 years.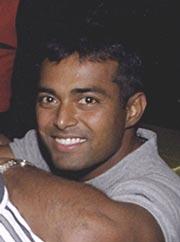 He's one of India's greatest sporting stories. Not because he's some gifted genius, but precisely because he isn't.
He's too short, his technique's awry, he can't hit a rolled backhand, has a forehand like a fire hose out of control, has a serve that Venus Williams might sneer at, and the footwork of a lumberjack trying ballet. Still, in Davis Cup he finds a way.
How? Because he's got a heart bigger than a blue whale's.
He's not 16 anymore, when he made his Davis Cup debut, and played with the energy of a man who seemed connected to his own personal power plant.
Now he's 27. His body creaks, his hairline's receding, his shoulder hurts, his knees complain, his wrist is rebelling, his speed's dying, his fitness is average.
Is it harder, I ask.
"Much harder." he whispers, almost embarrassed..
(So it may be wondered what's the big deal about Japan, or Suzuki; so then it may be said what's the big deal about India or Paes. Asian tennis has improved sizeably, while India is hardly a Davis Cup powerhouse. Both Suzuki and Thailand's Paradorn Srichaphan finished higher on the ATP Champions Race last year than Leander).
And so there he was, against Takao Suzuki, in Japan, the burden of victory on him, entering the fifth hour of the match, 1-3 down in the fifth set.
So what does he think? Does he ever think, forget it, it's too hard?
"No, never, I have too much pride."
So what drives him?
"It's something very personal. It's between me and my country and my beliefs."
Then he goes on.
"In a way it doesn't matter what people think, because I have to live with memory of how I play under my flag. Regardless of the other team's strength and weaknesses, or my own strengths and weaknesses, I have to be the best I can be."
Then he beat Suzuki, in 4 hrs 11 mins.
If there is something corny and cliched to him, there is also something pure and delightfully old-fashioned. It is why the defeated Suzuki's Italian personal coach asked Leander if he could take him for dinner a few weeks later at Monte Carlo. Why, asked Leander. Because it would be an honour to sit and talk with you, said the coach.
Leander Paes knows he is taken for granted, he also knows if he loses it will be said he didn't do it and if he wins it will be said he was supposed to. Sometimes it bothers him, most days it doesn't. He knows too that he's to blame for it, for we expect so much only because he's set his standards for himself so high.
It reminds me of a day, exactly ten years ago, when he was a boy, and had just won the Nationals and Wimbledon Juniors and made his Davis Cup debut, and I asked him what was the best thing about his year.
He told me something I can never forget. Because it wasn't about winning, or a match, or a tournament. But a night at the Britannia Amritraj Tennis academy where he learnt his craft, a night like any other, when he would finish his homework and then practice his strokes in front of a mirror. Except the lights went out, and he could have said forget it and slept, but instead he lit a candle, placed it in front of the mirror, and he did what he always did.
That candle's still there in him. It's smaller, and it's flickering, but the flame still burns.
One day, not too far away, he will quit and it will go out.
And only then will we know how bright his light was.