As soon as he entered his barrack, Rahul noticed a group of seven inmates seated on their mattresses under the television set.
They must be the terrorists, Rahul thought to himself.
He knew that such accused are usually housed in murder barracks, far from jingoistic gangsters, who tend to abuse and attack them.
A fascinating excerpt from Gangster On The Run: The True Story Of A Reformed Criminal.
Illustrations: Dominic Xavier/Rediff.com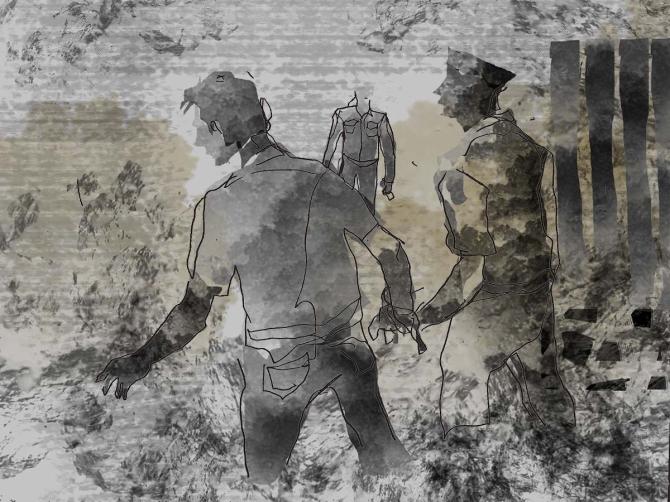 Since his trial was to commence in the MCOCA (Maharashtra Control Of Organised Crime Act) case at the special Mumbai court, Rahul (who was by now a well-known gangster) was transferred to the city's Arthur Road Jail in late 2009.
Unlike his previous arrival, he entered the prison with aplomb.
To ensure he was not treated like a petty criminal, he filed an assertive application as soon as he entered prison. A guard deftly fetched him his rights -- a plate, two bowls, one spoon, a mug sans handle, a pillow, a bedsheet, a mattress and a blanket.
Anticipating trouble, the officials showed him to the murder barrack and not the one with underworld gangsters as in his previous stay.
Most murderers in India are first-time killers, who kill over personal grievances like love affairs and property disputes. Accommodating the hitman with murderers was safer as these criminals are typically regretful and least likely to pick a fight with grouchy inmates like Rahul.
The gangster did not mind the switch. He would learn something new, meet more prospective recruits.
As soon as he entered his barrack on the November evening, Rahul noticed a group of seven inmates seated on their mattresses under the television set.
They must be the terrorists, Rahul thought to himself.
He knew that such accused are usually housed in murder barracks, far from jingoistic gangsters, who tend to abuse and attack them.
There were several other signs, too -- their long beards and their attire of white lungis and shirts, the way they stayed confined to a corner of the barrack, how they did not mingle with inmates outside their group and how others kept distance.
At least four mattresses around them lay vacant: a foam-and-cotton line of control.
As he laid down his belongings in a corner of the barrack, Rahul's mind wandered to an instance from two years ago in the same prison.
With terrorists from Lashkar-e-Taiba, Students Islamic Movement of India, Hizbul Mujahideen and other terror outfits confined at Arthur Road, their jail population had grown substantially at the time.
Irked with ill-treatment from prison officials and other inmates, the terror-accuseds started chanting 'Pakistan Zindabad' one afternoon.
As punishment, the men -- around 20 of them -- had to circle the prison compound on their knees for hours. Those who tried to get up were beaten back to the floor.
'Always keep away from them,' Gabbar had told Rahul. 'They hate India. They can never be true friends to an Indian.'
Over the next few days, Rahul learnt that the terror-accused in his barrack were held for perpetrating the 2006 Mumbai train bombings.
The carnage, known as the 7/11 terror attacks, was a series of seven coordinated blasts in suburban trains over 11 minutes, which killed 189 and left over 800 injured.
Rahul did not endorse the attack, but terror outfits had always piqued his curiosity. It was their flawless modus operandi that appealed to his criminal mind the most. It also got him interested in the workings of al-Qaeda and made him build a bomb.
A few days after his arrival in the barrack, Rahul walked to one of the men in the group and sat on a mattress next to him.
'I see that you keep reading law books,' the terror accused told Rahul.
He must be 35 years old, the gangster gauged. He had scanty hair on his head, and a beard that touched his belly. Fair and tall, with an athletic frame, he spoke slowly, as if filtering every word in his mind.
'I'm trying to defend myself in a false MCOCA case,' Rahul said, glad the man was willing to talk.
Courtesy kept the gangster from asking him his name or making enquiries about the charges against him.
Even if he did ask, Rahul knew the man would lie.
In the past, the gangster had known a terrorist who, whenever probed, would say he had been wrongly picked up for possession of detonators.
He was being tried for a series of five blasts over a period of eight months in 2002-03 in Mumbai.
'All cases are false unless proven otherwise,' the terror-accused replied. 'It's good that you're working on your own defence. Lawyers are crooks. If you know your case well, even the nuances, you have a better shot at freedom.'
'Yes, I've secured bail in my MCOCA and Arms Act cases solely on personal merit. My advocate managed bail for me in my other four cases. They've to do with shootouts in Dombivli,' Rahul informed, almost boastful.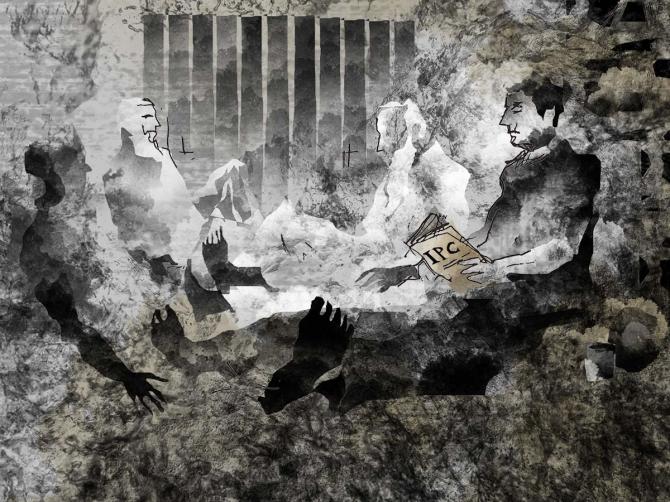 'If you've secured bail in all your cases, why are you still here?'
'Because I can't afford the sureties.
'I have to pay Rs 30,000 for each of my four Dombivli cases, Rs 50,000 for my MCOCA case, and Rs 5,000 for the Arms Act case. That's a total of Rs 1.75 lakh.
'My family doesn't have that kind of money. Only option now is to come clean in my trial, get acquitted and walk out.'
'I'll help you,' the man offered in his soft voice.
Over the next few days, Rahul got closer to the terror-accused.
The alleged jihadi reminded him of Bhaijaan, the underworld veteran and his mentor, who was eventually sentenced to life imprisonment for killing Dawood's henchmen.
Rahul never saw the sharpshooter after the verdict.
The gangster tried visiting him in prison once, but returned disappointed. Bhaijaan had refused to see him.
Still unaware of his name, Rahul started referring to the terror-accused as 'Bhaisahab'.
He figured the man must come from an affluent household since he would have ample dry fruits and drank bottled water. Or maybe the bomber's terror outfit really values him.
Rahul noticed that Bhaisahab would offer namaaz five times a day, and would remain sombre, his body, mind and tongue always in control.
He never complained about the stale chapattis or loud television set.
While other inmates laughed and joked with each other, he did not mingle with any of them.
While others hugged and exchanged high fives, he'd never touch another inmate or indulge in a display of emotions.
He spoke, but he never revealed he was interested.
He saw, but he never showed he was observing.
Soon, Rahul started occupying the mattress next to Bhaisahab; their discussions centred on the gangster's cases.
Since the most elite Mumbai police squad had investigated him, Rahul was particularly sceptical about his acquittal in the Khar MCOCA case.
The terror-accused subscribed to no such pessimism.
'Indian cops are brilliant investigators. They'll get their men, no doubt.
'But when it comes to nailing those men, establishing their guilt in the court of law, that's where they fail. They're disturbingly bad with paperwork.
'It doesn't matter that Salaskar was your investigating officer. It's what he's written in your chargesheet that holds consequence.
'Forget investigations, focus on evidence,' Bhaisahab explained.
'Got it.'
'Did they put you through an identification parade in the Khar case?'
'Yes.'
'Did the security guards identify you?'
'No.'
'Fantastic,' Bhaisahab exclaimed.
After browsing through Rahul's chargesheet, he added, 'But here, it says that they have identified you as the shooter.'
'F***rs are lying,' Rahul was enraged.
'That's okay,' said Bhaisahab.
'Start gathering information on other witnesses, especially police witnesses, who've recorded their testimonies, stating they were present when you were arrested or interrogated or when the cops made recoveries.
'Get background information on these men.
'If they have police cases against them or any form of bad repute, their testimonies will lose credibility.
'Also, cops are lazy. They tend to use the same police witnesses for multiple gangsters.
'Go around the prison, and see if any other inmate has the same witnesses as you. If they overlap, you're gold.'
An enthusiastic teacher, Bhaisahab introduced Rahul to special and local laws, prison encyclopaedias and historic criminal judgements.
He explained trial procedures, the types of offences, their respective punishments, and arguments that worked in favour of past gangsters.
Following his conversations with the terror-accused, Rahul decided on a major overhaul in his behaviour.
He decided that like Bhaisahab, he would not pick fights or get into brawls with other inmates.
If he did, prison officials would keep close tabs on him and would go the extra mile to make his life difficult.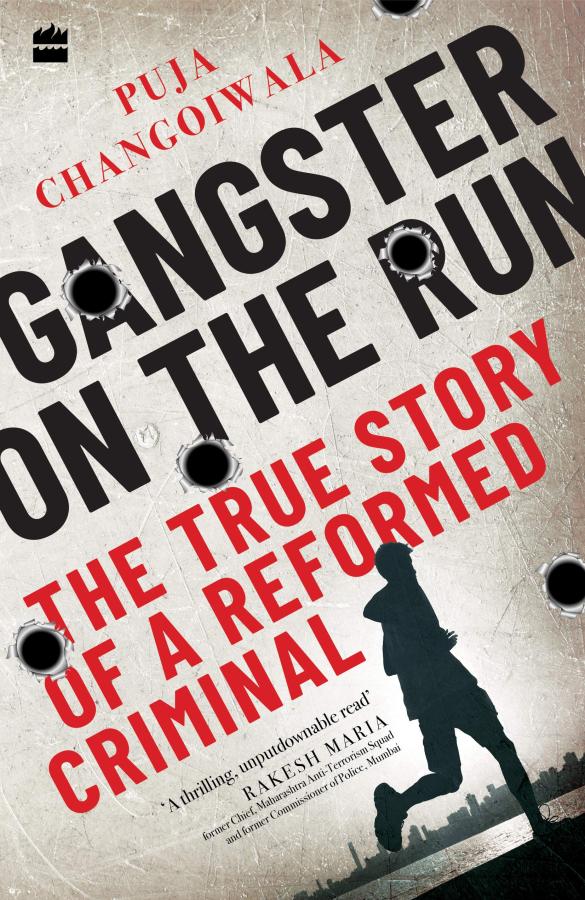 Bhaisahab had also told Rahul that judges are often influenced by their own personal observations of a criminal.
Thereafter, Rahul decided he would not request his magistrates for any luxury in prison.
Other gangsters, he told himself, were idiots. They would file applications after applications, asking the court to grant them access to milk, fruits, cottage cheese, expensive biscuits and other food items.
Their inane victories not only irked prison officials, but also told the judge of the men's affluence, providing indirect tip-offs on their alliance with the underworld.
'Because they're able to get judicial sanction for escaping the dirty food here, people think these dons have it going for them,' the terror accused told Rahul.
'But that's not the case.
'They're morons. Look your worst for your court hearings -- no shoes, the flimsiest of slippers, old shirts instead of t-shirts, no handkerchiefs and no shaving.
'You will file no application, make no demand.'
The alleged jihadi's advice made sense to Rahul.
About 12 years after he first got into the underworld, Rahul was finally willing to let go of his pride. He had found a decent reason for the charade: His freedom.
Excerpted from Gangster On The Run: The True Story Of A Reformed Criminal by Puja Changoiwala, with the kind permission of the publishers, HarperCollins India.
Feature Presentation: Mahipal Soni/Rediff.com