'Kalesaab could have easily earned Rs 1 lakh per month as rent from this place but he gave it to Muslims for free. Secularism in India is alive only because of people like him.'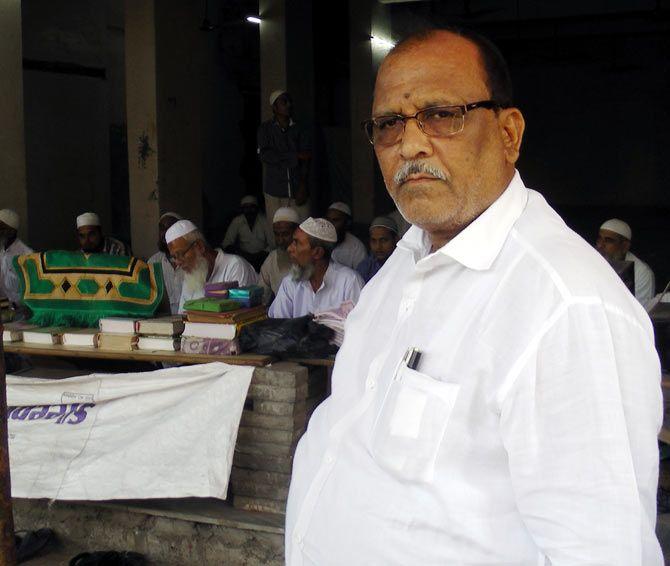 Image: Deepak Kale. Photograph: Afsar Dayatar.
Bajrang Bali housing society is a rather unusual name for a building that houses a mosque but in a part of Dharavi, known the world over as Asia's largest slum, that's where for the last six months the Muslim community has found a temporary prayer area.
All thanks to Deepak Kale, a leather shop owner who owns the property.
When Muslims of Mukund nagar in Dharavi, Sion, in Central Mumbai, were wondering where to hold prayers after their mosque underwent repairs, they turned to Kale.
Kale not only agreed to give them his 2,500 square feet shop on the ground floor of Bajrang Bali housing society for prayers, but also decided to not take any rent from them till the time their mosque is rebuilt.
"Some masjid trustees came to me to ask for my place. I have known these people since my childhood so I gave it them for offering namaaz. Khurshidbhai, who is a masjid trustee, is my childhood friend, I have spent my life with him.
"I didn't want to take any rent from them because I bought this commercial space in order to sell it, and I had told them that the day I get a customer I will sell it after giving them two months' notice," said Kale.
A hundred metres from Bajrang Bali is the Noor Masjid Madarsa Faizaul Quran, the original mosque, where repair work is going on in full swing, with Muslim artisans trying their best to complete the work in two months time.
"In our country we need to respect each other's faith. Muslims must respect the Hindu faith and vice versa," adds Kale.
What has surprised Kale and Muslims of the locality is the publicity his simple gesture has received.
"We have been praying at Kalesaab's place for the last six months. For us it was no news but after one Urdu paper published a report on this, all media people are writing about it," says Tanvir Azmi, a businessman and resident of Mukund Nagar. "More than 90 percent of Hindus in India are like Kalesaab. He could have easily earned Rs 1 lakh per month as rent from this place but he gave it to Muslims for free. Secularism in India is only alive because of people like him."
The locality has an equal number of Muslim and Hindu residents. On the left of Bajrang Bali building live the Hindus, while Muslims live on its right. So one side of the road sports green flags, while the other side sports saffron flags.
But not everything is as peaceful as it appears. Three lanes away, a small mob of 200 Hindus and Muslims was ready to take on each other last week over the issue of flying flags but a timely intervention by community elders defused the crisis.
"In a place where small riots break out over minor issues, it is a very big thing that Kalesaab has done. He is a prime example of what Indian secularism is all about," says Atiullah Choudhary, a businessman who prays regularly at Bajrang Bali society.
Another friend of Kale, Naeem Shaikh, pitches in, "After seeing Kalesaab, I realised one has to work on secularism daily to build bridges between Hindus and Muslims. It is a daily effort. You cannot just say that you are secular and relax in a chair. You have to work for it in society. One mistake we Indians do is that we take secularism for granted, and that must not be done."
Dharavi witnessed one of the most horrifying riots in Mumbai in 1992-93 and Kale had then taken an active part in saving a lot of Muslim lives.
"I housed around 200 Muslims safely in my leather shop during the 1993 riots. They left only after the situation normalised," says Kale.
Asked what in his opinion was the one reason that caused riots, Kale says without blinking, "Rumours. There are some people in all communities -- be it Hindus, Muslims or Christians -- who do not want everyone to live peacefully. They are always up to some mischief and so I feel the government must bring in a law to stop people from spreading false rumours. Till that does not happen, riots will never stop."
He has a recipe to save secularism, too. "I tell people to keep quiet and work for peace all the time. I feel if my lane is not harmed by communalism, then the country will take care of itself. If my lane is facing communal problems, what can I say about my country? So first keep communal peace in your own lane, and the country will follow suit."