The tributes to Father Stan by his associates and his co-accused (which were read out) provided a clue to why his death continues to touch so many.
Jyoti Punwani reports.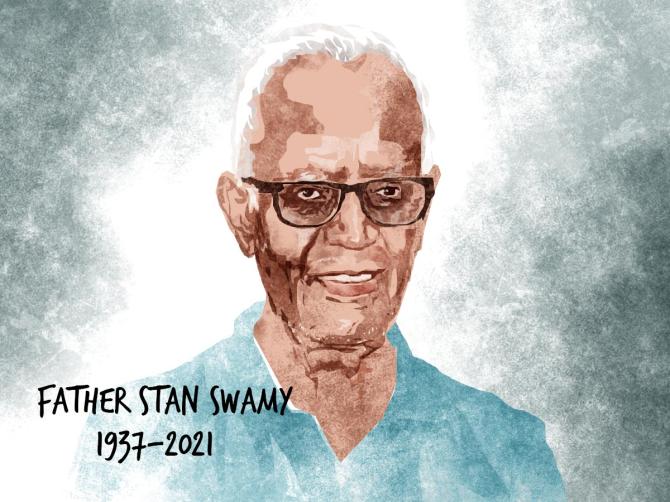 "We don't want this to be forgotten or forgiven." -- senior advocate Mihir Desai.
"Do not forget, do not forgive." This theme ran through the Zoom meeting organised by the National Campaign to Defend Democracy, a coalition of human rights groups, on the second anniversary of Father Stan Swamy's death.
The 84-year-old Jesuit priest, arrested in October 2020 from his home in Ranchi, died 10 months later on July 5, 2021 in a Mumbai hospital as an undertrial prisoner, charged under the anti-terrorist legislation UAPA in the Elgar Parishad-Bhima Koregaon case. His 15 co-accused, of whom 11 are still behind bars, continue to await trial.
The Elgar Parishad case holds 15 Leftist intellectuals responsible for the violence that took place on January 1, 2018, when thousands of Dalits making their way to Bhima Koregaon, were attacked by saffron flag-wielding mobs. The violence led to clashes between Dalits and Marathas in which one Maratha youth was killed.
The accused are charged with having instigated the violence through speeches made a day earlier at the Elgar Parishad, a massive rally held in Pune. They are accused of having organised the Parishad through the Kabir Kala Manch, described in the chargesheet as a 'frontal organisation' of the Maoists.
Father Stan Swamy, like 11 of his co-accused, did not attend the rally.
***
The Zoom meeting was at an odd time: 9 pm-11 pm, yet in an indicator of the intensity of feelings that Father Stan Swamy's death continues to invoke, the maximum limit of 500 participants was reached very soon. The rest followed the meeting on Facebook.
The tributes to Father Stan by his associates and his co-accused (which were read out) provided a clue to why his death continues to touch so many. As Father Joe Xavier described him, what came through was a picture of a man who embodied Christ's message of love, compassion and service as well as the values of the Adivasis he had chosen to live with: dignity and simplicity.
Co-accused Professor Anand Teltumde's note recalled how even in jail, what concerned Father Stan most was the condition of others. He had suggested to the authorities that those who served food to prisoners be provided trolleys for the heavy metal containers they had to carry.
In his write-up, Vernon Gonsalves, also a co-accused, who completes five years of incarceration in August, recalled how the Jesuit priest would sing every day for fellow accused poet Varavara Rao, whose health saw a steep deterioration after the NIA took over the case in February 2020 and the accused were shifted from Pune to the Taloja central jail.
Another quality mentioned was Father Stan's optimism. Despite the petty cruelties of the jail authorities, who may never live down denying a sipper to the Parkinson's patient who could not hold a glass, the 83 year old remained in high spirits, for he knew he was innocent and had faith in the judiciary.
"But when his bail applications kept getting rejected, his hope in the judiciary started faltering. According to Father Xavier, that was the beginning of his descent into ill health."
Like Varavara Rao, Professor Hany Babu and later Vernon Gonsalves, Father Stan's health too was neglected in jail. Taloja jail had no allopathic doctor. The long journeys to JJ hospital in South Mumbai left the frail octogenarian a wreck, he told Father Xavier.
"The way they treated him amounted to criminal negligence, but who was punished for this?" asked Jenny Rowena, Professor Hany Babu's wife.
A magisterial inquiry is being held into the circumstances leading to Father Stan's death, in response to a petition filed in the Bombay high court, informed senior advocate Mihir Desai.
"It took 10 months for Father Stan's spirit to break," said Sagar, Vernon Gonsalves's son. "It is up to us to demand accountability for the death of a man who spent his life fighting for justice for others. We also must make sure that another Father Stan does not emerge from those still behind bars, who are in a precarious condition."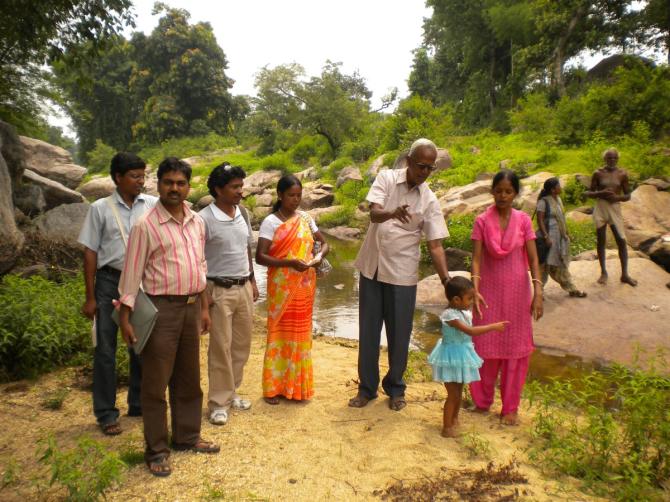 ***
Family members of the other accused spoke of the toll the long incarceration has taken on them. Pranali Parab, sister of Kabir Kala Manch member Ramesh Gaichor, revealed that the frequent police visits had led to her mother suffering a mild heart attack. She recounted that a policeman had recently called her father asking where his son was. 'Ramesh is in jail,' her father had replied, adding: 'If he has done anything wrong, kill him, and give me poison too. I can't take this any more.'
Three members of the Kabir Kala Manch are accused in the case; all three have been in jail since October 2020. Said their colleague Rupali Jadhav: "These were three pillars of our organisation. Like others in the Kabir Kala Manch, when they were very young, they sacrificed the chance of a career and chose instead to voice the feelings of the people through their songs and performances."
"It is their art that the government is scared of; even in the chargesheet, their songs have been mentioned. We must not let their entire youth waste in jail. They must come out and be the voice of the people again."
Another poignant voice was that of Hemlata, wife of Varavara Rao, the first accused to get bail, albeit on medical grounds, in February 2021. The conditions of his bail necessitate the 82 year old staying in Mumbai; his appeals to let him go to his hometown Hyderabad for a cataract operation have been rejected.
The Raos have changed house five times since his release on bail, either for financial reasons or because of pressure from landlords, wrote Hemlata in a letter read out by Farah Naqvi, who conducted the meeting. 'His bail has become jail for me. I want to go home to Hyderabad. I'm 73. It's exhausting to live away from home and without my daughter,' said the letter.
For Professor Shoma Sen, life in jail was all about waiting: 'Waiting for bail, waiting for court dates, waiting for mulaaqaats, waiting for newspapers...,' she wrote in a letter read out by her husband Tushar Kanti Bhattacharya.
'Everything I left behind has frozen before my eyes like a vivid present. By the time I come out, the world will be a different place. We read that AI (artificial intelligence) has reached the world; but inside jail, we still use pen and paper to write, we need postal stamps. We live in a stone age, without knives or scissors. The country is gearing up for elections; there's war in Ukraine, climate change is an immediate threat, but here, we only keep waiting,' wrote Shoma Sen.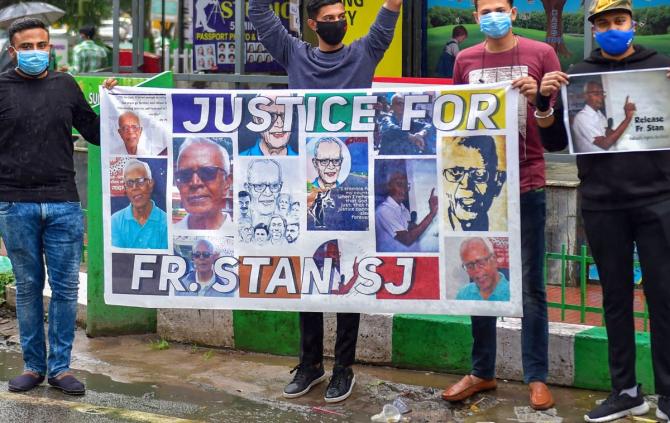 ***
However, the meeting also had signs of hope. While essays and poems by the accused were read out, the most vivid illustration that their spirit remained unbowed was a video of advocate Surendra Gadling singing co-accused Kabir Kala Manch member Sagar Gorkhe's ghazal: 'When I sing again, your cage will turn to water.' Gadling was at the time out on bail for his mother's death anniversary.
A special guest at the end of the meeting was retired Justice B G Kolse Patil, one of the two organisers of the Elgar Parishad. (The other was retd Justice P B Sawant, who passed away in 2021.)
The retired judge spoke about a time when he could call then prime minister Manmohan Singh 'an American agent' on national television without being prosecuted; when bail, not jail was the rule.
"We are used to those times," said the 82 year old, who turned emotional when talking about the PUCL. "We are alive because of the work being done by PUCL," he said.