Rahul Gandhi treated teachers from Kanyakumari to a 'special Delhi dinner' and won their hearts.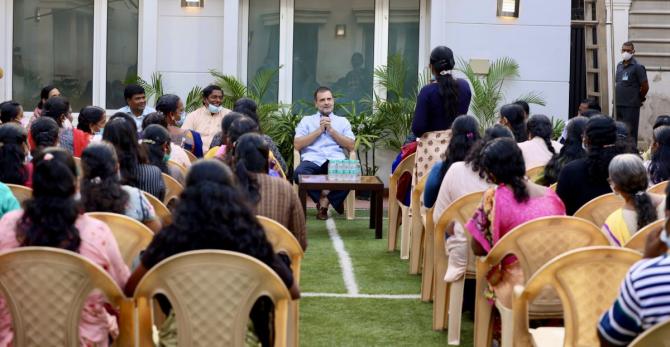 When Congress MP Rahul Gandhi visited the St Joseph's Matric Higher Secondary School in Moolagumoodu, Kanyakumari, as part of his Tamil Nadu assembly election tour on March 1, 2021, he invited its students and teachers to visit him at his home in Delhi.
Eight months later, on November 3, 2021, the staff and workers from the school took him up on his offer.
Father Dominic M K Das, who has been the correspondent of the school for seven years and was part of the team that went to Delhi, recalls both his interactions with Rahul Gandhi as A Ganesh Nadar/Rediff.com listens in:
When Rahul Gandhi came to Tamil Nadu, the current Congress MLA S Rajeshkumar -- who belongs to our area -- suggested he visit our school.
Rahul spent two-and-a-half hours with us; he wanted to know more about the school.
Our students performed cultural programmes and gymnastics for him. A special song was composed to greet him.
The children asked him about his diet, hobbies and exercise regime. He told them that he went jogging, swimming, cycling and also exercised regularly. He ate lunch with us.
One student asked him if he did push-ups. He immediately demonstrated it for the students.
He was very friendly and spontaneous. He danced with the students and took selfies with them.
He answered questions about poverty eradication and NEET.
He said we need one more freedom struggle which must be conducted with ahimsa.
He told us, 'Please visit me when you visit Delhi.'
Sixty of our teachers and 10 of our support staff visited Delhi recently; the students did not come with us.
We had hired two buses to take us sightseeing in Delhi. We also visited the Golden Temple in Amritsar, the Wagah border and the Taj Mahal.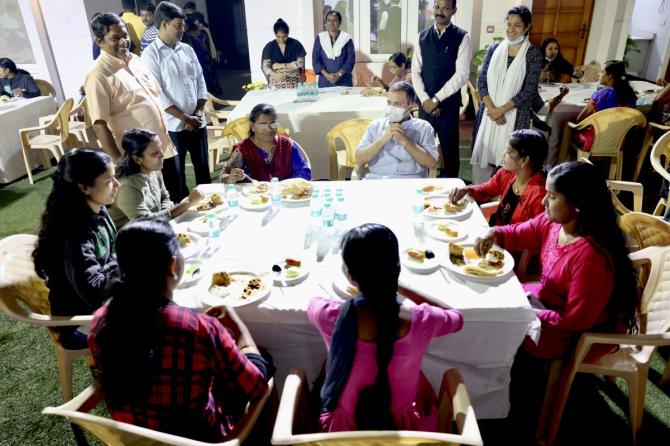 On November 3, Rahul Gandhi hosted us for tea from 4 pm to 5.30 pm at his residence.
He was very happy to see us.
Having tea with him was a planned event but what happened next was not. He asked us if we had tasted authentic Delhi food. Then, he asked us what we were doing next.
We told him we were going shopping. He replied, "Please come back here after shopping and have dinner with me."
We were surprised and delighted.
We returned to 12, Tughlak Road at 9 pm. The Delhi special dinner -- which, incidentally, was on Diwali day -- included chole bhature.
Rahul was there with us till 10.15 pm. We sang Diwali songs for him.
His sister Priyanka then joined us. She was very kind. She hugged our teachers and took photos with us.
She told us that when they were kids, they had a Tamil lady who looked after them so they had a special affinity towards Tamilians.
Both of them were very friendly and generous hosts.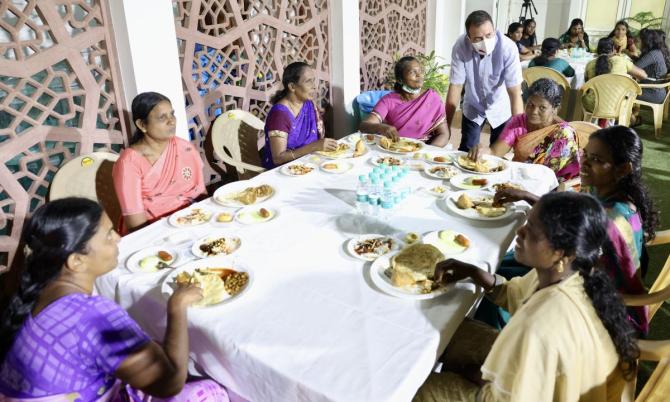 The teachers speak!
Hentric Saro Marx, Physics teacher
Meeting Rahul Gandhi was inspiring. He is my role model.
When he came to our school, he was surrounded by bodyguards.
In Delhi, while we were checked before we entered his house, the security was comparatively less.
In Delhi, he was freer with us. Talking to him was like talking to a brother. I will never forget him. I am sure nobody at St Joseph will forget him.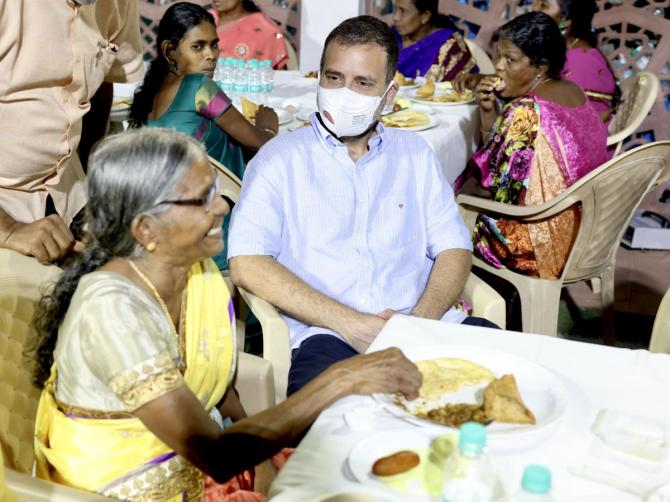 Anto Sheril, Maths teacher and school administrator
I took a selfie with Rahul Gandhi when he came to our school, but I did not get a chance to speak to him.
During dinner at his house in Delhi, he asked me how I was feeling and how I liked the Delhi climate. I told him that it was very cold compared to where we are from.
For tea, we were served Coke and paneer bhajias. For dinner, we had pani puri, samosa and chole bhature. Dessert included gulab jamun, rasgullas and one more sweet dish whose name I cannot remember.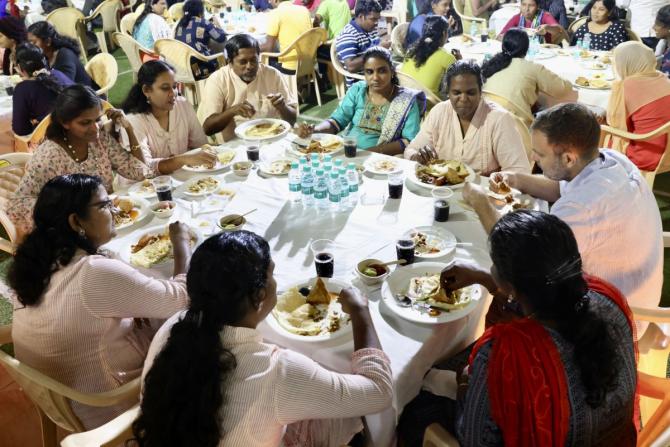 Mary Jamuna, Tamil teacher
It was nice to talk to Rahul Gandhiji in Delhi; I did not get a chance to speak to him when he visited our school.
I asked him about our former prime minister Manmohan Singhji. Rahul Gandhiji told me that Manmohanji had dengue but had recovered. He also said that he was not eating properly.
I told him that we normally ate the chole bhature they served us for dinner at snack time in our state. He said that, next time, he will prepare rice for us.
We maintained social distancing at all times. We were wearing masks and carrying sanitisers that we used regularly.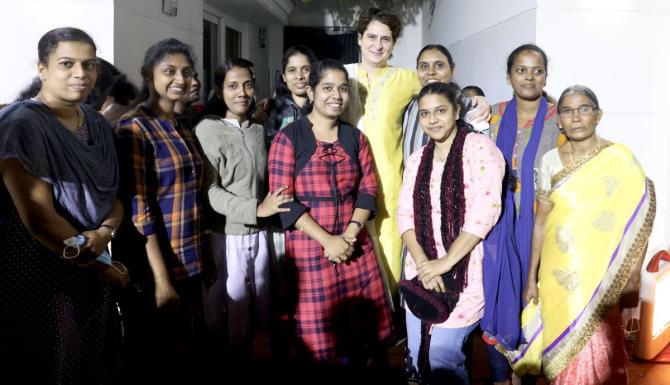 Mary Sharon, Maths teacher
I was on leave the day he visited our school so I was happy I got the opportunity to meet him in Delhi.
During dinner, he asked me if I liked the food. I told him that the food was good and tasty.
He sat next to me and we took a picture.
Sister Mercy Abraham, Principal
It was a pleasure meeting Rahul Gandhi in Delhi but we never expected Priyanka to meet us; that was a pleasant surprise.
He spent a lot of time with us in Delhi. He interacted with all our teachers. It was a proud moment for all of us.
When he came here, we welcomed him. I think he liked our school, so he invited us to visit.
He has a very simple lifestyle. Priyanka was also very friendly.
When Rahul went into his house, we thought he had left, but he came back with Priyanka.
We were overjoyed and cheered for both of them.
We took a lot of pictures and came back with happy memories.
Feature Presentation: Aslam Hunani/Rediff.com