'Irrespective of their politics, people feel happy.'
'One of the best compliments I have received is that I have made it from Kashmir to Karnataka.'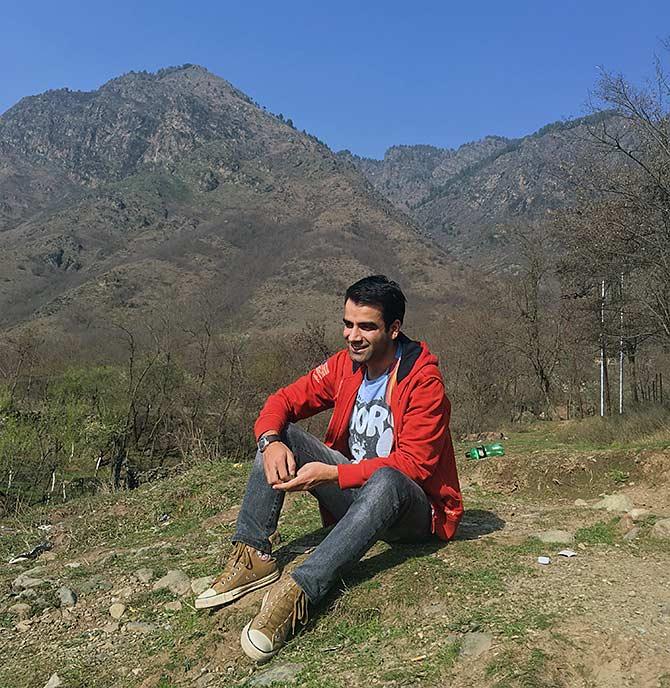 When Javid Parsa arrived in Srinagar from Delhi on Tuesday, February 4, he went straight to his food outlet Parsa's in Budgam near the airport. He sat with his graphic designer to design posters that could be put up on electric poles on the highway telling customers that the outlet had reopened five days ago.
The abrogation of Article 370 and the clampdown had forced Javid to shut all his nine popular outlets across Kashmir that served kathi rolls and biryani.
The primary outlet reopened after four months in December. Located in the only mall in Srinagar's Lal Chowk, business is down 50 per cent. Three out of the nine outlets have not reopened yet.
One of the most followed Kashmiris on social media, Javid, 31, is the son of a carpenter. He left Amazon to become a successful food entrepreneur.
The medium of promotion used by Parsa's is the Internet which accounted for nearly 50 per cent of sales. The deals and promotions of the day were posted by separate handles of each outlet. 2G Internet was restored in Kashmir a week ago, but the continuing ban on social media sites has prevented business from picking up.
Since a small ad in a newspaper could cost a minimum of Rs 60,000, Javid has gone back to classic and traditional marketing methods.
When the Budgam outlet reopened, he covered his car with banners and placed it outside the shopping complex on January 28, the day after Internet was restored.
Two of his franchise partners have gone back to Delhi and taken up temporary jobs for a fraction of the one lakh rupee profit they would make from an outlet in Kashmir.
"Whatever I earned from my three outlets in Delhi, Bangalore, Noida, I have invested in the losses I am facing in Kashmir. In a franchisee model, the outlets are owned by different individuals, hence the loss also got distributed," Javid tells Archana Masih/Rediff.com over the phone on Tuesday evening from his Budgam restaurant.
Parsa's serves a fusion of Hyderabadi, Bengali and Kashmiri cuisine; within Kashmir it does not serve any Kashmiri food.
A week after re-opening his Lal Chowk restaurant, Javid hosted 100 young people for an interaction in the aftermath of the abrogation of Article 370.
He invited psychologists, peace builders, writers, journalists, and young businessmen to talk about what had happened with each other. Parsa's outlets also have libraries where patrons can donate and borrow books.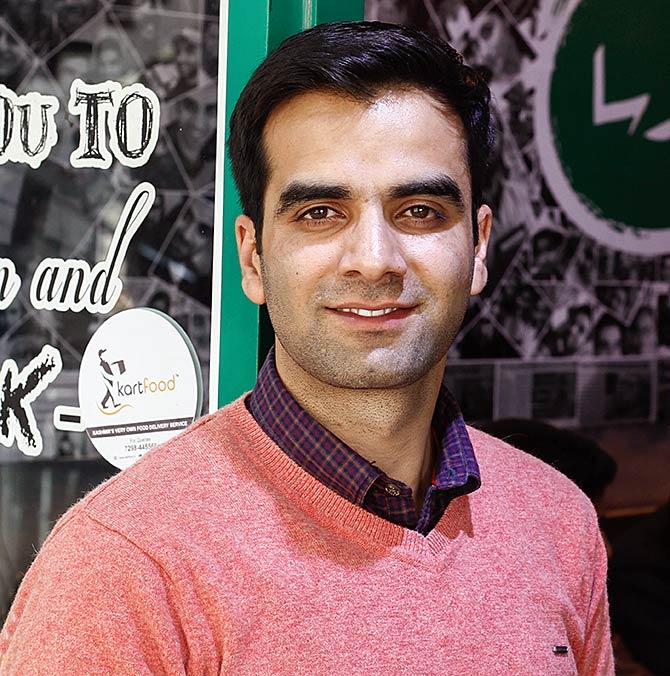 "Kashmiris have always been prepared for the worst. Whatever we have been facing for the last 50 years has made us strong as a community. People always find ways to fight back and rise again," he says.
"If monetary goal is the only thing you are looking for, then Kashmir is certainly not the right place. You have to have love for the land and the people."
"Survival is the basic challenge for a businessman in Kashmir. There could be an indefinite shutdown anytime. I make the most of each normal day that comes. You never know whether it will be the same tomorrow or not."
There are many businesses in Kashmir that have not opened at all, and many are out of the map, he says. 50% of his staff comes from Kolkata and Bihar who left after the August 5 shutdown. Many have returned, others he has tried to accommodate in the restaurants outside Kashmir.
Determined to get his business back on track and about to open a couple more Parsa's outlets outside Kashmir, Javid says every strata and section of society has been affected in a different way in the last six months.
"There is both a monetary and emotional loss. Article 370 was the cord that bound us with India all these years. Kashmir's special status was a promise given by the Government of India," he says.
"The poorest, the daily wagers are just struggling to survive and get their lives back on track. For bureaucrats and government servants it doesn't matter because they got their salaries even if they did not show up at work."
Two of the Parsa's outlets that have not reopened as yet are placed inside education institutes which are the first to see a shutdown when there is trouble in Kashmir.
"Students have suffered the most," he says. "Their degrees got delayed by a semester. Those applying for courses, scholarships lost a year."
Giving an example of what ordinary Kashmiris had to encounter, he cites his own example when he drove 600 kms from Srinagar to Jammu just to get an OTP on his mobile phone!
"I had to file returns for an important project for which I had to show the tax statement of last year. I drove to Jammu just to get the OTP because I had not selected the e-mail option for OTP, it was only linked with my mobile."
"On reaching Jammu, I got the OTP, sent it to my CA who was at the counter and filed my return."
"I was so angry that I did not step out of the car in Jammu and just drove back. That's a simple example of how life got affected."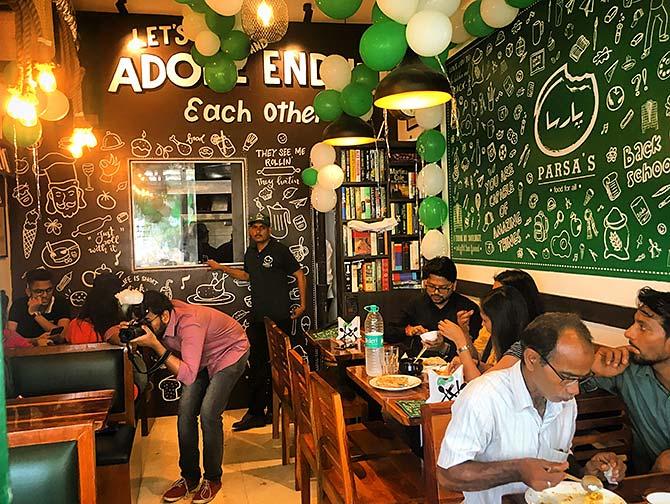 Javid also played a Samaritan's role in helping people connect with loved ones when all communication was suspended in Kashmir. He had a booked a ticket for Bengaluru before the abrogation and used his ticket as a curfew pass to get to Srinagar airport.
Once he reached Bangalore, he was flooded with messages asking for help. He built a network to help students struggling with mess fees, examination fees and help over a thousand people connect with each other.
An extra fridge was kept at Parsa's Bengaluru outlet to stock medicines like insulin etc because people knew if they went to Parsa's they would find someone going to Kashmir to carry them back to their relatives.
"There were so many heartbreaking stories. A mother and father went to Haj where the mother died and there was no way to convey the news. The children went to the airport to receive the parents and found out that mom had died and had been buried in Saudia," says Javid giving a slice of the human cost of the situation in Kashmir.
"It is less about politics and more about humanity. The manner in which they isolated this small piece of land from the rest of the world is the most inhuman act I have seen in my life," he says.
"I have grown up in the 1990s (when terrorism was at its peak in Kashmir), but never been so angry, I always thought there was a reason behind these problems and better times are going to come, but I don't see that anymore."
One action that deeply upset him was the evacuation of Amarnath yatris and tourists before announcing the abrogation.
"The moment they left, you abrogated 370 and put a blanket ban on every single source of communication. How could you do this so heartlessly? It clearly shows that we don't belong to you," he says in anguish.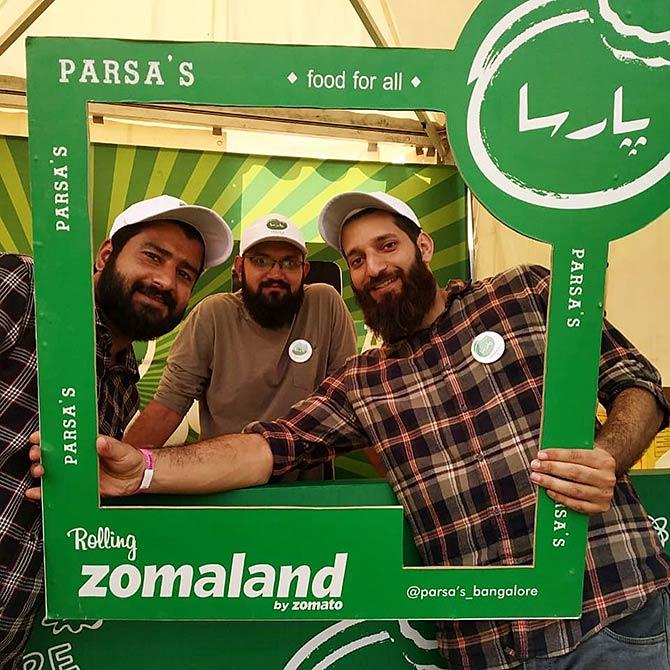 Two months after the abrogation of Article 370, in the middle of the communication blockade, Javid's sister got married. The guest list was pared down from 500 to 50 and attempts were made on 11 consecutive days to meet the cook in downtown Srinagar to discuss the wedding menu -- with no luck.
"On the 12th night, when curfew was relaxed, we could eventually meet him," Javid remembers.
"We did not change the wedding date. It was like a sign of resistance that we have chosen this date for happiness and won't let anyone alter the date -- that's what our grandfather said."
"Respecting what our community was going through, it was not a lavish wedding."
Six months later, people reach out to ask him how he coped with the business shutdown, how he restored his business, and also for emotional support.
"There is a lot of uncertainty. The government is not formed yet. Restrictions are so tight that people do not get a chance to talk, debate, protest or raise their voice."
"The definition of normalcy is too complicated in Kashmir now."
Around a hundred people in his network are seeing counsellors, because business has suffered and students could not apply to universities or secure scholarships abroad.
The government says things are normal, but it is far from that, he says. On flights back home, he has been seeing more bureaucrats and security personnel than Kashmiris or tourists.
As someone who has studied and lived in five Indian states, he has encountered a mixed response from other Indians.
"There are good and bad people are everywhere. When a Bangalore auto guy came to know that I hadn't spoken to my father for 15 days, he said, 'How could they do this to our own people?'"
"Then there are those who call to congratulate that 'You are integrated now'. There were jokes objectifying our sisters and mothers. I don't blame society, but the mindset of people."
"I have a different relationship with the rest of India. I have lived outside, led a student's union and interacted with many people due to my business, -- unlike many Kashmiris who haven't been outside."
He has come across scores of wellwishers who express happiness that a Kashmiri chain is expanding outside the valley.
"Irrespective of their politics, people feel happy," he says. "One of the best compliments I have received is that I have made it from Kashmir to Karnataka."