Though Yakub Abdul Razak Memon became the sole accused to get capital punishment for the 1993 Bombay serial blasts, some other members of the Memon clan had also been figured as accused in the case and some of them discharged for want of evidence.
Wife of Yakub Memon, Rahin Memon, as also arrested along with her husband. However, she was let off due to lack of evidence. Photograph: Arko Datta/Reuters
Parents of Yakub, Abdul Razak Memon and Hanifa Memon, lived in the eight-storied Al-Husseini building near the historic Durgah of Makhdoom Shah Baba in Mahim, Mumbai.
It was in this building that the bomb blasts conspiracy was hatched by Mushtaq alias Tiger Memon, Yakub's brother and the right-hand man of fugitive accused and mastermind Dawood Ibrahim.
On the eve of the bomb blasts on March 12, 1993, RDX, used for the first time in India for explosions, was planted in cars and scooters in the garages of Al-husseiniBuilding by Tiger Memon's men.
Yakub, whose death sentence was on Tuesday confirmed by Supreme Court, is a chartered accountant and has a flat in his name on the second floor in this building.
The following are the members of the Memon family who faced trial:
Abdul Razak Memon: Father of Tiger Memon, an avid cricket buff and himself a player in the Mumbai league, he was popularly known as 'Tiger', after former national captain Nawab of Pataudi and was keen that his son Mushtaq become a cricketer when he grows up.
Abdul Razak was arrested after he returned from abroad along with other members of Memon family in 1994. He fell sick in jail and was granted bail after few years. He died in 2001 at the age of 73.
Hanifa Memon: Tiger's mother and the household chief, Hanifa was respected by the entire Memon clan. She was booked for abetment of terror acts of her son Tiger and his friends. She too was released on bail after lodging in jail for few years. Eventually, the Terrorist and Disruptive Activities (Prevention) Act court acquitted her due to lack of evidence.
Mushtaq Memon alias Tiger: Allegedly a smuggler, he represented the illegal business of Dawood Ibrahim in India. He fled to Dubai, a day prior to the blasts and from there moved to Pakistan where he is believed to be hiding along with Dawood. He is one of India's most wanted criminals. He masterminded the 1993 serial blasts along with Dawood to avenge the demolition of Babri Masjid.
Yakub Memon: A chartered accountant, he had an accounting firm where he handled accounts of Tiger Memon's company dealing in hawala business. He also provided tickets to accused in this case who went to Pakistan via Dubai for arms training, according to the charges levelled against him in TADA court. He was arrested in 1994 and tried in a TADA court.
He was convicted by TADA court in 2006 and on July 27, 2007 he was sentenced to death by the same court. On March 21, 2013, the Supreme Court upheld his death sentence. In 2014, President Pranab Mukherjee rejected his mercy plea and the Supreme Court rejected his mercy petition on April 10 this year. On April 29, TADA court fixed July 30 as the date of execution of his death sentence.
Suleiman Memon: Brother of Yakub, Suleiman was a well-mannered man with a courteous behaviour and humane approach. Like his father, he too loved cricket. He was arrested with other members of the Memon family in 1994 and was accused of aiding and abetting terror acts. He was granted bail after few years of his arrest and ultimately acquitted for lack of evidence.
Rahin Memon: Wife of Yakub, Rahin was also arrested along with her husband in the 1993 bomb blast case. She too faced charges of aiding and abetting terror acts but was acquitted in September 2006 due to lack of evidence.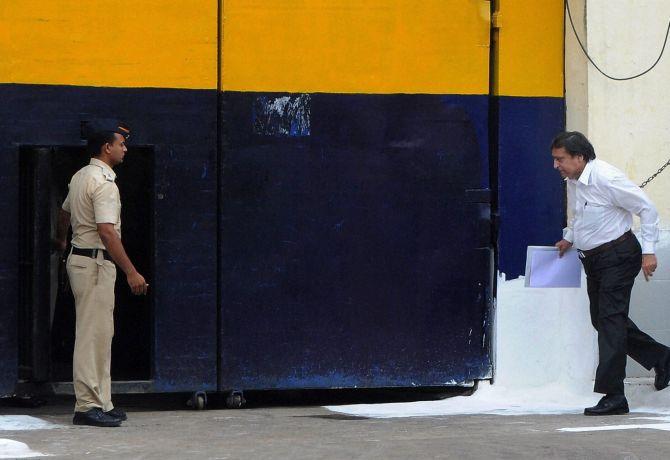 Usman Memon, cousin of Yakub Memom, arrives at the Central Jail in Nagpur to meet with his brother Yakub Memon. Photograph: PTI
Rubina Memon: Wife of Suleiman Memon, Rubina was however, convicted by the TADA court and sentenced to life imprisonment as a Maruti van used in the bomb blasts was registered in her name. This van was found abandoned at Worli and Ak-56 rifles and hand grenades found in it.
The accused had abandoned this vehicle as they heard a noise and thought that it was an explosion. They were on a mission to go to Municipal headquarters and open fire at the corporators indiscriminately to create terror. Rubina, however, defended herself saying she was a housewife and certain property of the family was registered in her name though she had not taken any part in the bomb blasts conspiracy.
Essa Memon: Brother of Tiger, Essa was also arrested along with other members of Memon family. He was diagnosed with a tumour and had sought acquittal on the grounds of ill-health. However, the TADA court convicted him. He is serving life sentence in Aurangabad Jail.
Yusuf Memon: Another brother of Tiger, Yusuf, too was arrested along with other members of the Memon family. He was suspected to be suffering from schizophrenia and sought liberty for treatment. However, he was convicted by TADA court and is now serving life sentence in Aurangabad prison.
Ayub Memon: The eldest son of Abdul Razak and Hanifa, Ayub is absconding and is believed to be staying with Tiger in Pakistan.
The 1993 bomb blast case was the longest in the history of Indian judicial system, having lasted for 14 years.