Amid tribal groups accusing the National Investigation Agency (NIA) and Central Bureau of Investigation (CBI) of high-handedness in Manipur, the central agencies on Monday said every arrest made in the restive state, which has been witnessing ethnic clashes since May, is based on evidence gathered by investigative teams.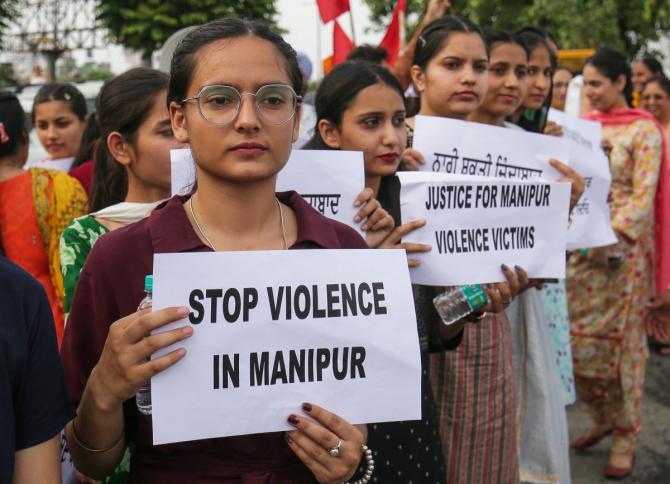 The NIA and CBI officials working in Manipur in an ethnically charged environment have been facing the daunting task of completing investigations in various cases, including those related to attacks on Army personnel in 2015, the probe agencies said.
Refuting the allegations levelled by the Indigenous Tribal Leaders' Front (ITLF), an organisation claiming to represent the Kuki-Zo community of Manipur hills, officials from both agencies said no partiality has been shown against any community, religion or sect, and that only the rule book of the Indian Penal Code was abided by.
Referring to the recent arrest of Seiminlun Gangte, a tribal, the officials said he is one of the key accused in an SUV blast case that took place in the Kwakta area of Bishnupur district on June 21. Three people were injured in the blast.
He was brought to New Delhi after securing his transit remand from the competent court. In the national capital, the accused was produced before a designated court, which remanded him to NIA custody, they added.
Due course of law is being followed and the evidence collected by the anti-terror agency will be placed before the competent court, the officials further said, adding that baseless allegations were being made only to derail the probe and create confusion among the general public.
On September 22, the NIA arrested Moirangthem Anand Singh from Imphal in connection with a different case. Singh, along with four others, was arrested by the Manipur Police for possession of weapons looted from the police armoury.
However, all five were bailed out, but Singh was arrested by the NIA for his involvement in terror activities. He was brought to Delhi and is facing due legal process, the officials said.
Similarly, the arrests carried out by the CBI on Sunday were based on preliminary evidence collected during its probe into the cases of two missing Manipuri students who are believed to have been killed, its officials said.
All four were placed under arrest in a joint operation of the CBI, Manipur Police and the Army to ensure that there was no adverse law-and-order situation, they said.
More than 180 people lost their lives and several hundreds were injured since the ethnic clashes broke out in Manipur on May 3, after a 'Tribal Solidarity March' was organised in the hill districts to protest against the Meitei community's demand for Scheduled Tribe status.
Meiteis account for about 53 per cent of Manipur's population and live mostly in the Imphal Valley. Tribals -- Nagas and Kukis -- constitute little over 40 per cent and reside in the hill districts.