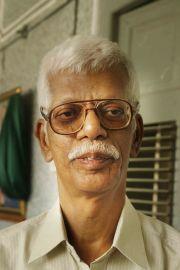 The All India Majlis-e-Ittehadul Muslimeen has nominated senior journalist and former correspondent of rediff.com Syed Aminul Hasan Jafri as a candidate for the Andhra Pradesh legislative council from Hyderabad local authority constituency.
MIM president and member of Lok Sabha Asaduddin Owaisi made the announcement after a meeting of party executive in Hyderabad on Monday.
The MIM and the Congress share the two legislative council seats from Hyderabad.
While the Congress has nominated M S Prabhakar as its candidate for one seat, Jafri was nominated as the MIM candidate for the second seat.
Though the main opposition Telugu Desam Party has fielded a candidate (Y Mallesh), the victory of both the ally candidates is certain due to the overwhelming majority of the Congress and the MIM in Greater Hyderabad Municipal Corporation. 
The electoral collage for the two council seats includes 150 members of GHMC, local Members of Legislative Assembly and Members of Parliament.
Fifty-five-year-old Jafri has worked as a journalist for more than 35 years and has been associated with newspapers of Telugu, English and Urdu languages. After stints with Telugu newspaper Eenadu and English daily Newstime, he moved to the daily Deccan Chronicle and finally worked as consulting editor of Urdu daily Etemaad.
Jafri, who holds a Masters in journalism from Osmania University, is known for his prolific, versatile writings and in depth and incisive analyses of the political and socio-economic affairs of Andhra Pradesh.
"I will try to be voice of the disadvantaged sections of the society as I was in the field of journalism," Jafri said in his first reaction.
"The decision of MIM president to field me as a candidate came as a pleasant surprise to me."
Apart from writing for several newspaper abroad, Jafri also worked as a correspondent for rediff.com for over a decade. He also reported for international media organisations including Reuters, AFP and the BBC.
Image: Syed Aminul Hasan Jafri | Photograph: Snaps India