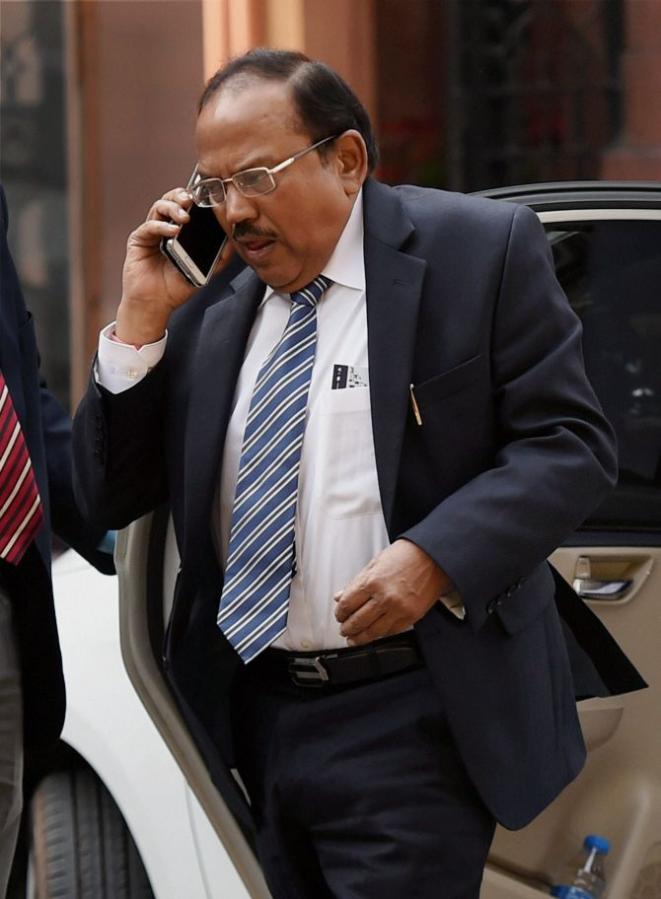 This is the first time since the Pathankot terror attack that the country's top security czar has spoken about India's strategy in dealing with terror, says Rajeev Sharma.

National Security Advisor Ajit Doval has spoken his mind candidly about the shortcomings in India's fight against terror.
His comments at the international conference on counterterrorism in Jaipur on February 2 are significant as this is the first time since the Pathankot terror attack a month ago that the country's top security czar has spoken about India's strategy in dealing with terror.
Doval has spoken with much restraint. It only shows that India is still giving a long rope to Pakistan on the terror issue.

It must be noted here that no on-record copy of Doval's speech at the Jaipur event is available and he did not name any country while speaking about terrorism. It is understandable because as NSA, Doval is the key interlocutor in the Modi government's outreach to Pakistan.

Here are the four quotes from Doval's speech at the Jaipur conference attended by over 350 delegates from 25 countries (but none from Pakistan and Saudi Arabia), followed by a decoder.

1. We have gone to the periphery, the symptoms, but not the vitals of terrorism. The vitals are the States that have given support to terror. There must be adequate deterrence for them.

Decoded: This is a frank admission on Doval's part that India's fight against terror is a work in progress and there are no dramatic breakthroughs since the Modi government took over 20 months ago.
Many would have expected the Bharatiya Janata Party government to go hammer and tongs at the Pakistan-based terror apparatus and carry out surgical strikes specifically targeting fountainheads like Lashkar-e-Tayiba chief Hafiz Saeed and Jaish-e-Mohammed chief Masood Azhar who, India believes, was the pivotal figure in the Pathankot attack. But this has not happened. These terror masterminds constitute the 'vitals of terrorism' Doval mentioned.

2. Any State outsourcing its political objectives to non-State actors is the most counter-productive method for global peace.

Decoded: Here, Doval is talking about Pakistan's over three-decades-old policy of using terrorism as an instrument of its foreign policy, but without specifically mentioning Pakistan by name.
This is rather unusual for Doval, seen by Pakistan as a hawk and a hardcore Pakistan-baiter. But he is no longer a security honcho only, he has been given a major behind-the-scenes diplomatic role too by Prime Minister Narendra Modi.
In many ways, the renewed India-Pakistan peace effort cannot be successful without Doval's pro-active involvement. Therefore, while he is warning the country of its misplaced policy of dalliances with non-State actors, he is doing so without indulging in the game of naming and shaming.

3. The world must identify States that give terrorists arms, funds, safe havens and support. The world has failed to rein in States that support terror.

Decoded: This is a message to the international community. India's initiative of a Comprehensive Convention on International Terrorism in the United Nations has been hanging fire for almost two decades but the CCIT has remained deadlocked. The UN has failed to even agree on the definition of terrorism.

4. Where are we in 2016? Terror casualties are 320 per cent higher than in 2001. Geographically, terror groups have spread to areas they have never been seen in before, and States have spent multi-fold figures on fighting terror.

Decoded:Here, Doval is talking about the hydra-headed monster that terrorism is. Terrorists have evolved and mutated and kept themselves a step ahead of security and intelligence agencies.
Fifteen years earlier, the international community's focus was on Al Qaeda. Now it has shifted to Islamic State. Al Qaeda may be down, but it is not out. Islamic State or ISIS, on the other hand, is going strong despite the international community's military action.
But from the Indian perspective, the hub of terrorism across the border remains by and large unchecked and the international community has conveniently looked the other way as if it is an India-Pakistan issue.
IMAGE: National Security Adviser Ajit Doval arrives at South Block, New Delhi, for a meeting. Photograph: Manvender Vashist/PTI Photo
Rajeev Sharma is an independent journalist and strategic analyst who tweets @Kishkindha.