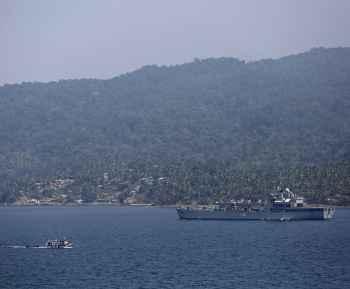 The prompt approval to set up a radar station on the Andaman and Nicobar Islands signalled the Modi government's intent to deal with China on its own terms. Rediff.com contributor Anita Katyal reports.
In a decision which could impact relations between New Delhi and Beijing, India on Tuesday cleared a longstanding proposal from the Coast Guard to set up a radar station on Narcondam Island in the Andaman and Nicobar islands, located opposite the Coco Island where the Chinese are said to have set up a listening post.
The decision comes a day after China's Foreign Minister Wang Yi left New Delhi following his 'useful and comprehensive' talks with the Narendra Modi-led National Democratic Alliance government.
The Coast Guard proposal had been pending for nearly a decade after environmental groups and wildlife activists raised objections that the project would cause irreparable damage to the habitat of the Narcondam Hornbill, a bird whose only home is the Narcondam Island.
The National Board for Wildlife urged then environment minister Jayanthi Natarajan not to clear the proposal to set up a coastal surveillance radar and the construction of a two kilometre road in the virgin forest on Narcondam Island to protect around 300 hornbills.
The Coast Guard wanted to set up the radar after China reportedly constructed a listening post on Coco Island, located a few kilometres from Narcondum Island.
The radar will enable India to keep a watch on ships passing through Indian waters, and the Andaman and Nicobar unified command has described the project as a strategic one.
Environment Minister Prakash Javadekar's clearance for the project on Tuesday is in line with the NDA government's policy to fast-track decisions on defence and security-related proposals.
By granting prompt approval to the Coast Guard project, the Modi government signalled its intent to deal with China on its own terms although the prime minister has indicated his intention to accord top priority to forging closer ties with Beijing.
Although the Coco Island belongs to Myanmar, it has been leased to China. Not only is China the biggest donor to Myanmar, it has also helped Myanmar build naval infrastructure on the Coco Island, including a reconnaissance and electronic intelligence system which enables the Chinese to monitor the movement of Indian naval ships.
According to the Indian defence establishment, the Chinese intelligence system could also monitor the activities of the Indian Space Research Organisation at Sriharikota and the Defence Research and Development Organisation at Chandipur-on-Sea.
Image: An Indian Navy ship patrols the waters near the Andaman Islands. Photograph: Danish Siddique/Reuters