A timeline of the events that led to an Indian diplomat's arrest in New York last week: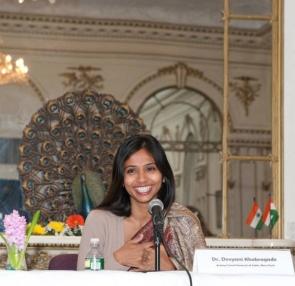 The Government of India and the Indian community in the United States have strongly condemned the arrest of Dr Devyani Khobragade, India's deputy consul general in New York, left.
Some activists blamed the Government of India, pointing out that the issue with the domestic help, Sangeeta Richard, was not handled properly though the Indian authorities had faced two similar cases in New York earlier.
Here is a timeline of how the case -- which is threatening to snowball into a major diplomatic face-off with latest media reports alleging that Dr Khobragade was strip searched and kept in a cell with drug addicts -- unfolded.
November 2012: Richard arrived in the US and started to work for Dr Khobragade on November 23, 2012.
March 2013: Problems started with Richard, according to Dr Khobragade's lawsuit against her in the Delhi high court. It said that Richard wanted to work outside on her off days, but she was told that it was illegal according to her visa status, and also because she had an official passport.
June 23: Richard left DR Khobragade's home to buy groceries, and did not return. Dr Khobragade informed the matter to the consulate general, who informed the concerned authorities.
July 8: Richard visited an immigration attorney's firm in Manhattan, New York. A person present there told Rediff.com then that four individuals from the consulate soon arrived at the attorney's office.
There were discussions, and reports indicated Richard demanded a sum as her wages, and an ordinary Indian passport.
Meanwhile, her husband and child in India were taken into custody, according to the witness. A scared Richard spoke with them, and refused to leave the attorney's office premises.
The consulate officials remained outside. Later in the evening, the police were called and they took Richard away.
The Indian government revoked Richard's official passport the same day, which made her status illegal in the US.
The Indian embassy in Washington, DC requested the US State Department to locate Richard and return her to India.
September: The Delhi high court issued an order to restrain Richard from instituting any action or proceedings against Dr Khobragade outside India on the terms or conditions of her employment, according to a statement issued by the Indian embassy.
In his order on September 20, Justice Jayant Nath noted that any grievance about the terms of employment, salary or ill-treatment could only be adjudicated by an Indian court, since Richard and Dr Khobragade worked for the Government of India.
The high court also issued notice to Richard's husband Philip in Delhi. The case is scheduled for hearing in February.
Meanwhile, an arrest warrant was issued against Richard by the metropolitan magistrate of the south district court in New Delhi under Sections 387, 420 and 120B of the Indian Penal Code, according to the Indian embassy.
These are related to extortion, cheating and conspiracy.
If Richard enters India, she will be arrested.
Richard chose to remain in the US rather than return to India, where she would be arrested on arrival, and the US officials proceeded against Dr Khobragade.
Highly placed sources said the fact that Richard left her employment within six months of her arrival in the US seems suspicious.
The Indian embassy said it had urged Washington to resolve the matter with due sensitivity, taking into account the existing court case in India that had already been brought to America's attention by the Government of India, and the diplomatic status of the officer concerned.
In an earlier case against another Indian consular official in New York, Neena Malhotra, and her husband, Malhotra's former domestic help Shanti Gurung filed a case in 2010, a year after Malhotra and her husband left for India. Malhotra did not appear before the court or engage an attorney.
The court ordered that the Malhotras pay almost $1.5 million to Gurung for unpaid wages, overtime and as damages for emotional distress.
After the case received wide publicity, the Government of India approached the Delhi high court.
In his interim decision, Justice Kailash Gambhir issued an order against Gurung from pursuing her case in a New York federal court till further orders. Legal experts in New York doubted if the high court order had any relevance in the US.
Another case, against former Consul General Ambassador Prabhu Dayal, was filed by a maid who had worked for him and his family for a few years. The case was settled later.