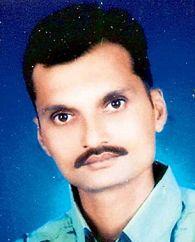 A 40-year-old local journalist was burnt to death allegedly in Madhya Pradesh by three persons, suspected to be closely linked to sand mafia, who set him ablaze apparently over his refusal to withdraw a court case, police said.
The burnt body of Sandeep Kothari, who was abducted from Katangi tehsil in Balaghat district two days back, was found lying near railway tracks at Sindi town in Wardha district of east Maharashtra on Saturday night, police said.
Additional Superintendent of Police Neeraj Soni said that Kothari was out of bail for the last two months in a rape case. "His (Kothari's) body was identified by his brother," it said.
The Bahujan Samajwadi Part demanded a Central Bureau of Investigation probe into the murder, saying the scribe's family was being "tormented" by the sand mafia in the past as he had "exposed" their activities.
Former MLA from Balaghat, Kishore Samrite said Kothari was falsely implicated in more than 12 criminal cases.
"He was externed as he wrote against and also lodged complaints against manganese and sand mafias and other high and mighty people involved in organised crimes. His family too was tormented by mafias," said Samrite.
Police have already arrested three persons, identified as Rakesh Nasvani, Vishal Dandi and Brijesh Duharwal -- all from Katangi -- in connection with Kothari's murder.
The Sub-Divisional Officer of Police J S Markam said police suspected the trio were engaged in illegal mining and also running chit fund companies. He said they had allegedly kidnapped Kothari and set him ablaze.
They were pressurising Kothari, who was working as a tehsil correspondent for some Jabalpur-based Hindi dailies, to withdraw a case of illegal mining he had filed against some persons in a local court.
Police suspect Kothari was kidnapped and murdered because he refused to withdraw the matter.
"We are investigating the case from all angles and a police team is camping in Nagpur. It will be premature to conclude the exact reason behind the kidnapping and killing," Markam said.
Kothari was abducted on June 19 night when he was headed towards Umri village with his friend on his bike.
His bike was hit by a four-wheeler and its occupants bundled him inside the vehicle and fled before beating up Kothari's friend Rahandle who was riding pillion, the SDOP said.
Police have seized the car used for kidnapping Kothari, he added.
Family refuses to conduct last rites
The family members of local journalist Sandeep Kothari, who was burnt to death allegedly by three persons suspected to be closely linked to sand mafia, on Monday refused to perform his last rites while demanding that six more persons behind the murder be arrested.
The body of the 40-year-old journalist was brought to Katangi town in Balaghat, from Wardha in Maharashtra around 5 am on Monday.
The body was handed over to Kothari's family members who left from Wardha at around midnight last night, Wardha's Sindhi Police Station Inspector V V Mohurle said.
The post-mortem was conducted at GeneralHospital in Wardha, he said, adding that a police team which was already camping in city for search and investigation also accompanied the body to his native place in Balaghat.
In Katangi, the deceased's wailing family members demanded that the accused, "who are high and mighty," should be arrested.
The journalist's distraught father Prakash Chand Kothari and mother Kanchan Devi said they will perform their son's last rites only when the police gives them an assurance about arresting six more persons allegedly behind the killing.
Image: Sandeep Kothari was abducted from Katangi tehsil in Balaghat district two days ago and was found lying near railway tracks at Sindi town in Wardha district.