'If we encourage such forces, then tomorrow they will try to intimidate every teacher who doesn't teach their idea of what is right and wrong.'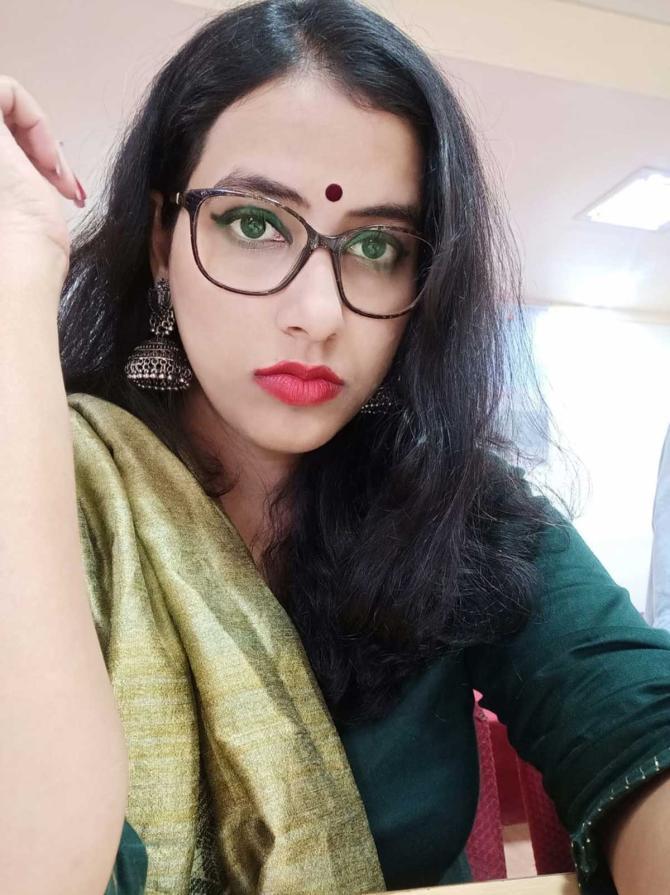 On October 19, the Akhil Bharatiya Vidyarthi Parishad, the student wing of the Rashtriya Swayamsevak Sangh, sent a two-page letter addressed to the principal of V M Salgaocar College of Law.
The subject line read: 'Instant Termination of Professor Shilpa Singh, a 31-year Goa University doctorate student who teaches political science to the students of V M Salgaoncar College of Law at Miramar, Goa'.
The letter charged Professor Singh with 'promoting socially hateful thoughts about a particular religion, community and group of individuals', following an online lecture conducted by her.
The letter, signed by Prabha Naike, ABVP's Konkan state joint secretary, had sought 'quick action by the college authorities in 24 hours'.
Ever since this letter was leaked to the media and posted on Facebook, the Rashtriya Yuva Hindu Vahini jumped on to the bandwagon. Rajiv Shankar Jha, who proclaims himself to be the south Goa general secretary of the RYHV on Facebook, has sent a letter to the Vasco police to register an FIR against Professor Singh for her Facebook post.
A couple of other right wing organisations have also posted threatening videos on social media against her.
But the professor, who has been teaching at V M Salgaoncar College of Law since June 2019, and whose Facebook post of April 21 has been in the eye of the storm, refuses to cow down.
Professor Singh spoke with Prasanna D Zore/Rediff.com about what exactly she discussed with her students in an online lecture about Rohith Vemula and Manusmriti -- video snippets of which have been selectively leaked to target her -- that has ruffled the ABVP and other right wing organisations.
"The leaked video is just a snippet, not the entire lecture recording. If the entire recording is released they will be caught because then everybody will come to know it was spoken in a context. But the interesting thing is these people so far are not ready to submit the evidence or give concrete instance of what comprised hate speech in my lectures," says Professor Singh who has studied in Goa since Class 6.
"Even if they don't do it, I have very good defence to support myself," says the professor who secured the first rank in Masters in Political Science from Goa University in 2010.
What was the exact nature of the threat issued by the ABVP to you and to the V M Salgaoncar College of Law?
They demanded my termination within 24 hours from the day of the submission of their complaint.
They had given an ultimatum to the college management that within 24 hours, they will have to take a decision to terminate me or else they had threatened to start a severe agitation against the concerned faculty, which is me, at the college. They said they would also approach the police.
Have they, in their letter, spelt out what they meant by severe agitation?
They haven't described much about this 'severe agitation', but if you see the language of the letter they have called me 'vile', 'horrendous' and they have tried to malign me throughout the letter; the letter amounts to criminal intimidation.
Have you lodged a complaint with the Goa police?
I'm just seeking legal advice from people for now. And I may soon decide on it.
I read in the newspapers and my friends and colleagues told me that a police complaint has been registered against me for a Facebook post I had shared on April 21 this year
We all came to know either from newspapers or through Facebook posts that this person, who has filed a complaint against me, has shared a copy of the complaint on Facebook where he has tagged around 60-70 Hindutva fundamentalists, and belongs to the Hindu Yuva Vahini.
And there are so many people who are abusing me, and encouraging people to put black ink on my face to teach a lesson to me. He and his associates are inciting the mob against me to teach me a lesson.
I'm now forced to think this is a kind of political vendetta and witch-hunt from reactionary forces and it was not merely about classroom grievance.
How has the college reacted to this threat?
The grievance cell of the college is inquiring into the matter, which includes inquiry into the illegal recording and transmission of an online lecture since it violates the college's code of conduct. I was given one week's time to submit my response to the letter.
I have already submitted my response to the college.
As of today (November 2), I have learnt that the college has responded to the ABVP and I'm satisfied with the college's firm response to the apparently intimidating representation/letter by this organisation.
The college has upheld due process and the rule of law against the ABVP's undemocratic demand for my instant termination.
They have asked for material evidence for the ABVP's claims against me, the alleged video recordings hinted in their representation, the sources from which the video recordings have been unethically obtained, including the identities of the students who have recorded and transmitted the clips unethically.
Secondly, the college has rightly referred to the proper channels within, especially the grievance redressal committee, formed for the very purpose of redressing the grievances of students.
Furthermore, in their reply, the college has referred to my views and objections to the representation and has taken a serious note of the intimidation and threatening tenor in the letter.
The ABVP office-bearer who wrote this letter to the college is from Panaji. I don't know her and she is not my student.
In my response (to the college) I have questioned the locus standi of the ABVP to dictate and judge upon the pedagogical framework and contents of the classroom.
We become teachers after certain qualifications and the college appointed me because they have found me fit and responsible for that position based on my research and qualifications.
And now my teaching credentials are being questioned overnight from someone who is not even a student of our college.
The ABVP office-bearer who wrote the letter is herself confused if you read her interviews in local newspapers; I think she is being supported by some political forces to do what she has done.
In one of her interviews this girl said that she did not say that I have taught anything anti-Hindu, but she thought that I discussed many things that were irrelevant to the subject I was teaching.
They are dictating to me what is relevant and what is irrelevant. They are trying to dictate what a teacher should teach her students and how she should go about it.
If we encourage such forces, then tomorrow they will try to intimidate every teacher who doesn't teach their idea of what is right and wrong.
This, I think, is just a trial balloon and if we cow down to their demands it will set off a terrible precedent and you will find more and more such instances where teachers will be dictated to by these political/cultural forces.
How has this threat affected your routine life within the college and outside it?
Soon after this letter I have been facing social ostracism; many people have stopped talking to me because they fear repercussions from these people.
The people I know and have shared a good relationship with have started maintaining a distance from me now. I don't want to name them, but this is what has happened.
Otherwise, most of my students and colleagues across Goa are with me.
How has this incident affected you as a person and a teacher?
This entire issue has caused me immense mental harassment, but I have got a stern resolve to face such incidents and I will not be cowed down.
My peace of mind is shattered, though.
If you go through the language of the letter, you will know what I am going through as a person and teacher.
They have accused me that my mentoring is wrong, that I don't know how to teach.
There are so many malicious comments there which malign my image as a teacher. The letter is full of indirect abuses.
I have a good academic record. I have been one of the best students of political science.
The ABVP letter has charged you with promoting 'socially hateful thoughts about a particular religion, community and group of people' and that your teachings are 'anti-religious'?
What is it that you teach your students in your online classes?
I teach political theory paper, which going by the topic is highly subjective because political philosophy is a highly subjective matter in itself.
Normative political theory involves value judgements whereas scientific political theory promotes positivist or scientific methodology to understand a political reality.
There are topics like the nature of political theory, and then the concept of power and authority and the sovereignty, State.
There are perspectives, like feminist perspective, Marxist perspective, etc, etc; topics about our society like theory of social change, which includes philosophies about incremental change and revolutionary changes, etc.
These are very complicated topics, and sometimes these topics become subjective and contentious also.
While teaching you have to discuss certain illustrations. I will just give you an illustration.
I think one of the problems they (the ABVP) had with me was about explaining a point in political theory by citing Rohith Vemula's example and quoting from the Manusmriti.
I was teaching my students how jurisprudence is getting enriched by political philosophy or questions raised by political philosophy.
I was telling them about the link between law and politics or political philosophy just to make the subject interesting, because students find these topics very boring.
I was discussing the adultery law in India (which was struck down last year by the Supreme Court).
In that context I just said if they understood the feminist perspective on such laws then it would enrich their understanding of why such anti-women legislation have been enforced for a fairly long period of time.
At that time I gave the reference of the Manusmriti and how this law had many limitations to the freedom of women.
I do this to keep my students interested; as a teacher I am very passionate about the subject I teach. I just want to make political science subject interesting to my students.
About the Rohith Vemula episode, I was talking to them about conservative political thought and critical political thought that comes within the purview of the nature of political thought.
While discussing this we moved to Aristotle's view on slavery, which was a bit heavy on them. Then I told them about Gandhi and Ambedkar and that Gandhi because of his views on caste is labelled a conservative political thinker, but when it comes to caste Ambedkar is considered a critical political thinker.
Then we were discussing why Ambedkar considered the caste system oppressive, and why Gandhi was conservative because his views seek to preserve the existing social relations, and critical political theory is something which seeks to disrupt the existing social relations in its struggle for creating a just, fair, egalitarian society.
I was telling them that Ambedkar wanted the destruction of the caste system because it systematically and methodically oppressed the Dalits for centuries and created a segmentation that allowed only Brahmins to read and teach the scriptures, the Kshatriyas to defend the kingdom and Dalits for doing all the menial work.
Then I asked them if they had heard about Rohith Vemula and told them how Rohith Vemula felt because he was born in a Dalit family.
I was explaining to my students that there is continuity in political thought even when we proclaim that caste is dead today.
I was explaining to them how the caste system is dead today Constitutionally, but socially it still exists in different parts of India. In this context I gave the example of Rohith Vemula because he said 'My birth is my fatal accident'.
How have your students reacted to the ABVP's letter threatening you?
They did not know much about it in the beginning because usually such issues of grievances are not discussed in classrooms;
When they came to know about this issue through newspapers and Facebook they were very supportive.
Even previously, as I understand, students never had any such issues with what I taught them in the class.
We all believe, and rightly so, that academic exercises should be absolutely free of such interferences and intimidation.
If I record what my students say during discussions on what I teach and if they record what I am saying, then there cannot be any political or intellectual engagement in the classroom.
Some students have reached out to me personally and they are like, 'Tell us, ma'am, what we can do for you?' and have been asking me not to be scared about these threats. So that gives me a lot of strength.
Are you continuing to teach right now?
Yes, I'm continuing teaching. The online lectures do happen and none of my students has raised any objection.
If they have any objections about what and how I teach, we can discuss those issues during the lecture without the interference of any outsider.
A third party, which has no locus standi, has no right to interfere in what is taught inside a classroom.
During my lectures I always ask my students about their definitions or views on a particular topic like the concept of power. So they will give you some definition and then we have a discussion with the entire class making the session very interactive.
How was this online lecture video leaked? How did the ABVP get it to know about what is taught during an online classroom lecture?
I think somebody might have recorded it during the online class, but I don't know who.
The leaked video is just a snippet, not the entire lecture recording.
If the entire recording is released they will be caught because then everybody will come to know it was spoken in a context.
But the interesting thing is these people so far are not ready to submit the evidence or give concrete instance of what comprised hate speech in my lectures.
Even if they don't do it, I have very good defence to support myself.
Intellectual discussion is not hate speech and I can open their mind to it. What these people are doing is a kind of anti-intellectualism.
Do you fear physical attacks given the nature of the intimidation? Are you going to seek police protection?
Today I have just given a complaint to the police station near my house. I have sought the kind of personal protection that I feel is necessary for my safety and security.