'The idea behind the new rules is that slaughter markets must buy directly from the farms as is the case in the bloody world.'
'The cattle markets have become centres for the organised beef mafia.'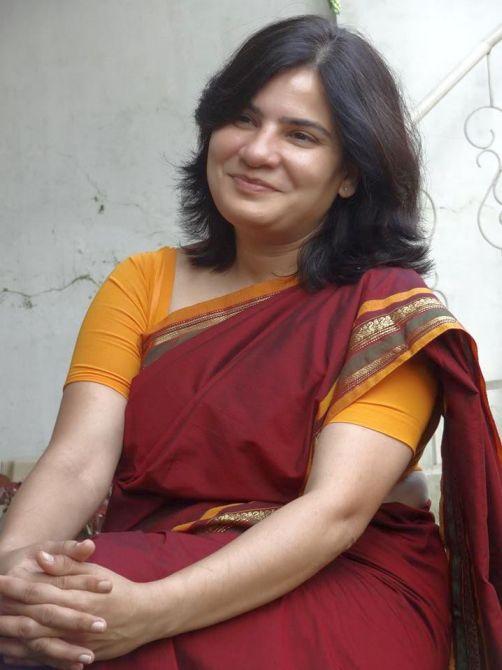 IMAGE: Animal activist Gauri Maulekhi says the new law won't curb people's eating habits. Photograph: Kind courtesy Gauri Maulekhi/Facebook
Beef is once again in the limelight after the Centre introduced a new notification last week banning the sale and purchase of cattle from animal markets for slaughter.
The origin of the Centre's new rules on cattle sales lies in a 2014 petition filed by animal activist Gauri Maulekhi in which she states that cruelty was being meted out to animals which were being illegally transported across the Indian border.
In light of the protests by the states and animal traders, Maulekhi, who works for the NGO People for Animals and is an adviser to Union Minister Maneka Gandhi, clarifies to Rediff.com's Syed Firdaus Ashraf that the new rules are not about controlling the eating habits of people, but about animal welfare.
What do you have to say about the Madras high court has stayed the Centre's notification banning the sale and purchase of cattle for slaughter?
The Animal Welfare Board of India should have been made respondents. They were not made respondents.
I should have been made a respondent because it was my petition in the Supreme Court due to which the (new) rules came out.
I should have been made a respondent and heard. I was not heard.
Basically, this Madras high court decision is quite open to challenge.
This will not stand the scrutiny of law. They have given four weeks to respond and only rule 22 (imposing restrictions on the sale of cattle) is a problem for the court, and not the entire notification.
We will have to get this stay vacated because not only are these rules important for national security, as cattle trade funds terror across the country, but also illegal slaughter is taking place across the country.
This will be challenged in the Supreme Court. This judgment was arbitrary as no respondents were heard.
It was my petition, how could they not made me the respondent?
There is a belief that these rules on cattle sales will effectively ban the slaughter of buffalos in India. Can you please clarify?
Absolutely not. Only illiterate people can talk like that.
If you read the rules, it does not mention anywhere that you can't slaughter animals.
The (new) rules says you can use the livestock market only for legitimate agricultural purposes. The scope of the rule is only to the market.
The idea behind the new rules is that slaughter markets must buy directly from the farms as is the case in the bloody world.
Across the world, slaughterhouses buy from the farms and cattle markets are to be reared; that is the logic.
If the farmer wants to sell cattle for slaughter, why should he introduce 50 middlemen?
Why should a farmer subject the cattle to the hideous market journey and not send it straight to the slaughterhouse?
The farmer will get more money and slaughterhouse will get it cheaper and this will cut out the middlemen who are making profits and torturing these animals.
They don't do this to dairy animals or agricultural animals because those animals are to be kept and used.
They do this to animals that have become old and are destined for slaughter.
They ill-treat them. They don't feed them. They don't give them water.
They pack them in crowded vehicles, which results in animals having broken bones and injured eyes. It is heinous cruelty.
I filed this petition after visiting so many cattle markets across the country.
After massive documentation, I showed that meat animals (animals for slaughter) are tortured in these markets.
They should not come to these markets and they should be directly sold from farm to slaughterhouses. That is the simple thing.
Whoever says beef will be stopped, I don't know what to say to them.
They just have to read the rules.
You stated that cattle markets have become butchers. Could you please elaborate?
The cattle markets have become centres for the organised beef mafia.
For instance, Uttar Pradesh has 50 slaughter houses, but it has 10 animal cattle markets in each city.
What do these cattle markets do? These markets collect animals from all the villages and then they smuggle them out.
Because you cannot slaughter cows in Uttar Pradesh, they smuggle it to West Bengal and from there to Bangladesh.
Or these cows get slaughtered illegally in Rampur or Aligarh.
So what we want to do is ensure traceability.
India has a mandate under the FAO (Food and Agricultural Organisation) as a member and as a member of the World Organisation for Animal Health to ensure food traceability.
If a buffalo is coming to a Delhi slaughterhouse, there is no way of figuring out from where it is coming from.
If it has foot and mouth disease, if it has mad cow disease or leukaemia, then these are notifiable diseases.
You have to notify from which area these diseases are spreading so that those areas can be locked down and the disease is prevented from spreading.
These are highly communicable diseases, but how do you find out?
There is no way to find out because the cattle have changed hands so many times.
Your concern is genuine. Why has this issue become one of vegetarians versus non-vegetarians?
The Congress party decided to butcher a calf in public and misinform people. They are misleading the people.
Very few people in this country have read the notification. Everyone is working on the misconception yeh kar diya hoga, woh kar diya hoga (they must have done this, they must have done that).
The notification was issued after meeting the delegation of all government departments and state governments sitting together and filing reports in front of the Supreme Court.
The ministry of environment and forests deliberated on this issue for a year and only after many discussions was this notification issued.
It is not some idiotic political agenda. It is a sorted decision.
Even the parliamentary committee which was headed by P Chidambaram indicated that these cattle markets are a problem.
This is something which everyone acknowledges. (But) When something is done about it, they have to shout and scream.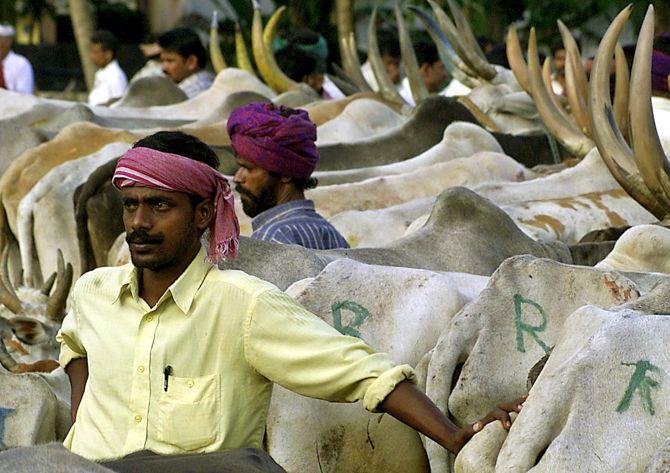 IMAGE: According to Gauri Maulekhi, smuggled cattle helps funds terrorism, which is why the new rules are needed. Photograph published only for representational purposes: Dipak VM/Reuters
Why were goats, fish and chicken left out from this notification?
Goats, chicken and fish are not smuggled. You have to go to the cattle market to understand what a cattle market is like.
Goats and chicken are not smuggled across borders. They are slaughtered within the states.
Large animals like cows, buffaloes and camels undergo inter-state smuggling and trafficking like hell.
For instance, cattle from Gujarat, Rajasthan, Uttar Pradesh and Punjab are transported to West Bengal.
Similarly, all of the cattle of Andhra Pradesh, Orissa, Karnataka and Telangana goes to Kerala.
It is hideous the way we make these cattle travel. This never happens in any other country. We are one weird country.
What does a farmer do with an unproductive buffalo or bull? How can a farmer go on feeding the animal?
Every state has a provision for keeping unproductive cows and buffaloes in legitimate kanji houses (shelter homes for cattle)
Buffalo slaughter is allowed, but in licensed slaughter houses only. You cannot say, 'Oh! My buffalo is not giving milk, so let me sell it to the first smuggler that comes my way. If not, then let me slaughter it in my backyard.' You cannot do that.
There is a law, the Food Safety and Standards Act, which was made by the Congress party and it says that animals can be slaughtered only in registered slaughter houses.
If I open a factory and dump the waste on the road saying it is the municipal body's job to clean it, then that is not right.
Similarly, if I have unproductive cattle, then I have to be responsible for disposing it.
I must take it to a registered slaughterhouse or else I must switch to some other industry.
It is as simple as that. How can I be so irresponsible that I just dump my cattle or sell it to the first person who comes my way?
Don't you think farmers will abandon unproductive cattle on the roads after this rule comes into effect?
That is absolutely insane. Nobody leaves anything on the road because there are so many illegal slaughter houses all over the place.
We are trying to cut that out. The only people who will suffer are the middlemen, the dalals.
The farmers will continue to rear their cattle and the legal slaughter houses will continue to slaughter them.
There is already a supply chain. There are milk cooperatives and they know where farmers have cattle.
Every village in our country has a milk cooperative and they know which animals are unproductive in the village.
They can straightaway send animals to the slaughterhouses. Why should they be hopping from market to market with bones broken?
The butcher community mainly comprises Muslims. Don't you think this new rule takes a communal turn?
I don't know. Just look at the statistics in our country.
Every city and village in India has a slaughterhouse, but in all of India only 500 of them are registered at the Food Safety and Standards Authority of India.
And the ones that are registered are only exporting. So all of the domestic consumption is happening without licences, almost all of it.
No post-mortem takes place. Dirty, filthy sick animals, pregnant animals, infant animals, animals suffering from foot and mouth disease are slaughtered and eaten by the public.
And when you are asking them to be little responsible, then the Congress goes and slaughters a cow on the road! What kind of nonsense is that!
Why are you attacking the Congress?
The Congress is the party which made the FSSAI and they are not standing by it, which is why I am irritated.
They made this law in 2006. They discovered that cattle are smuggled to Bangladesh, which is also one of the many ways militants are getting funding for terror activities.
It has been documented by the ministry of home affairs. They just shut the files.
I learnt this in 2010 and since then I am the only one screaming and shouting about it.
Is there a about the link between cattle smuggling and terror?
It has been widely reported and documented. There is proof that Harkat-ul-Jihad-al-Islam terrorists in Assam confessed that they got their money from cattle smuggling.
Nothing is being done and everything is okay.
Now, one little thing is being done just to regulate this issue and there is a problem!