'You are a Kashmiri first. You are not an Arab.'
'Revisit our traditional sufi thought.'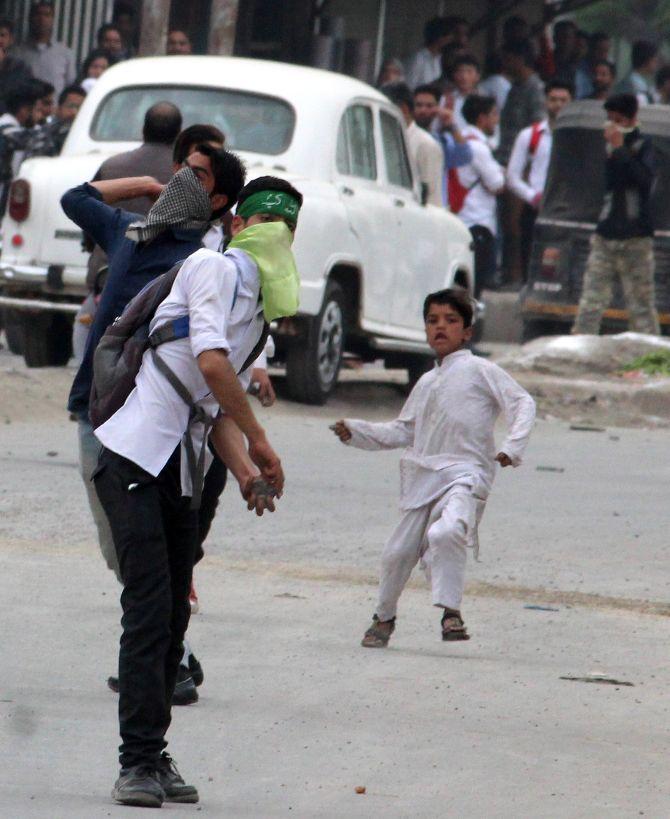 IMAGE: Kashmiri students protest against the alleged high-handedness of the security forces against students of the degree college in Pulwama last April. Photograph: Umar Ganie
You can remove a man from his home, but you can't remove his home and hearth from his heart.
The Kashmiri Pandits -- who marked the 29th anniversary of the beginning of their forced exodus from the Kashmir valley on January 19, 2018 -- would surely connect with this belief wherever they are settled in India or abroad.
Bill K Koul is among the thousands of Kashmiri Pandits who fled their ancestral homes in the Kashmir valley.
Bill, who took a vow on that freezing December evening never to return to the valley, had to break it in 2012 after a call from his Abbu jaan made him restless.
Since then -- except in 2017 -- Bill, like all Kashmiri Pandits who yearn for the smells of the soil of their motherland, has made five visits to his homeland, each time battling painful memories and ghosts of the past.
During these visits, Bill began connecting with Kashmiri Muslim youth, explained to them the miseries of the Pandits, striking conversations that would somehow help reconciliation.
Bill has always wanted to write a book about his past, about the Kashmir he knew, about his distress and disgust, about the Kashmir that exists today.
Some weeks ago, Bill's 22 Years: A Kashmir Story became a reality.
Published by Vitasta Publishing -- whose publisher Renu Kaul Verma is a Kashmiri Pandit herself -- 22 Years is one story among 'One lakh Pandit families may have one lakh stories', which is also part of the book's title, lakhs of stories to tell.
An engineering consultant, Bill who lives in Perth, Australia, traveled to India to promote the book, one among three he has written in the past year, the other two being, Issues White -- Anting India and My Life Does Not Have To Be Unhappy.
Bill spoke with Rediff/com's Prasanna D Zore about his book after its launch in Mumbai and the unending plight of the Kashmiri Pandit community.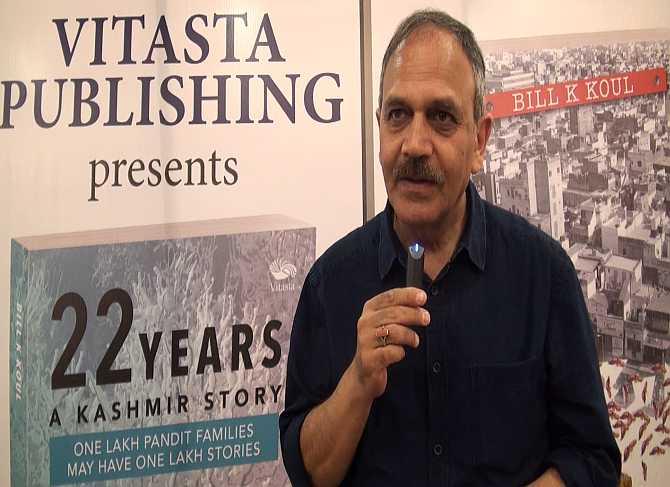 IMAGE: Bill K Koul unveils the book in Mumbai. Photograph: Afsar Dayatar/Rediff.com
Why did you choose the title of your book, 22 Years: A Kashmir Story?
In April 2012, I visited the valley after 23 years and four months. I broke a vow.
In December 1989 when I left Kashmir in distress and duress, I felt betrayed by the system, the government and the (Kashmiri) people.
I had to fend for myself. I left -- in fear.
Soon after (in January 1990) half a million Pandit community too had to leave.
I took a vow I'd never go back because I felt betrayed. I felt cheated.
Why did you break your vow of never returning to Kashmir?
I was shocked that this was happening because I had done nothing for which I was made to leave.
My aunt married a Muslim in the late 1960s. My uncle, a gentleman, an engineer who rose to be chief engineer, with four daughters, all doctors, is an ideal person I have seen.
He was a very good influence on me as I was growing up. I called him Abbu jaan.
In 2012, my guru, Shri Bansilalji Hakku, passed away suddenly in Delhi. I flew from Perth to attend his funeral.
While I was in Delhi, I received a phone call from Abbu jaan from Srinagar to convey his condolences.
When I enquired about his health he said he was not feeling too well. He had had prostate surgery.
He said he was having painful nights and woke up very often (at night in pain).
Since I was in a very emotional state -- my guru had passed away, three years before that my mother had passed away -- and I respected Abbu jaan very much. I suddenly decided to meet him.
Just for one day. But I broke a vow.
It was not easy for me. All the fear returned to me.
My father accompanied me to Srinagar after 22 years.
When I was in Srinagar in 2016, Burhan Wani was killed by the security forces.
I was visiting Kashmir only for five days.
I witnessed how the children pelted stones on security forces, shouting abuses, and how the security forces were defending themselves. It was all a mess.
With some difficulty I reached the airport. I had a 4 o'clock (4 pm) flight from Srinagar, but I had to reach there before 8 o'clock (8 am) because the city was paralysed.
It was back to a Catch 22-like situation for me. So, I revised the title from 23 years (when I first visited Kashmir in 2012 after leaving the valley in 1989) to 22 years -- and also because 22 years fitted very well.
Why did you vow never to return to Kashmir?
I felt betrayed. My family and I had done nothing.
Our community had done nothing for which we were targeted.
There was an orchestrated, design, plan to scare us (Kashmiri Pandits) away.
There were targeted killings and there were open slogans in Kashmir (in those days) that Kashmir main Nizam-e-Mustafa aayega (that Kashmir will become an Islamic country).
The five per cent (Kashmiri) Pandits -- we shared the same roots, the same ancestry, same culture with our Muslim brothers.
The only difference was their ancestors, who were also our ancestors, converted to Islam.
Our ancestors did not convert and we remained Kashmiri Pandits.
We are the most harmless people in the world. We can't even kill a chicken. But we were seen to be a threat. I don't know for what.
I don't know why Kashmiri Pandits had to be seen as threats (by the Kashmiri Muslims) and why armed aggression had to be raised against us.
So, there was a well-orchestrated scare campaign to drive Kashmiri Pandits away from Srinagar.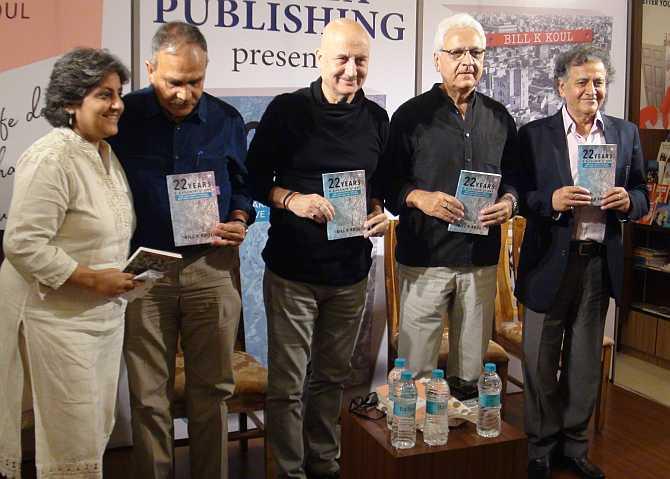 IMAGE: At the book launch in Mumbai: Vitasta Publisher Renu Kaul Verma, author Bill K Koul, Anupam Kher, Moti Kaul and Major Ashok Kaul. Photograph: Afsar Dayatar/Rediff.com
In his address actor Anupam Kher said Kashmiri Pandits must cut open their wounds; if they have healed our story is over (please see the video), and tell their children about the pain and anguish their fathers went through in Kashmir.
Do you think the next generation of Kashmiri Pandits, who did not face the pain and humiliation you faced during and before the exodus from the valley in 1990s, can connect with you?
I can't answer that question.
In my book's preface I have written about a conversation I had with my daughter.
When she asked me what I was doing I told her I was writing my memoirs.
She asked me: Who is going to read it?
I said: All Kashmiri Pandits, (Kashmiri) Muslims must read this book.
We had this conversation, but the fact is we are scattered around the world and the interests of our younger children are different.
As we grow older, we always go back to our roots.
They (the younger generation of Kashmiri Pandits) will always try to know who they are because people will ask them: Which ethnicity do you belong to?
They will say: We are from India, but they will ask: Which part?
When our children say Kashmir, people will ask them so what happened to Kashmir?
So, it's very important to know.
It's not easy once a community has left their original homeland.
Telling stories is important because history can't be forgotten.
You just can't put it under the carpet.
But the important thing for me is to move on.
No individual, no community can survive on hate.
Yes, the story must be told because there must be some learning from the story.
Do you think a practical solution can be found for the Kashmir problem? Will there always be idealism about finding a solution to Kashmir?
The Kashmir problem is very complex. There are external agencies and there are some vested interests who keep the issue alive.
But if you meet people on the ground -- except 2017 I have gone to Kashmir for the last five years, every year for five days or a week -- and I speak to many Kashmiri youth, young people, and I have heard many people saying we love India.
But they say we feel India has been treating us like step children. They say they don't have any industries, any opportunities for jobs.
The Government of India has been pumping lot of money into Kashmir, but the money is going only into the pockets of a few.
These vested interests are deliberately keeping the masses hungry so that they can exploit and use them.
What could be the solution then?
The youth, the common man!
Engage the common man; engage the youth.
Expose the youth of Kashmir to the youth of India, Kashmiri Pandit youth.
Let them see India and (figure out) the reason (why) they have a soft corner for a neighbouring country.
Is it just because it is an Islamic country?
But India has more Muslims in India than Pakistan.
India is home to the second largest Muslim population in the world.
It is very important they (Kashmiri Muslims) must be made to feel that India belongs to them.
Just not Kashmir, but the whole country belongs to them.
They should see their future with India.
What would be your message for Kashmiri Pandit as well as Kashmir Muslim youth?
Kashmiri Muslim youth, revisit your roots. See who you are.
You are a Kashmiri first. You are not an Arab. Revisit our traditional sufi thought.
The same thing for Kashmiri Pandit youth: Spirituality and simplicity.
That's how we can be happy; that's how our ancestors were happy.
Carry a good message to the whole world about who you are.