There are many reasons for Japan to turn a deaf ear to its anti-nuclear lobby and concentrate on its geo-strategic imperatives to sign the nuclear deal with India, says Debalina Ghoshal.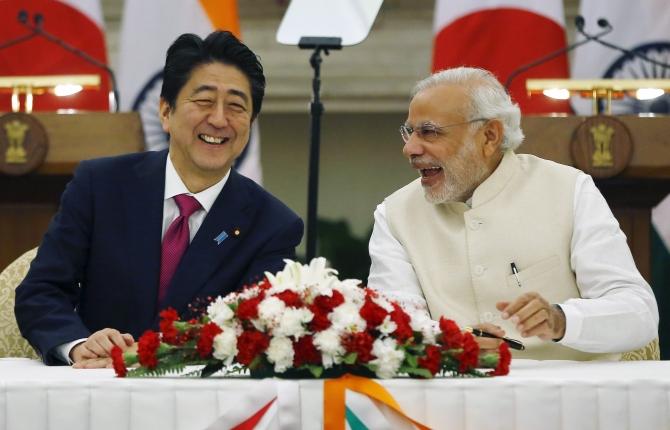 State-to-State cooperation is always a product of geopolitical and geo-strategic considerations, and the recent Indo-Japan nuclear memorandum of understanding bears testimony to this. With Japan's Prime Minister Shinzo Abe's visit from December 11-13, the civil nuclear memorandum has finally been inked.
This memorandum was inked despite Japan's apprehensions of India not being a Non Proliferation Treaty member. With the MoU signed now, it is hoped that before long the nuclear deal would also be inked between the two countries.
There are myriad reasons for Japan to turn a deaf ear to the anti-nuclear lobby in Japan and concentrate on its geo-strategic, geopolitical and geo-economic imperatives to sign the nuclear deal with India.
First: there are greater strategic stakes for both India and Japan in the South China Sea. Abe's India visit distinctly marked both India and Japan's strategic interests in South China Sea. In Abe's recent visit, both India and Japan have called on countries (read, China) to 'avoid unilateral actions' in the South China Sea to prevent any tensions.
This is not surprising as the South China Sea stands as a critical juncture to the sea lanes of communication for both Japan and India with big energy stakes, and the growing Chinese influence in the region is detrimental to both Japan and India's strategic stakes.
Second: for Japan, with the increasing influence of Beijing not just in the South China Sea but also in the East China Sea, especially with the dispute over the Senkaku/Diaoyu Islands, India seems to be a viable partner for countering the growing influence of China.
There is also a possibility of strengthening security cooperation, and this is evident from Japan's keen interest in regularly participating in the Indo-United States joint Malabar Exercise.
Third: there is a burgeoning defence market that Japan can capture in India. India is already interested in buying ShinMaywa US-2 amphibious search-and-rescue aircrafts from Japan, though this deal was not concluded in the recent visit. In 2014, reports confirmed that Japan had relaxed its self-imposed ban on export of weapons as a measure to bolster its defence industry.
Fourth: Japan's support for India's 'Make in India' initiative has resulted in Japan agreeing to invest $12 billion. An Official Development Assistance of $5 billion is also set aside for India.
Japan's infrastructure industry would also aim to achieve its gains as India desires infratructural development. Bullet train projects, industrial township projects to promote Make in India initiative are all an asset to the Indo-Japan bilateral relationship.
Japan is the fourth largest foreign investor in India accounting for seven per cent of all Foreign Direct Investment flowing into India. The Delhi-Mumbai Industrial Corridor and Chennai Bengaluru Industrial Corridor would also attract Japanese investment. Japan, therefore, views India as an attractive market to invest in.
Fifth: India's nuclear energy market is growing and there is great deal of opportunity for Japan and Japanese owned US nuclear firms to invest in, such as Westinghouse by Toshiba and General Electric by Hitachi.
The Indo-US nuclear deal has proved fruitful for India and due to the Nuclear Suppliers Group waiver, India has attracted nuclear power houses from across the world to invest in its nuclear power industry.
But, the hurdle in the Indo-Japan nuclear deal has prevented the American nuclear firms partnered with the Japanese nuclear firms to exploit the benefits of the Indo-US nuclear deal.
The road blocks
However, companies such as GE may find it difficult to invest in the Indian nuclear industry even if there is a nuclear deal between Japan and India, as GE has already expressed its concerns and apprehensions over India's Civil Nuclear Liability Act.
Japan has also clarified its stance on nuclear testing. Any further nuclear tests conducted by India would lead to Japan reviewing its nuclear cooperation. But despite this, there has, however, been a positive view in Japan of India's nuclear weapons testing. Japan believes that India would not violate its own self-imposed moratorium on nuclear testing.
As the Vision Statement 2025 aims to build a 'stronger bilateral strategic partnership' which requires 'deep and broad-based cooperation and concrete actions in defence, security, economic and cultural fields', nuclear cooperation too would form an integral component of this Vision Statement.
Both India and Japan should see the nuclear cooperation as a platform to enhance cooperation to 'strengthen mutual confidence and strategic partnership'. While the MoU on nuclear cooperation is already in place, India as well as the Japanese-owned US nuclear firms only hope that the nuclear deal between India and Japan is signed at the earliest.
The final deal, though, remains to be signed though there are technical and legal imperatives which would need to be taken into consideration. That could slow down the pace of the finalisation of the deal.
These could include the issue of reprocessing spent fuel and also India's nuclear liability law.
Image: Japan's Prime Minister Shinzo Abe (left) and his Indian counterpart Narendra Modi share a light moment at Hyderabad House, New Delhi. Photograph: Adnan Abidi/Reuters
Debalina Ghoshal is research associate, Delhi Policy Group.