'The cooperation of Yakub with the investigating agencies after he was picked up informally in Kathmandu and his role in persuading some other members of the family to come out of Pakistan and surrender Constitute, in my view, a strong mitigating circumstance to be taken into consideration while considering whether the death penalty should be implemented,' B Raman had written in August 2007.
With possibly days left for Yakub Memon's hanging, Rediff.com secured permission from Mr Raman's brother to publish the article.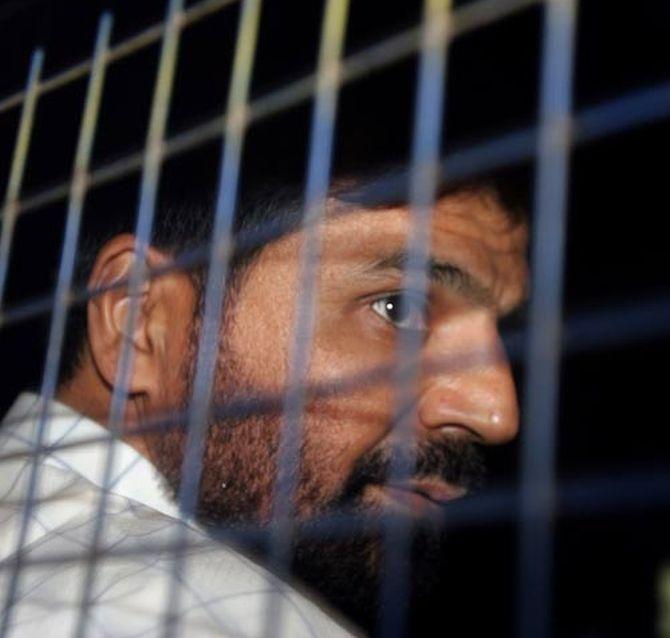 Image: A 2007 photograph of 1993 Mumbai blasts convict Yakub Memon being taken to the TADA court in Mumbai. Photograph: PTI Photograph.
In August 2007, writes Sheela Bhatt, I had written a two-part report: The strange case of Yakub Memon, and Why Yakub Memon's death sentence is surprising.
Before writing it I had interviewed B Raman, former Additional Secretary in the Cabinet Secretariat, on the telephone as at that time he was based in Chennai and I in Mumbai. He was very critical about the story because when Yakub Memon was lured back to India, Mr Raman headed the Pakistan Desk at the Research and Analysis Wing, India's external intelligence agency.
He was the key person who, along with officers of the Central Bureau of Investigation and the Intelligence Bureau, had put in best efforts to crack Yakub Memon and bring him to justice in India.
No less than Prime Minister P V Narasimha Rao had monitored the operation and was very pleased when the team met with success.
By all means it was an intelligence coup.
Mr Raman retired on August 31, 1994, just a few days after Yakub Memon was back in India. Yakub Memon claimed that he came to India on July 19, 1994, on his own while the Central Bureau of Investigation says he was arrested in New Delhi on August 5, 1994.
Mr Raman knew it all.
Mr Raman, who sadly passed away on June 16, 2013, had been a regular columnist for Rediff.com since 2002, and I requested him to share the inside story of Yakub Memon in the form of a column in 2007.
To my surprise, he agreed. But when the details arrived in my mailbox along with it came his note. In it he insisted that I should use the data in my reports without attribution. For my two-part story, lots of details had been given to me by Mr Raman and a former chief of the Intelligence Bureau who Mr Raman had suggested to me.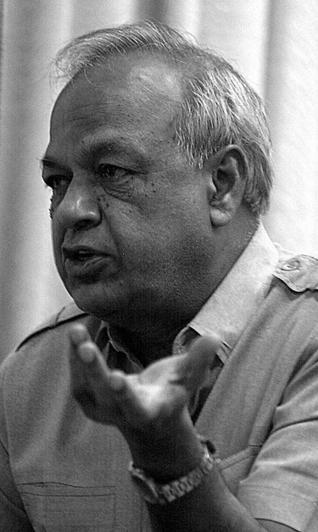 Mr Raman, image, left, was meticulous. He was an intelligence officer, but in some strange way he had a tremendous urge to 'educate' the people. He always treated media-persons including me as 'pupils.'
Intelligence officers normally do not write e-mails to share secret details. But, after his retirement from R&AW, Mr Raman revealed his thoughts frequently through e-mail conversations. (In the final years of his life he was madly in love with Twitter, he was in fact addicted to it).
When Yakub Memon was sentenced to death Mr Raman was in pain. He called me to share why it was very wrong on the part of the Indian establishment to allow Yakub Memon to die by decree of law.
He was quite disturbed to see the deception by officers of the investigating agencies, in the Mumbai courts and in higher courts, that he was once part of. On August 2, 2007, at 9.39 am, I got Raman's column in my inbox, written in bullet points and bold font, a style he was famous for. He sent it to me to publish in Rediff.com.
I was delighted. But, with the attachment, he also added, 'I wrote this, but I am having second thoughts. Don't use it. Others might escape as a result of this article if the higher court holds that the entire case has been vitiated as a result of the prosecution concealing a material fact from the sentencing court. R.'
Then, he changed his mind again and told me on the phone that I could use the details in my report. Obviously, I found the details useful.
Unfortunately, Mr Raman is no more. He died on June 16, 2013. But anybody who knew him enough can vouch that if he was alive today he would have written an article a day and would have gone on Twitter to stop Yakub Memon from going to the gallows.
Mr Raman's argument was that while for Indians the country is bigger than anything else, a country can command respect only by honouring its commitments.
The promise given by serving officers who represent a sovereign State is not negotiable. The system should uphold what is promised by representatives of the sovereign State.
Even if the promise is given to doubtful characters like Yakub Memon who do not deserve our sympathy for running away from the motherland. Mr Raman argued, 'By bringing back Yakub Memon the Indian State strengthened its standing.'
Mr Raman, who was a nationalist and supported patriotic issues, argued that the system of R&AW, IB and CBI worked wonders to bring back an Indian from an adversarial country like Pakistan. It was a historical intelligence achievement. Terrorists like Dawood Ibrahim and 'Tiger' Memon should not have been harboured by Pakistan in the first place. They must not be given protection for another day by any country.
Pakistan remains guilty of disregarding Indian sentiments by keeping Dawood Ibrahim under wraps. Indian diplomacy's peace overtures have failed in bringing the terrorists to justice.
But, in the process of cracking the anti-India forces of Pakistan, Indian sleuths surprisingly got back Yakub Memon.
Yakub Memon, who has helped India prove a point, must be defended. In October 2006 Mr Raman had written an article (external link) on Parliament attack convict Afzal Guru, who was hanged in February 2013, advocating a deeper investigation of his case.
In reply to a query from reader Vijay Shankar, he had replied: 'I have no views other than what I have already expressed. I have been of the view 'kill them in action and not in custody, even after a fair trial, make the State-sponsor of terrorism bleed and differentiate the individuals who let themselves be used by it.' Regards. Raman'.
He had sent his reply to me too.
Mr Raman would argue that Yakub Memon should be differentiated because he allowed India 'to use' him and show Pakistan how from under its nose Indian intelligence officers have got back an Indian to appear before Indian courts.
Whatever be Yakub Memon's logic or compulsion to return to India, he did help India cock a snook at Pakistan, which was refusing to change its vicious ways of harbouring two of India's most wanted.
Here is Mr Raman's article that was not published in 2007. Rediff.com publishes it now with the permission of his elder brother, Mr B S Raghavan, a retired distinguished IAS officer and a Rediff.com columnist himself.
---
Memon brothers and the Mumbai blasts
I have been going through a moral dilemma in my mind ever since I read in the media about the sentencing of Yakub Memon to death by the court, which tried the accused in the Mumbai blasts of March 1993, and his tantrums in the court after the death sentence was pronounced.
Right though the trial, he has been claiming that he was not arrested in Old Delhi as stated by the prosecution, but in Kathmandu, Nepal. This was disputed by the prosecution, which asked for the severest penalty against him and others, who were sentenced to death. All those sentenced to death have the right of appeal to the higher court and to petition the President of India for clemency if their appeals are rejected.
I have been repeatedly asking myself: Should I write this article? Would I be a moral coward if I did not do so? Would the entire case get unravelled if I wrote it? Would the undoubtedly guilty escape punishment as a result of my writing it? Would my article be adversely viewed by the court? Would I be committing contempt of court? It is impossible to have definitive answers to these questions. Ultimately, I decided to write this in the belief that it is important to prevent a person, who in my view does not deserve to be hanged, from going to the gallows.
As the head of the counter-terrorism division of the Research and Analysis Wing (R&AW), I had dealt with the external aspects of the investigation between March 1993 and my retirement on August 31, 1994. I like to believe that my work, with the help of some outstanding field officers of R&AW, was highly appreciated by P V Narasimha Rao, the then prime minister, who described our contribution to the investigation of the external aspects as worth its weight in gold.
I was disturbed to notice that some mitigating circumstances in the case of Yakub Memon and some other members of the family were probably not brought to the notice of the court by the prosecution and that the prosecution did not suggest to the court that these circumstances should be taken into consideration while deciding on the punishment to be awarded to them. In their eagerness to obtain the death penalty, the fact that there were mitigating circumstances do not appear to have been highlighted.
It was an outstanding piece of investigation by the Mumbai police and the Central Bureau of Investigation, with the excellent help of the IB. The nation ought to be proud of the officers who handled the investigation and prosecution, for their outstanding success in painstakingly collecting all the relevant evidence and placing before the court a watertight case.
The aura surrounding them would have shone even brighter had they taken the initiative in underlining before the court that there were some mitigating circumstances and that keeping those circumstances in view, they would refrain from asking for the death penalty even though perpetrators of such barbaric acts of terrorism deserve the death penalty.
The prosecution was right in saying that Yakub was arrested in Old Delhi. Yakub was right in claiming that he was not arrested in Old Delhi. In July 1994, some weeks before my retirement, he was informally picked up in Kathmandu, with the help of the Nepal police, driven across Nepal to a town in Indian territory, flown to Delhi by an aircraft of the Aviation Research Centre and formally arrested in Old Delhi by the investigating authorities and taken into custody for interrogation. The entire operation was coordinated by me.
He had come to Kathmandu secretly from Karachi to consult a relative and a lawyer on the advisability of some members of the Memon family, including himself, who felt uncomfortable with Pakistan's Inter-Services Intelligence, returning to India and surrendering to the Mumbai police. The relative and the lawyer advised him against surrender due to a fear that justice might not be done to them. They advised Yakub to go back to Karachi.
Before he could board the flight to Karachi, he was picked up by the Nepal police on suspicion, identified and rapidly moved to India.
He cooperated with the investigating agencies and assisted them by persuading some other members of the Memon family to flee from the protection of the ISI in Karachi to Dubai and surrender to the Indian authorities. The Dubai part of the operation was coordinated by a senior officer of the IB, who was then on deputation to the ministry of external affairs. Neither the R&AW nor I had any role in the Dubai part of the operation.
The cooperation of Yakub with the investigating agencies after he was picked up informally in Kathmandu and his role in persuading some other members of the family to come out of Pakistan and surrender constitute, in my view, a strong mitigating circumstance to be taken into consideration while considering whether the death penalty should be implemented.
There is not an iota of doubt about the involvement of Yakub and other members of the family in the conspiracy and their cooperation with the ISI till July 1994. In normal circumstances, Yakub would have deserved the death penalty if one only took into consideration his conduct and role before July 1994.
But if one also takes into consideration his conduct and role after he was informally picked up in Kathmandu, there is a strong case for having second thoughts about the suitability of the death penalty in the subsequent stages of the case.