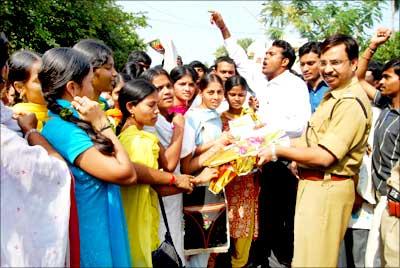 Warangal Superintendent of Police C V Sajjanar, who led the team of  policemen that killed three persons accused of throwing acid at two girl students of engineering in the city last week, has become a hero for thousands of youngsters.
Thousands of college students, most of them girls, are queuing up outside his Warangal home to shake his hands, garland him, present him with bouquets and offer sweets.
Some enthusiastic youngsters even hoisted him on their shoulders as the bespectacled SP looked on not knowing what to do.
The police on Friday night had shot dead S Srinivas Rao, P Harikrishna and D Sanjay, all in their twenties. Though the police justified the shooting and said the three tried to escape, there haven't been many takers. The predominant view is that that trio was killed in a stage-managed shooting to deliver quick justice to satisfy public anger.
Even as several human rights organisations and political parties raised serious doubts about the manner in which the police indulged in extra judicial killings, the masses on the street had no qualms in celebrating the police.
The biggest were witnessed at the Kakatiya Institute of Technology and Science where the victims of acid attack, K Swapnika and Pranitha were studying. Students burst crackers and distributed sweets and raised slogans in support of the police.
"The police have done a good thing. By killing those criminals the police have sent a clear message that those committing crimes against women will not go unpunished," said Madhu Lata, a post graduate student who had joined the crowd to thank the SP.
People like her had no doubt that Srinivas and his two friends were the culprits. "They openly admitted their involvement in the attack. Srinivas had the audacity to admit that he attack Swapnika because she rejected his love," said Sharmila, another student.
The encounter killings have also been hailed by the victims and their families. Pranitha cheered when she was informed by her family members at the hospital about the encounter. Swapnika, whose condition was critical, merely smiled when her father Devender Rddy told her that her tormentors were killed. "I am relived that Srinivas has been killed," said Devender, appealing to the police to provide security for his son against possible retaliation by Srinivas' supporters.
But those who suspect foul play point out that such killings were nothing new for the Warangal police. They point out that in two similar incidents during the last year, five suspects have been gunned down.
On December 4 last year, the police had shot dead three youngsters who had allegedly kidnapped and killed a 10-year-old girl Manisha. In October, the police killed a history sheeter G Jagan and his associate Ratnakar.
However, Home Minister Jana Reddy rejected the allegations of any wrong doing by the police. "Those asking questions should show the basis for their allegations," he said.
Image: Youngsters greet Superintendent of Police C V Sajjanar outside his Warangal home
Photograph: Snaps India