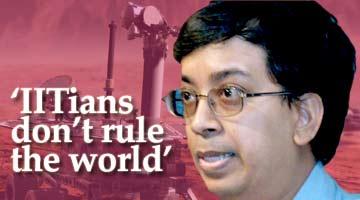 Here's an Indian whose has proved that the sky is not the limit!
Dr Amitabha Ghosh was the only Asian on NASA's Mars Pathfinder mission. At present, he is a member of the Mars Odyssey Mission and the Mars Exploration Rover Mission.
During the Mars Pathfinder Mission, he conducted chemical analysis of rocks and soil on the landing site. The simple and unassuming 34-year-old planetary geologist has won several accolades, which include the NASA Mars Pathfinder Achievement Award in 1997 and the NASA Mars Exploration Rover Achievement Award in 2004.
In Mumbai for the Pravasi Bharatiya Divas, he spoke to Correspondent Manu A B about his work at NASA and his vision for India.
Could you tell us about the Mars mission?
One of the spacecraft (Spirit) sent as part of the Mars Rover mission has completed one year while the other (Opportunity) will do so on January 24. The Rovers have carried out detailed scientific studies of the Red Planet. We have got some incredible results.
We have found clouds, frost, spectacular sand dunes and even evidence of water on Mars.
Is there a possibility of life on Mars?
It is difficult to say at this point of time, but samples of water indicate that it is possible.
What is it being the only Indian in the Mars mission?
I have never thought about being 'the only Indian' in the mission. You only think that it is very exciting to be at the frontier (of space exploration).
What are your views on space research activities in India?
The Indian space research programme is one of the best in the world. But our activities are mostly book-based. I am not undermining it in any way but we can do better. India can collaborate with NASA on scientific projects.
We are a force to contend with but that doesn't mean we can't do better. We should not be satisfied with what we have achieved. The dream of a better tomorrow should drive us to greater heights. You cannot afford to be complacent in any field.
How can we develop our science and technology sector?
It should be treated as a business. There should be more private participation. We must have an external review to evaluate the system and make changes as science and technology can take the country forward.
We must check brain drain. About 80,000 students migrate to the US for further studies, and settle there. They find the facilities much better abroad. We need to reverse brain drain by enhancing and upgrading institutes in India.
Tell us about your journey from India to NASA.
It has been an intriguing experience. I was keen on geologic research data interpretation and solar system formation. During my geological research days in India, I had slept in railway stations while traveling to various places.
After my post graduation in applied geology from IIT Kharagpur, I wrote a letter to a professor at NASA expressing a desire to work at the space agency.
I made certain suggestions; in fact, it was a critical letter. In India, you can never imagine criticising your professor.
My suggestions were approved, while I got an opportunity to work at NASA.
I think one requires luck and to put in sincere effort to achieve one's goals. Being in the right place at the right time is also important.
What is the state of space research in India?
I don't want to make controversial statements. All I can say is India is not at the frontier of space research. We have made commendable progress but there is a long way to go. We can do much better. I would be glad to be of help in any way. Investment in research is investment in imagination. It is a matter of national pride and internal recognition. We need to allocate more funds to enhance research and development work.
Do you see more Indians taking up subjects like space research?
Definitely, provided two essential requirements are satisfied. People and resources must come together to create solutions.
In India, no training is imparted on the practical aspects, even if it is something as simple as solving traffic problems in cities. When it comes to theoretical education, Indians are in a good position but lag behind in coming up with innovative solutions.
Merely learning from books is not going to solve any problem of this country. The 'thinking process' is very essential. Indians need to think out of the box to rise further in any field.
We need good educational institutes like IITs and IIMs, but IITians don't rule the world. You must remember that Microsoft co-founder (Bill Gates) does not have a college degree.
Youngsters must look around for role models and see what it is that they are doing right. Individuals must make use of their inherent strengths to succeed.
How can India reduce the impact of natural elements like tsunamis?
It should invest in a remote sensing project and be a partner of the US agency for oceans and atmosphere, National Oceanic and Atmospheric Administration. The NOAA got a warning about the tsunami, but could not inform India.
It can contribute a few million dollars (annually) and join the project. They are looking out for India's participation.
India also needs to have a disaster response station with an emergency broadcast system controlled by the Prime Minister's Office, so that a call about a genuine threat from any part of the world can be flashed on television and radio, as they are the quickest mediums to spread such a message.
How can India become a leading global player?
Globalisation will reap huge and long-term benefits and India must make the best use of the opportunities. At the PBD seminar, I found people presenting grandiose plans. Instead, we should look at the realities and immediate solutions.
Look at Dharavi (the biggest slum in Asia). While residents own television sets and fridges, they lack water supply and sanitation facilities. The government has failed in its responsibilities while the private sector has performed well.
The private sector has to be actively involved in the development of the country and the government has to respond to the needs of the people. Fifteen years ago, we didn't have an Infosys, today we have many global companies.
There should be drastic reduction in paper work. We need a scenario where one can start any business in a day, like in the US.
What is your vision for India?
I feel there India has a great future. We have world-class companies. Today, companies like Infosys can be compared with world leaders like Oracle. Like the Information Technology revolution, we can have a science or space revolution. We have the potential to bring about revolutions in other sectors as well.
What role can NRIs play in developing India?
NRIs should donate money to their respective villages even if it is to build a small school, a park or even a well, which can bring about a difference in the lives of the villagers. We are prepared to donate provided it is used efficiently and is effective in achieving stated goals.
The process can be simplified: decide on a project, submit a plan, put it up on the Internet and enable online donations. Even if 5% of NRIs contribute $10 a month, there will be an investment of over $2 billon every year.
Can India have something like NASA?
(Mumbai South MP) Milind Deora also asked the same question. It is good that young MPs are thinking along these lines. The answer is: Yes, India can. All it requires is the right kind of investment, infrastructure, people and support from the government. I told Deora that if need be, I can submit a proposal to help get the process started.
Also See:
Pravasi Bharatiya Divas 2005