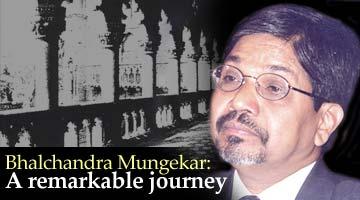 When the Manmohan Singh government reconstituted the Planning Commission and nominated new members, the person whose name aroused the greatest interest was Bhalchandra Mungekar, who was given charge of education, labour and employment, social justice, and tribal affairs.
The reasons for nominating Dr Mungekar are many: he was vice-chancellor of Mumbai University (he left the post to join the Planning Commission); he is an economist of repute specialising in agricultural economics; he was, and is, involved with various social activities; and he is an expert on Dr B R Ambedkar.
Like Dr Ambedkar, what stands out in Dr Mungekar's case every time he raises his voice for India's most marginalised is not mere empathy, but firsthand knowledge. His is a story of struggle, of overcoming the tremendous odds of poverty and caste.
Bhalchandra Mungekar was born in a poor Dalit family in Munge village, in the Konkan region of Maharashtra. From there began a remarkable journey.
Taking time off from his hectic schedule, he journeyed back in time to tell rediff.com his story.
"I lost my mother when I was just four years old and was brought up by my father," said Mungekar, now 58. "He brought me up in the best possible manner."
His father Laxman was determined to educate his son, so much so that he kept a teacher to tutor the young Bhalchandra. "My father would trade in coconuts and beetle nuts, earning about Rs 10 to Rs 15 a week, but he would spend Rs 3 a month on a tutor. He was both a father and a mother to my younger sister and me."
The father could not have foreseen the heights his son would scale.
"Alas, my father died in 1989. But he had the privilege of seeing me get my doctorate in economics in 1988," he said.
Mungekar also gives credit elsewhere. After standing first in the seventh standard, his education was nearly grounded because his village school did not teach beyond that class.
It was his maternal uncle who insisted that young Bhalchandra move to Bombay (now Mumbai) to continue his studies.
"My father was a bit reluctant, no doubt," Mungekar recalled fondly. "He had been a father and a mother to me and I guess he did not want to be parted. But then he also realised that there was no option."
In Mumbai, Mungekar joined Navbharat Vidyalaya, at Parel in southcentral Mumbai, then the city's premier working class area, the area where its great mills stood.
"This was my turning point," Mungekar said. "My teachers were all highly educated, leftists, had participated in the freedom struggle. The teachers went beyond the regular course, and in this school I gained self-confidence, learnt public speaking and fearlessness, and being straightforward in my speech. Whatever I am today is because of this school."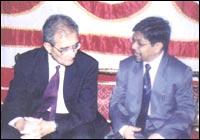 In the noisy Parel area, famous for its Ganpati idols during the Ganesh festival, it requires great concentration levels to stay focused on studies. "Where I lived was a virtual slum area that did not even have electricity," he said. "So I used to visit a small temple and study on its premises."
After matriculation in 1964, Mungekar (left, with Nobel Laureate Dr Amartya Sen) was unable to join college because the government had just then stopped part-time college. "I decided to sacrifice my desire to study so that I could earn some money," he said.
Mungekar joined the Reserve Bank of India in 1965 as a clerk and would probably have been lost in the labyrinths of India's humungous bureaucracy but for a government policy allowing evening colleges. Such evening colleges are a godsend for numerous poor boys who have to work to survive, giving them a chance to better their education even as they strive to keep the home fires burning.
Mungekar did not miss the opportunity and began studying economics at the Siddharth Vidyalaya in Wadala, an area close to Parel. He eventually did his master's in economics and continued working in the Reserve Bank, rising to the rank of assistant economist. He also got married in 1971. (Wife Sudha joined the RBI in 1973.)
At this stage Mungekar decided to take the road less travelled. He chucked his job with the country's central bank (where, no doubt, an interesting career awaited this rising economist) and chose academia. "My last RBI salary was Rs 1,600 in 1974. When I joined Ambedkar College to teach economics, my salary dropped to Rs 620," he recounted.
So why did he do this?
"I wanted intellectual freedom and more time for social work," he asserted. "After my father and the Navbharat Vidyalaya, the other great influence in my life are the novels of V S Khandekar [who won the Jnanpith Award, India's highest literary prize, in 1976]. In his novels, all his heroes are social activists. Moreover, I had a strong political bent of mind and found the RBI very restricting with all its rules and regulations."
In 1968 Mungekar founded the Yuvak Kranti Dal, or Youth Revolutionary Organisation, to organise the youth for various social and political activities. But there are severe restrictions on government employees participating in political activities.
Mungekar began teaching economics, and soon picked up his doctorate with a dissertation on agriculture, price policy, and distribution. The topic was one that would remain a consistent feature of his life: how to ensure that the poor can be helped.
"In school, my teachers hoped I would study medicine and, incidentally, my favourite subject is physics," he said. "But I studied economics to solve the problems of poverty and unemployment. And this is something that has not changed all these years. Even today I am in the Planning Commission with the primary concern of alleviating unemployment and ending poverty, and both of which are linked to annihilating caste."
It should come as no surprise that of all the influences in his life, Ambedkar tops the list. "His writings have had an unparalleled influence; they are a part of my thinking," he said. "Ambedkar understood the problems of this country better than anyone else. India is yet to discover the real Ambedkar. Unless it does, it will not solve any problem."
Ambedkarite, economist, academic, planner -- Mungekar wears many hats. Yet, a common streak runs through them: using economics to better the life of the man in the street. That obsession has not changed. Today, he is happy to be a part of the Planning Commission so that he can finally convert his ideas into policy.
"I am happy that Prime Minister Manmohan Singh invited me to join the Planning Commission of his own accord," he said. "No one intervened on my behalf. He had read my works and knew my views."
Incidentally, when the first wave of reforms was launched in 1991, Mungekar was (and remains) cautious. He had in fact  criticised Manmohan Singh in some speeches. "You know, it is the greatness of Manmohan Singh that he has invited me to join the Planning Commission rather than just people who merely supported his views," he said.
Mungekar believes that planning and a role for the State are necessary in a country like India. "If you look at the data post-1991, the simple fact is that reform has not reached down; it has not yet helped the poor. It is here that State intervention has to come in."
But he hastens to add that he is no supporter of the licence-permit quota raj. "That should have been abolished more than 25 years ago; of that there is no doubt," he emphasised. "Indian industry needed protection in 1951, but continuing the protection made Indian industry inward-looking."
What bothers Mungekar is the kind of reforms that are taking place. "We have to take care of people who are adversely affected by reforms," he stressed, "that is the job of the State, that has to be done. Industry's job is to maximise profits, but the private sector cannot perform all the social functions that are required. The State has to step in at this juncture."
"The market economy is irrelevant for those who cannot join the market."
India has huge numbers of people who are not part of the economy. Most of them are Dalits and tribals, living on the fringes of society, in far-flung villages or in the jungles. It is these people about whom Mungekar remains concerned, and whose cause he is determined to champion from the portals of Yojana Bhavan, the Planning Commission headquarters.
Headline image: Rahil Shaikh