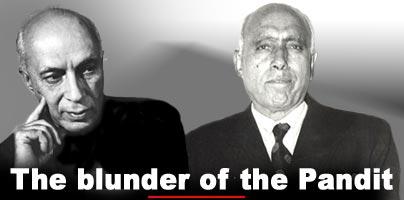 Forty years ago, India's first prime minister passed into the ages. On his death anniversary, May 27, Lieutenant General Eric A Vas (retd) commenced rediff.com's series to evaluate
Jawaharlal Nehru's legacy with a perspective of the premier's relationship with the military.
Today, Claude Arpi, the well-known Tibet and Kashmir expert, analyses how Nehru's obsession with the politics of his ancestral state eventually bequeathed a festering problem for the whole of India.
India's first prime minister passed away 40 years ago; it should be time to assess his 17 years in office. Unfortunately, historians and researchers have never been allowed access to original materials to write about Nehru's leadership during the troubled years after Independence. It is tragic that the famous 'Nehru Papers' are jealously locked away in the Nehru Memorial Library. They are, in fact, the property of his family!
I find it even more regrettable that during its six years in power, the NDA government, often accused of trying to rewrite history, did not take any action to rectify this anomaly. Possibly they were not interested in recent history!
Apart from Nehru's official correspondence and notes, government reports such as the Henderson-Brookes Report (see earlier article, The Confiscation of History) are still classified more than 40 years after they were written. Some pretend that if published it would be too damaging for India's security. It is just laughable!
As a result, today history lovers and serious researchers have only the 31 volumes published so far of the Selected Works of Jawaharlal Nehru (covering the period 1946 to 1955) to fall back on. This could be considered a partial declassification of the Nehru Papers, except for the fact that the editing has always been undertaken by Nehruvian historians, making at times the selection tainted. The other problem is that these volumes cover only the writings (or sayings) of Nehru; notes or letters of other officials or dignitaries which triggered Nehru's answers are only briefly and unsatisfactorily resumed in footnotes.
With these limitations in mind, it is interesting to try to assess Nehru's role in the Kashmir question. Fifty-seven years after Independence, it has remained an unsolved (if not a 'core') issue for the subcontinent.
Everything started in early 1946 when the Indian National Congress had to elect a new president. It was an accepted fact that the leader chosen as Congress president would become the first prime minister of independent India. Three candidates were in the race: Acharya Kripalani, Jawaharlal Nehru, and Sardar Patel. The working committee of the INC and the pradesh committees had to send their nomination for one of the three candidates.
Sardar Patel was easily the most popular. Everyone knew his efficiency and his toughness for tackling difficult problems. Twelve out of 19 Pradesh committees nominated him. None nominated Nehru.
From the start Gandhi had indicated that he favoured Nehru. His reasoning was that his British education was an asset: 'Jawaharlal cannot be replaced today whilst the charge is being taken from the British. He, a Harrow boy, a Cambridge graduate, and a barrister, is wanted to carry on the negotiations with the Englishmen.'
Another point Gandhi made was that while Sardar Patel would agree to work as Nehru's deputy, the reverse might not happen. He also felt that Nehru was better known abroad and could help India play a role in international affairs.
Eventually, in deference to Gandhi, Kripalani nominated Nehru and withdrew from the race. Patel had no choice but to follow his colleague 'so that Nehru could be elected unopposed.' Dr Rajendra Prasad later stated: 'Gandhi has once again sacrificed his trusted lieutenant for the sake of the glamorous Nehru.'
It is how India got a Kashmiri Pandit as its first prime minister.
I have always found it strange that a man professing to be above caste or religion agreed to be called 'Panditji.' Nonetheless, the fact that a Pandit was the prime minister made Kashmir a state different from the 500 other princely states.
Soon, the conflicting aspects in Nehru's persona came to the fore. On one hand, he was a democrat and revolutionary; on the other, he was often carried away by his 'Socialist' ideals to the point of blundering with India's destiny.
After his election as Congress president, he gave his support to his friend Sheikh Abdullah (he called him his 'blood brother') who had been jailed by Maharaja Hari Singh of Kashmir. In June 1946, he decided to go to the valley to free Abdullah. The situation was certainly not shining in Kashmir (as in the rest of India), but to take on the maharaja at this point in time was a serious mistake.
However, for Nehru, 'Anything that happens in Kashmir has a certain importance for the rest of India, but recent events there have had an even greater importance, [they] became symbols of a larger struggle for emancipation. Thus Kashmir became symbolic of the [princely] States in India.' He wanted to take on 'the autocratic and often feudal rule that prevails there.' He did not realise that the princes' support and collaboration would be indispensable during this all-important transition period for the nation.
Though prohibited to enter the maharaja's state, in July 1946 Nehru decided to defy the ban. Patel and other members of the working committee tried to dissuade him: there were more important matters to tackle in Delhi after the Cabinet Mission had come to discuss the transfer of power.
In a letter to D P Mishra, Patel explained: 'He [Nehru] has done many things recently which have caused us great embarrassment. His actions in Kashmir ... are acts of emotional insanity and it puts tremendous strain on us to set the matters right.' However, Patel, always fair, added: 'but in spite of all these innocent indiscretions he has unparalleled enthusiasm and a burning passion for freedom.' Patel, thus, pointed out the two powerful (and opposing) aspects of Nehru's personality.
A year later, hardly two weeks before Independence, Nehru still wanted to go to Srinagar. He wrote to Gandhi: 'I shall go ahead with my plans. As between visiting Kashmir when my people need me there and being prime minister, I prefer the former.' Once again he had to be dissuaded.
At the stroke of the midnight hour on August 14, India awakened to life and freedom. Unfortunately, Maharaja Hari Singh remembered the events of the previous year and while most princes signed the Instrument of Accession of their state to the Dominion of India, Hari Singh prevaricated. What would happen to him and his state under Nehru's rule? He also knew that the future of his state could not lie with Jinnah and his government.
In September, he decided to offer Kashmir's accession to India. This was refused by Nehru, who first wanted Sheikh Abdullah to be freed and installed as prime minister of the state. This was not acceptable to the maharaja.
Things came to a head at the end of October 1947 when raiders from the North West Frontier Province entered the state, killing, looting, and raping along. On October 26, they had reached the outskirts of Srinagar. Hari Singh agreed to sign the Instrument of Accession.
On the same day a historic meeting was held in Delhi with Mountbatten, the governor general, as chairman. A young army colonel named Sam Manekshaw, who attended the meeting, recalled: 'As usual Nehru talked about the United Nations, Russia, Africa, God Almighty, everybody, until Sardar Patel lost his temper. He said, 'Jawaharlal, do you want Kashmir, or do you want to give it away?' He [Nehru] said, 'Of course, I want Kashmir.' Then he [Patel] said: 'Please give your orders.'
This anecdote perfectly exemplifies Nehru, who could make the greatest speeches, but was unable to take a decision at a crucial moment. Thanks to Patel's decisiveness, troops were flown to Srinagar the next morning and the airport, the only link with India, was saved. Military operations to expel the raiders started.
Nehru's colleagues soon discovered they had made another serious blunder, a collective one. They had chosen Mountbatten to be the first governor general of independent India while Jinnah had kept the post for himself in Pakistan. At that time, it was probably easier for the Congress to have a foreigner as the head of the Dominion; it conveniently avoided having to choose among themselves. However, Mountbatten manipulated matters so well that he became chairman of a newly created defence council. Nehru did not see a problem in this: Mountbatten (and his wife) were his best friends.
But this was to have grave repercussions on Kashmir policy. Mountbatten, a British officer, was now at the helm of the executive defence machinery. British generals still serving in India reported to him. Mountbatten was not working for India's interests, but the British crown's.
Nehru's sentimental attachment to the Mountbattens deeply vitiated the Kashmir issue. It was certainly the most important factor for the failure to find a solution in the first years of the conflict.
Events took a turn for the worse at the end of December 1947 when the governor general managed to convince Nehru that India had to refer the Kashmir issue to the UN instead of conducting a military counterattack in West Punjab. Patel did not agree. But at this precise point in time the Sardar, who had so far looked after the relations with the princely states, was sidetracked. On December 23, he wrote his resignation, but was prevented (by Gandhi) from pressing for it. From that day, with Patel out of Kashmir affairs, things went from bad to worse.
In the first months of 1948, during the UN hearings, the British showed where their interests lay. The original Indian complaint was completely left aside and the Security Council began adopting anti-India resolutions.
Abdullah had already started his crusade (particularly with the US administration) for Kashmir's independence. He remained Nehru's friend till his scheming became too dangerous for India. In August 1953, he was finally dismissed by Karan Singh, the sadar-i-riyasat. Two months earlier, Shyama Prasad Mookerjee, who had been arrested by Abdullah and left without medical care in Srinagar, died in mysterious circumstances. Nehru had visited the capital of Kashmir a few days earlier, but did not find the time to call on his former Cabinet colleague. He later wrote to Mookerjee's mother: 'Indeed, I hoped that the healthy climate of Kashmir might lead to an improvement in Shyama Babu's health.'
Though in the following years Nehru hardened his position when different UN commissions (Dixon, Graham, Jarring) visited Delhi, it was too late. Pakistan was certainly not interested in vacating the so-called 'Azad Kashmir', rendering the plans for a plebiscite mentioned in the UN resolutions of August 1948 and January 1949 irrelevant.
A few days before his death Nehru sent a freshly released Abdullah to meet Ayub Khan with a proposal to have a confederation of India, Pakistan and Kashmir. The proposal was contemptuously rejected as 'absurd' by the Pakistani military ruler. It was Nehru's last attempt to solve the issue and it failed.
In retrospect, despite Nehru's love for great principles, his incapacity to take decisions in time, his inability to work with colleagues like Patel, and his friendship with individuals such as the Mounbattens or Abdullah, who had their own interests, blinded him so much that he did not further India's national interests. The consequences have been tragic and the muddle created 57 years ago remains far from being sorted out.
Sheikh Abdullah's Photograph: Pana-India
Image: Uday Kuckian