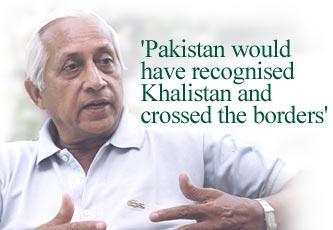 Lieutenant General K S Brar, who led the highly controversial Operation Bluestar, survived an assassination attempt by four assailants in London on Sunday night.
Here, we republish an interview that Lt Gen K S Brar gave to rediff.com on the 20th anniversary of Operation Bluestar, where he talks at length about how the operation was planned and carried out.
When military officers retire, they move into what the armed forces euphemistically call 'civilian areas,' where the likes of you and me live. But when Lieutenant General Kuldip Singh Brar retired, he had to reside in the cantonment area of Mumbai, in a bungalow guarded by a huge black gate, with army soldiers and policemen on watch round the clock.
Brar is probably the most protected army officer today, in service or retired. And all because one fateful night, 20 years ago, the then major general commanded Indian Army soldiers who entered the Golden Temple.
Operation Bluestar, as the mission was called, to flush out militants from the holiest Sikh shrine [on par with the Vatican for Catholics and the Kaaba for Muslims; the Hindu faith has no single equivalent to the Golden Temple] remains till date one of the military's most difficult missions.
The army had been ordered to destroy the movement to create Khalistan and to cleanse the Golden Temple of all the militants hiding there, including the leader of the militants, Jarnail Singh Bhindranwale.
June 6 marks the 20th anniversary of Operation Bluestar, the codename for the operation to enter and capture, dead or alive, the militants and terrorists who had turned the Golden Temple into their fortress.
At his home in Mumbai, the retired general agreed to journey back to that difficult time in an interview with Deputy Managing Editor Amberish K Diwanji. The first of a four part interview to understand the logic behind the Indian Army's most controversial operation.
Twenty years later, how do you look back on Operation Bluestar?
I look back in sorrow that it had to happen.
Apparently, the government had no other recourse. The events in Punjab had reached a complete breakdown.
The Sikh militants were in total control of the state machinery. There was a strong feeling that Khalistan was going to be established at any time. [Jarnail Singh] Bhindranwale was being seen as a prophet; he was making very strong speeches against [the then prime minister] Indira Gandhi and non-Sikhs; and trying to send a message across to the rural areas that the Sikhs are being given second-grade treatment and that it is high time we formed our own independent state of Khalistan. There was a strong possibility of Pakistan helping them and I think there was the possibility of a Bangladesh being repeated.
I can't comment on the inside of politics, but I assume that after taking everything into consideration, the prime minister and the government decided this was the only course of action left if we were to keep this country together, to prevent its fragmentation, to prevent Khalistan. And having seen reports of about 2,000 militants inside [Amritsar's Golden Temple] with any number of machine guns, different types of weapons, it was clearly beyond the capabilities of the police force to flush out the militants from the Golden Temple; the task had to be entrusted to the Army.
As a soldier, if I am given an order, I obey it and 20 years later, all I can say is I wish the situation had never risen that such an order had to be passed. And God forbid we have to do it again.
How did you motivate the soldiers?
No soldier enjoys or cherishes taking up arms against his fellow citizens. But they also know that there are many situations, be it in Nagaland, Mizoram, Assam, Tamil Nadu, Punjab or Kashmir, where the Army has to be called in. When the Army is called in, we don't think about of religion, caste, creed, ethnicity; we are sworn to the Constitution of India, our primary role is to safeguard the national security of the country and we have to act on orders to do so.
Why did the army go in just after Guru Arjan's martyrdom day, when the number of devotees is much higher?
That was a coincidence. You must try and understand that perhaps the government had just about three or four days to carry out the operation. We had some sort of information that Khalistan was going to be declared any moment. You try and figure out that one fine day, Bhindranwale declares Khalistan and hoists the Khalistan flag...
The Khalistani currency had already been distributed; Pakistan was pumping in money, they wanted a strong part of India, which is Punjab, to secede and for India to disintegrate.
Can you imagine if one fine day Khalistan has been declared, what would have happened? Pakistan would have recognised Khalistan and crossed the borders to support Khalistan, like we did in Bangladesh. The Punjab police might have crossed over to support Bhindranwale...
Did you fear that happening?
Of course! After all, emotions then were very high. I am not saying that the entire Punjab police would have crossed over, but a large section might have. If there could be desertions in the army, then the police, who were in Punjab, who were privy to Bhindranwale's speeches, might have [also deserted]; they were also emotionally charged by what was happening.
Moreover, Hindus and non-Sikhs were leaving Punjab while Sikhs in Delhi and Haryana were moving to Punjab, causing further fear and apprehension. The law and order situation in such a case would have been beyond the police force and difficult for the Army.
Would we have been on the border to stop Pakistan? Would we have been working on maintaining law and order with huge migrations underway? Would we be disarming the police and militia for fear that they might go over to the other side?
It would have been a task well beyond the army. So whether we could have waited a few days is something the politicians can best answer. But the impression given to us was that we had very little time.
Next: 'There is always a limit to how much any country can take'
Photograph: Jewella C Miranda
Image: Rajesh Karkera