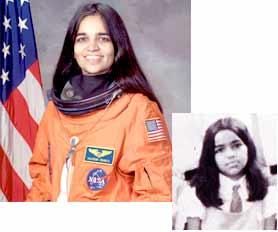 Kalpana's parents originally came to Karnal from the Multan district of West Punjab (now Pakistan) after Partition. When her father Banarsi Lal Chawla was leaving his hometown of Sheikhopura, communal riots broke out. He was one of the few survivors in the family who managed to reach India safely but without any possessions. The family finally settled down in Karnal, Haryana. Even today, his parents and brother are remembered in the small town for their services to the poor and needy.
Slide show: Saluting a Star

For his survival, Kalpana's father started several petty businesses, from selling toffees, groundnuts, dates and soaps as a street hawker to fabricating metal boxes for storing provisions and even setting up a textile shop. Finally, he became a self-taught technologist and engineer and began manufacturing tyres when the Indian market was flooded with imported tyres. Meanwhile, he married Sanyogita, a highly religious young woman, whose family also came from the same region in Pakistan. His is the proverbial rags-to-riches story and today he owns a flourishing tyre manufacturing company which has spread its wings all over the world.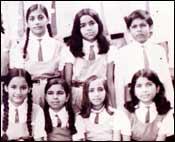 When Kalpana was born on March 17, 1962, in Karnal, her father was still a petty businessman trying hard to support his growing joint family of sixteen members. Kalpana was brought up in an environment where hard work was encouraged. The youngest child among three girls and one boy, she was treated like any other girl in the family, expected to be obedient and docile. But Kalpana's mother came from an educated family and was always ready to fight for her daughters. In fact, by the time Kalpana grew up, her eldest sister Sunita, eight years her senior, had already broken several family traditions. She had done well in school and gone for higher education to college, which was a taboo for girls in those days.
Even as a child, Kalpana began to show her independent nature and she even selected her own name! It so happened that she was called by her pet name 'Monto' at home. Her parents were always so busy that Kalpana had not been formally named at a proper ceremony. When Sunita and her aunt took Kalpana for admission to a nearby nursery school, the principal asked her name. 'We have three names in mind -- Kalpana, Jyotsna and Sunaina, but we haven't decided,' replied Sunita. The principal therefore asked the little girl, 'Which name do you like?' And she replied firmly, 'Kalpana!'
Like the name she chose, which means 'imagination', Kalpana was a highly imaginative child. During summer when the family slept on the roof of their small house in an isolated corner of Model Town colony, she would watch the night sky. Staring at the twinkling stars she wondered what they were, dreaming they beckoned to her and if it was ever possible to reach them. She would often ask questions about space but would rarely receive a satisfactory answer. Stars captivated her so much that once when she and her classmates built a physical geography map of India covering the floor of an entire classroom in her school, Tagore Bal Niketan, she covered its ceiling completely with stars -- sparkling dots marked on blackened newspapers!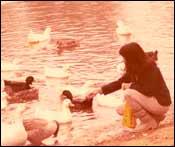 Like stars in the night sky, the first things in the blue morning sky that caught her fancy were aeroplanes. Karnal is one of the few Indian towns with a flying club. It was called 'Karnal Aviation Club' and is now a part of the Haryana Institute of Civil Aviation. Here, small Pushpak planes and gliders regularly take off and land. As her house was a few kilometers away from the Club, her favourite pastime was to climb up to the roof and watch them go roaring over her head. Bewitched, she would wave her hand at the pilot if the plane flew low over the house.
Whenever her teachers asked her class to draw a scenery, she would always draw aeroplanes flying in the sky, while the rest made mountains, rivers and houses. She also loved making models of aeroplanes during craft classes.
Once during a class, she asked her teacher Daljit K Madan whether she had ever flown in an aeroplane. When she said no, Kalpana enquired whether she was afraid of flying. At the age of eleven, she persuaded her father to take her to the Club and had a thrilling joyride abroad a Pushpak. From that day on, flying became her first love. She became as excited as a child whenever she saw planes or talked about them. And, one of the questions this inquisitive and sensitive girl asked after the joyride was, how can people be divided into classes, sects and religions, when they all look alike from the sky?
Slide show: One of India's finest gems

Although Kalpana never scored the highest marks in her class she was always among the first five. Sincere, hard-working and attentive, she respected and admired her teachers. She enjoyed subjects like English, Hindi and geography but her favourite subject was science taught by Nirmala Namboodripad, who took pains to make the subject simple and interesting. Kalpana also wrote poetry and danced at the annual day celebrations. She loved cycling and running and at sports meets she always came first in the races. Friendly and helpful, she often played badminton and dodge ball with boys. As she grew into a young woman, she cut her hair short and never put on any make-up. She refused to cook, never ironed her clothes, and began to wear trousers or jeans. During her elder sister's marriage, she wore the same dress for three days, saying that it did not matter what you wear!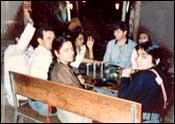 In those days, most girls in Karnal completed their education, got married and settled down. But her teachers at school encouraged the girls not to waste their education and do something more worthwhile in life. Belonging to middle or lower middle class families, the girls were also keen on higher studies and earning a living. By the tenth class, Kalpana had also made up her mind. Whenever any visitor asked her what she wanted to become in life, she would promptly reply, 'A Flight Engineer!' She thought that a flight engineer designs aeroplanes as nobody had explained that a flight engineer navigates an aeroplane during its flight! Once she saw a photograph of the Viking lander on Mars in a popular weekly and her imaginative mind woke up to the possibility of traveling in space and landing on the Red Planet.
Like her elder sisters she was admitted to an exclusive girls college -- DAV College for Women for her Pre-University. She passed her 10th class from the Haryana Board Examination in 1976. Actually, she was underage and got away by changing her date of birth from March 17, 1962 to July 1, 1961.
Complete coverage: Remembering Kalpana Chawla

Teachers at the DAV College encouraged her interest in science and mathematics and urged her to go for higher studies. There was a prophetic incident during a mathematics class. The teacher Swarn Arora was teaching what is called a 'Null set' or empty set in modern algebra. Giving the example of this set, she said an Indian woman astronaut was the classic case as till then no Indian woman had become an astronaut. To the surprise of everybody, Kalpana instantly exclaimed, 'who knows, Madam, one day this set may not exist?' At that juncture, nobody in the class could imagine that one day she herself would fill the set!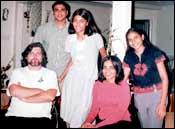 After successfully completing Pre-University, Kalpana realised she would have to shift to the neighbouring co-ed Dyal Singh College, if she wanted to pursue her dream of an engineering career. Nobody had told her earlier that it was the only college in Karnal that offered the Pre-Engineering course required for admission to an engineering college. Fortunately, it was not too late. She joined Dyal Singh College for the Pre-Engineering course, passed it with excellence and secured admission in the Punjab Engineering College, Chandigarh.
It was after Kalpana had secured admission to the Punjab Engineering College that her father, whose business often kept him out of Karnal, became aware of her plans and tried his best to dissuade her. He felt, a girl had no career prospects in engineering and advised her to become a doctor or a school teacher. He was not against her going to Chandigarh because earlier, Sunita had done her higher studies there but Kalpana was adamant. She was determined to become a flight engineer and for that, an engineering degree was essential.
Although her father was conservative by temperament, he always gave in when he realised that Kalpana had made up her mind. Moreover, her mother and eldest sister always firmly supported her. That Kalpana had already secured admission in the engineering college was a strong argument in her favour. So, after much discussion in the family, her father finally gave in, but he was too busy to accompany her to Chandigarh. To give her moral support, her mother accompanied Kalpana to Chandigarh instead. Her father's objections were not unreasonable, a girl aiming for an engineering career was a rarity in those days.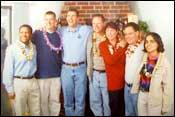 Then to top it all, Kalpana opted for the aeronautical engineering course. Of the seven girls who joined that year, she was the only one to do so. Asked during her admission what was her second option, she replied that she had none! During counseling for the selection of various engineering courses, the teachers also tried to dissuade her from opting for aeronautic engineering as it had limited job opportunities in the country. They tried to shift her to electrical engineering which other girls had joined but she refused to budge. Nobody could change her mind. She was determined to become a flight engineer, and nothing on earth could stop her!
In college, Kalpana showed total dedication to her subject because she enjoyed what she was doing. In fact, she was always dissatisfied with her performance and felt she could have done better. Always dressed in trousers, she used to come to college on a bicycle. As there was no girl's hostel, initially she stayed in Mata Gujri Hall in the Punjab University campus. In fact, she changed several hostels as she found the hostel environment very noisy and distracting for studies. Later, she lived alone in one room above a garage in a bungalow.
Kalpana had a few select friends and would restrict herself to them and her studies. She learnt karate and became a black belt. She was mentally prepared to fight if any man tried to act smart with her. She also had an aesthetic sense in clothes, was fond of eating simple food and collecting precious stones. She loved a quiet environment and reading books. During those days, her favourite writers were Ayn Rand, Alexander Solzhenitsyn, Salman Rushdie, Richard Bach and Oriana Fallaci. She would even persuade other friends to read these writers. Besides helping her friends in studies, she regularly paid the fees of one poor batch mate out of her pocket money without the girl's knowledge. Although she believed herself to be no less than any boy and could do any task that they could, she disliked the more aggressive women's liberation movement of the West.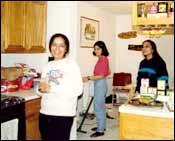 Kalpana always kept herself informed of developments in the world of aviation. She collected books and magazines on the subject and read them from cover to cover. She was particularly fond of Kelly Johnson's book on designing high-tech aeroplanes under a cloak of secrecy in the United States. Throughout her aeronautical studies at the sprawling campus of the college, she took an active part in various extra-curricular activities, which eventually helped in her selection to an American university. In the first years she wrote for the college magazine PECmag on precious stones and in the subsequent years she was its student editor. In the same year at the Annual Colloquium, she surprised her seniors by presenting a paper on 'Time-lapse in Space' dealing with Albert Einstein's Theories of Relativity.
Kalpana also became the joint secretary of the Aero and Astro club of the college. Under its auspices, she arranged several lectures and seminars on issues, such as, the role of women in society, the political scenario in the subcontinent, etc. She also conducted several quiz competitions. Once she arranged for the showing of the film Those Magnificent Men in Their Flying Machines to her classmates when she came to know that they had not seen it. She was one of the few students who was interested in aero-modelling and regularly visited parks near the college to fly aero-modelling and regularly visited parks near the college to fly aero-models with her classmate R K Jolly. She also took part in college sports meets, participating in running, cycling and rope-skipping races.
Always forthright in her manners and ready to take a stand on important issues, Kalpana won the respect of her classmates. If ever the question of a future career was discussed she would always point to the sky and say, 'I'm going to fly!' Sometimes, friends teased her for her passion for flying. Kalpana was respectful and courteous to all her teachers and was always keen to learn any new thing from anybody, be it a clerical job or handling a sophisticated equipment. She had a special regard for two professors in the Aeronautical Engineering division, namely V S Malhotra and S C Sharma, who always encouraged and supported her. Her teachers found that while most of the students were only keen on good grades and securing a degree, she always enjoyed understanding things and working on new projects.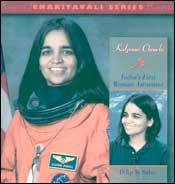 In 1982, Kalpana secured the third position in her class when she passed the BSc (Engineering) degree. By virtue of being the only woman candidate, she also became the first woman aeronautical engineer of the college. Despite all the hurdles in her path, she had managed to stick to her first love and was then fully qualified to design aeroplanes. This was, however, just the first step to much greater heights that she would achieve in the years ahead.
Excerpted from Dilip M Salwi's Kalpana Chawla: India's First Woman Astronaut, 2003, with kind permission of Rupa & Co.