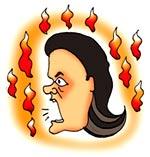 Congress president Sonia Gandhi's outburst against Prime Minister A B Vajpayee immediately after the Lok Sabha was adjourned pleased her partymen immensely. Members of the ruling National Democratic Alliance, predictably, were none too amused at the sight.
The man who bore the brunt of her ire was Home Minister L K Advani. He went up to her to thank her at the conclusion of the Budget session. But she let fly at him about how 'my mother-in-law was abused in this House, my husband was crucified in this House... now, even my children are not spared.' Advani was speechless at this unexpected verbal assault.
The news spread like wildfire in New Delhi's political circles.
At the Congress HQ people were pleased that Sonia had at last spoken 'extempore.' Senior party leaders taunted journalists, "You people thought she could not speak without a written script... Have you noticed how she let fly at Advani without any paper in hand?"
NDA members, on the other hand, were enraged at Sonia's conduct. If she had a grievance, they argued, she ought to have aired it when she "read out her concluding remarks from a sheet of paper."
Law Minister Arun Jaitley, when told about Congressmen's joy at Sonia's outburst, had this to say. It seems Banta Singh had a teenage son who was deaf and dumb. One day, an accidental fire reduced Banta's house to ashes. But, when his neighbours came to commiserate, Banta seemed far from unhappy. He appeared overjoyed. "Maro goli ghar nu," he would tell everyone, "Bholu bol paiya (To hell with the loss of the house. At last, Bholu has found his voice)." Apparently, on finding himself surrounded by flames, Bholu had shrieked loudly in fear.
Atal's largesse
The Vajpayee government has evolved a novel personnel policy where paltry performance can bring interesting rewards. The latest recepient of this bizarre man-management principle is Nand Kishore Singh, the controversial Bihar cadre IAS officer who reached the age of superannuation this January. His services were retained in the Prime Minister's Office till he was found a sinecure as a member of the Planning Commission. His term began on May 1. As a result, Singh nows enjoys the rank of minister of state to the government of India.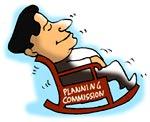 The Planning Commission has become a refuge for retired politicians and bureaucrats. Take Kamaluddin Ahmed and Som Pal, for example. Ahmed, former minister in the P V Narasimha Rao government, ditched the Congress for the BJP after he lost the last Lok Sabha election. Pal, a former minister in the Vajpayee government, lost the 1999 election from Baghpat in Uttar Pradesh. Both men were accommodated in the Commission.
Others rewarded for indifferent performance include former home secretary B P Singh, now executive director, World Bank, and former finance secretary Piyush G Mankad, now executive director-designate, Asian Development Bank, Manila. H K Dua, the PM's former press adviser, will soon take up his new assignment as India's ambassador to Denmark.
With Dua's exit, the PMO will be left only with Ashok Tandon to liaise with the media. Sudheendra Kulkarni no longer interacts with scribes. The IIT graduate and former journalist now writes the PM's speeches and sits on the Telecom Committee. The workaholic Kulkarni was recently promoted to the rank of joint secretary.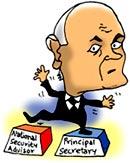 Wanted: 1 70 plus babu
With N K Singh out of the PMO, the pressure on Vajpayee to set his house in order has certainly eased. But this does not mean Brajesh Mishra is secure in his twin posts as principal secretary to the PM and national security adviser. Vajpayee would like to take the pressure off Mishra, but he cannot find a suitable replacement. At one stage, soon after the Tehelka bombshell, there was a move to make Mishra full-time security adviser. This fell through, though, for want of a suitable candidate to fill the principal secretary's post.
Maybe, a 70-plus babu who can get along with both Vajpayee and his foster family will come along soon. And Mishra will find himself rid of one of his two charges. Till then, he can continue to rule the roost!
Caricatures: Uttam Ghosh