He had even proposed marriage to Madhubala.
When she had giggled it off, he was said to have gone home and cried in front of his mother, only to be snubbed by her.
'Are you in your senses? You can't marry her, she is a Muslim. There will be too many problems,' she had warned him tersely.
IMAGE: Madhubala and Shammi Kapoor in their last film together, Boy Friend (1961).
Rail Ka Dibba had a silver lining for Shammi (Kapoor): The 'exciting experience' of working with the 'gorgeous' Madhubala, 'who was just out of this world,' as Shammi had gushed.
'When I met her on the set of Rail Ka Dibba for the first time, I could not take my eyes off her. I was like hit by a thunderbolt,' he had confessed.
In spite of his overt self-confidence and cavalier disposition, he was 'extremely nervous' taking Madhubala in his arms for an intimate scene. 'I was so nervous that I kept forgetting my lines,' he had said. 'And she was fully aware of the effect she had been having on me and was relishing it thoroughly.'
He just couldn't stop the rhapsody: 'She was breathtakingly beautiful... Woh jab paani peeti thi toh aisa lagta tha jaise yahan se (runs his finger down his neck) ek nas mein se paani guzarta hua neeche ja raha hai... (when she drank water, it was as if I could see water flowing down her throat). She was so delicate.'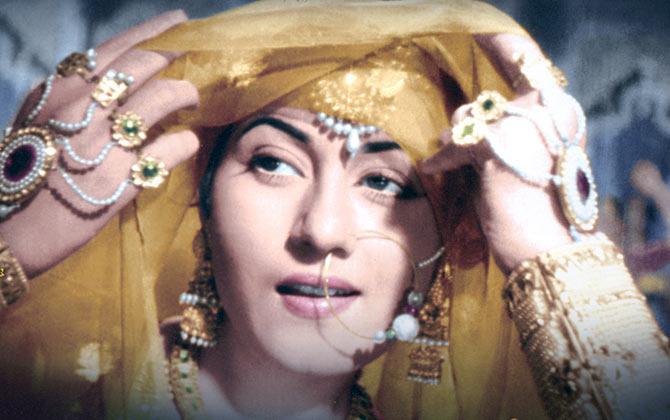 IMAGE: The stunningly beautiful Madhubala in Mughal-e-Azam (1960).
'Those days Madhu was romantically involved with Dilip Kumar on the one side and Premnath on the other. I kept wondering yeh Shammi Kapoor beech mein kaise aa gaya? (How did Shammi Kapoor land in between?) Since I was just a nobody at that stage, no one had bothered to associate my name with Madhu's.'
'She was very much in love with Dilip Kumar, so was he with her. I remember during the making of Naqab at Prabhat Talkies in Poona, he would often drive to the location all the way from Bombay to see her. If she was shooting, he would stand at a distance outside the 'field' of the camera and single-mindedly watch her perform without disturbing her.'
'I must admit, in spite of knowing that Madhu was already in love, I could not resist falling madly in love with her. No one can blame me for it. Even today, after meeting so many women and having had relationships with God knows how many, I can swear that I have never seen a more beautiful woman. Add to that her sharp intellect, maturity, poise and sensitivity. She was awesome.' (Shammi was speaking to me in early 2011, a few months before his demise.)
Becoming very nostalgic about Madhubala, he wondered 'why women like Madhubala don't happen anymore?' After a pause, 'When I think of her even now, after six decades, my heart misses a beat. My God, what beauty. What presence. Today's girls make me feel they might have just hopped out of incubators.'
After another pause, he had said, 'I think life was a bit too harsh on her. She didn't deserve to go through all that she did.'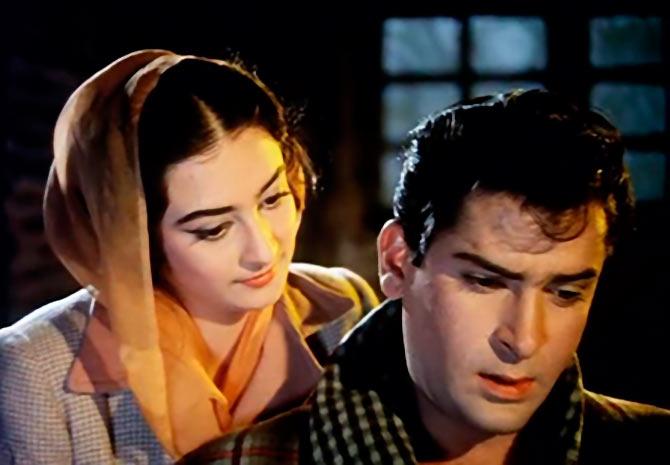 IMAGE: Saira Banu and Shammi Kapoor in Junglee (1961).
He had even proposed marriage to Madhubala. When she had giggled it off, he was said to have gone home and cried in front of his mother, only to be snubbed by her.
'Are you in your senses? You can't marry her, she is a Muslim. There will be too many problems,' she had warned him tersely. Those were conservative days.
After blissfully relishing the attention the tall, stylish, irresistibly handsome young man was lavishing on her, Madhubala had turned pragmatic and made him see reason. 'To be fair to Madhu,' Shammi had admitted, 'even though she kept teasing and tantalising me, she never let me forget that she was madly in love with Yusuf (Dilip Kumar). She could never resist mentioning Yusuf at the slightest opportunity. She seemed to feel motherly towards me.'
Though Shammi had signed on Jeevan Jyoti first, P N Arora's Rail Ka Dibba had gone on the floor ahead of it, as if it was ordained that his career should start with Madhubala.
In fact, the first ever film Shammi had signed was his friend Aspi Irani's Hum Tum Aur Woh opposite Madhubala. But that film didn't go beyond the opening shot. Shammi was a beginner during Rail Ka Dibba. A confident and more experienced Madhubala would go all out to help him in whatever way she could.
Madhubala and Shammi Kapoor had worked together in two more films after Rail Ka Dibba: Lekhraj Bhakri's Naqab (1955) and Naresh Saigal's Boy Friend (1961). By Naqab, Shammi had gained in a lot of confidence.
'On the sets, Madhu and I would have long academic discussions, especially on love and love scenes in our films. We did some very interesting love scenes in Naqab,' Shammi had said.
Their last film together was Boy Friend. By then Shammi was a big star and flying high. 'I remember filming the delicate Rafi Saab number Salaam, Aapki Meethi Nazar Ko Salaam. It was as if I was actually serenading her,' Shammi had recalled.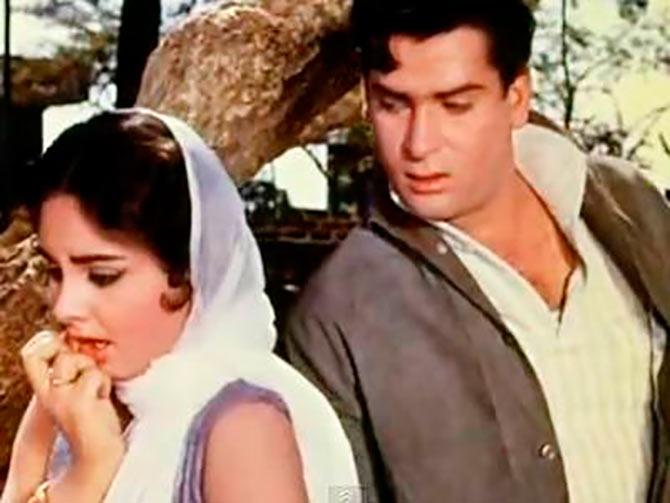 IMAGE: Kalpana Mohan and Shammi Kapoor in Professor (1962).
Madhubala was so fascinated by Shammi's presentation of another song in the film, Dheere Chal Ae Bheegi Hawa that she would keep one eye open as he serenaded her (though she was supposed to be asleep in the sequence. When he chided her for distracting him, she said, 'I can't help it, Shammi, I am fascinated by what you are doing... ;the way you are enacting the song. Where do you learn all this?' Shammi would just laugh it away.
Recalling one of his earlier meetings with her, Shammi had said, 'After we became friends during Rail Ka Dibba, Madhu would often tell me that I was too thin and needed to put on weight. Soon I took to drinking lots of beer. Ten years later, when we met on the sets of Girl Friend, I was a star and very self-assured. She looked at me and said, 'You look very confident now, but you need to lose lots of weight, you have become f-a-a-t.' How could anyone resist a woman like that? She was always blunt, in-your-face.'
Shammi thought Madhubala was a highly underrated actress in spite of performing consistently well in her films. His favourite film of hers was Guru Dutt's Mr and Mrs 55 (1955), though for sheer intensity and professional approach he had 'loved' Mughal-e-Azam (1960).
His obsession had also taught Shammi a lesson, as he admitted: 'The spell of helplessness I experienced with Madhu did set me thinking and I resolved never again to be so helpless in front of a woman. I had become too vulnerable with her.'
'After that, I didn't ask for any of the top heroines of the day to be paired with me. I didn't ask for a Nargis, Vyjayanthimala or a Padmini. Not that I had a choice at that stage in my career, but it was always easier to work with newcomers. I worked with Vyjayanthimala and Padmini much later in my career after I had established myself.'
'I made a film with Meena Kumari too, Mem Sahib (1956), but it was a smaller role, a negative one at that, and I get bumped off around the interval. The hero of the film was Kishore Kumar. By the way, I got raves for my death scene. It disturbed me because at that stage nobody would talk about my 'live' acts.' (Laughs)
'Most of my heroines like Ameeta, Asha Parekh, Ragini, Sharmila Tagore, Rajshree and Kalpana were freshers, who were either making their debut opposite me or doing their second or third film. It was always easy working with them because I knew where I stood with them and could call all the shots, have my way without being questioned. In return, they achieved instant stardom.'
Excerpted from Shammi Kapoor: The Game Changer by Rauf Ahmed with the kind permission of the publishers, Om Books International.