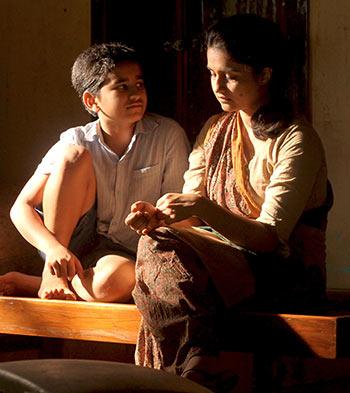 Killa is a deep film with lofty ambitions and brilliant performances, raves Raja Sen.
It is always hard to stay under the radar as you slip into a classroom.
Much as Killa's young Chinmay wants to carry on undetected in a new school in a new little world, he's singled out immediately and identified as the new student from the city who has won a scholarship.
The 11-year-old cringes as the teacher forces the class to applaud him and then, immediately after that, tells the other students that all of them must, like Chinmay, win scholarships in the coming year: be so special, in short, that nobody remains special.
Being told by the teacher that this city mouse, this 'outsider', is smarter than them immediately raises hackles.
Chinmay, a fine student and square enough to fit right into his Camlin geometry box, is aghast. He isn't sure he wants to be friends with these unruly, egg-headed small-town boys -- but he desperately needs friends.
As do we all, especially at a time when we seek to discover and find our own voices through them.
Avinash Arun's beautiful directorial debut, Killa, is a poetic and subtly philosophical rumination on childhood, displacement and the very notions of friendship.
Chinmay's father passed away a year ago and his mother is frequently transferred from job to job, with a smart but inevitably restless 11-year-old on her hands. There isn't much money in the house -- Chinmay frequently complains about the food -- and yet his mother lays great importance on her son calling his classmates over for dinner; because sometimes making ends meet is less important than making friends eat.
It is a melancholic film, to be sure, but one that breathes thoughtfully, like its quiet protagonist.
Arun's film is anchored by brilliant performances -- Archit Davadhar comes across as wonderfully impressionable as Chinmay, Amruta Subhash is heartbreakingly good as his mother, and Parth Bhalerao is a hoot as messy scamp Bandya.
But Killa is made truly special by its calm and understated storytelling, the way its narrative displays a fluid ebb and flow.
The restraint is stunning; it is a film set in the 1990s but barely draws attention to that fact, save for a television show theme hummed in a classroom and an old phone used in one scene. It isn't afraid to be choppy -- or, indeed, to surprisingly cut away just when we think something momentous is about to happen (a cycle race is promised eagerly but only delivered much later, for example) -- and thus it develops its own rhythm that, while always unhurried, remains impressively riveting.
The music is old-world but energetic, used sparingly and efficiently.
Arun, also the film's cinematographer, shoots his lush, rained-out greens and soothing beaches with a near-impressionistic eye; it is a moody film that looks ordinary one instant and utterly spectacular the next.
The new wave of Maharashtrian filmmakers are responsible for some of the most extraordinary work in Indian cinema right now, and Arun's first film in Marathi exemplifies their storytelling strength and artistic sophistication.
Killa is a deep film with lofty ambitions, and there are parts -- like the unpredictability of a moment that ends in a bite of fish -- where the film soars jawdroppingly high.
Yet, I suspect the scenes that leave you awestruck aren't the point of Killa. This is even better. This is a film you should watch for its lovely, lovely lulls.
Rediff Rating: