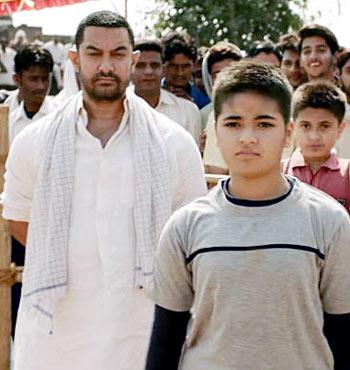 The bar's been raised again, feels Sukanya Verma.
A father takes out his two pre-teenage girls and tells them to eat all the golgappas they want one last time. From now on, they train to wrestle and win gold for India and their love for chatpata food is the first casualty.
Children forced to fulfil an incomplete dream of their dad's because he was forced to bow down to his parent's wishes and pursue what they thought best is a little tragic and a lot true. There are stories that paint such fathers as self-seeking and obstinate prompting much frustration and conflict but Dangal isn't like that.
If anything, director Nitesh Tiwari's exhilarating creation makes a strong case for the virtues of Indian parenting.
There's a silver lining to erstwhile wrestler Mahavir Singh Phogat's (Aamir Khan) purpose that allows his daughters to break out of a sexist rut, become their own person and achieve international glory. To accomplish this, he demands their unswerving cooperation with entitlement and pride through methods that may seem stringent and unorthodox but have the greater good of his offspring at heart.
A resident of a modest village in Haryana, Phogat's feminism is neither innate nor commonplace, it surfaces only after his wife (a terrific Sakshi Tanwar) gives birth to four girls in a row and Phogat realises the idiocy of his conviction that believes only a boy can deliver his dream.
Tiwari addresses this widespread gender bias, wherein the village community prescribe preposterous schemes to ensure a boy's birth, like a satire highlighting the absurdity and inadequacy of these superstitions.
At the same time, he's careful not to belittle the prejudice and criticism the entire family face after Phogat begins coaching his two elder daughters -- Geeta (Zaira Wasim) and Babita (Suhani Bhatnagar).
The grace and grit of these gifted kids coupled with the dynamics of their relationship with a taskmaster Bapu and benign mother draw us into their ordinary world effectively and even clunky Haryanvi begins to sound less language more conversation.
Tiwari invests a great deal of time and energy in telling the magnificent real-life tale of the Phogats, meticulously reporting every obstacle and challenge that Geeta and Babita face as kids before their grown-up versions (Fatima Sana Shaikh and Sanya Malhotra) take charge. Much mirth and melodrama spurts out of their resistance and rebellion, frequently encapsulated in Dangal's wonderful, whimsical soundtrack.
Cinematic liberties are taken to exaggerate certain events, play on inflated and injured father-daughter egos, demonise a certain coach, spur on an ideology-driven rivalry between old guru and new founded on Sehwag-Dravid analogies but, hey, it works. Measured emotionality married with full-blown popular sentiment always has.
Dangal is one of those few films that discuss strategy and technique in a manner that's easy and entertaining to grasp. I am not familiar with the sport but by climax point, I could predict the winning move because of how well it was spelt out on earlier in the story.
What evokes sheer awe though is the raw, rough, visceral choreography of the fights, quite a few memorable ones in this 161-minutes long film.
The first ever between a young Geeta and a boy at local dangal and the final two at Commonwealth games, where she faces tough competition from Nigeria and Australia respectively. Aggression wears itself attractively in these scenes wearing a real-time quality even as our support for the Phogats amplifies.
Sport is at its centre but the essence of Dangal lies in the simple highs and lows of the people Tiwari chronicles.
Unlike the overblown Sultan with a somewhat similar milieu, Tiwari's account of inspiring reality is lot more understated in its approach. Two of its most poignant scenes are its quietest too -- when Geeta weeps bitterly in the middle of heartbreaking haircut and Phogat's crushed look as he takes off in a rickshaw immediately after entrusting his daughter's fate to a snarky new coach (Girish Kulkarni).
The matches with the highest odds of loss are the ones we pray hardest to win. Dangal hits on that feeling unabashedly, exhilaratingly and, on one occasion manipulatively to force out unnecessary demonstration of patriotic fervour from its audience. Perhaps solely to point out how much the leading man loves India. Except by then I love the film too much to hold that against it.
The physicality and mannerisms contribute to Aamir Khan's credible exterior but the brilliance of his performance comes from within as he assumes the role of a father who will punish his kids if he deems fit and swallow his pride without a second thought if it did them any good.
The bar's been raised again. In Phogat's words, 'Shabaash.'
Ditto for the four girls playing his daughters at different stages -- kids it's expected but it's unusual to see such lack on affectations in young women. They look like sisters, they play like champions and they hold their own in front of a seasoned, secure Aamir.
From Jo Jeeta Wohi Sikandar to Jo Jeeta Wohi Geeta. And Babita. Now that's what I call a win-win.
Rediff Rating: