Meenakshi Sundareshwar is a Basu Chatterjee slice-of-life packaged in a glossy ad film whose source of heart are its two genuinely likeable leads, feels Sukanya Verma.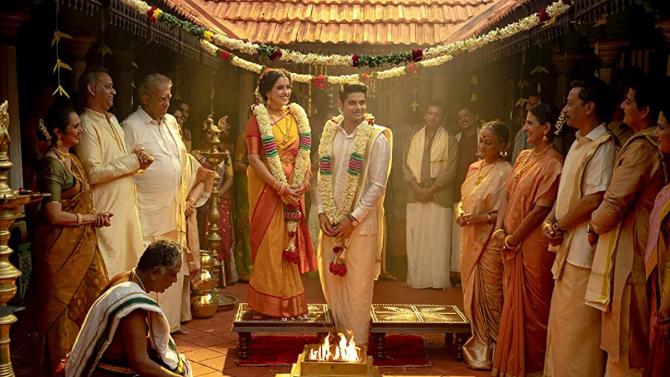 A 'galat ghar' gag in Karan Johar's Kal Ho Naa Ho, where Saif Ali Khan and Rajpal Yadav accidentally swap places and arrive at the wrong address, ensues in much mirth.
A similar mix-up in the film-maker's latest production for digital space leads to marriage.
Only Meenakshi Sundareshwar is set in Madurai and is a humble confection about newlyweds taking on the strains of long distance marriage.
Wearing its charm lightly, Meenakshi Sundareshwar has the emotions of a coming-of-age, goals of a rom-com and the face of a heritage postcard.
Though the characters are of Tamil Brahmin origin and exhibit a steady cultural vibe, eliminating stereotypical accents and lowbrow humour makes for a truly welcome change.
Quite like Little Things, the disarming Web series on Netflix, Meenakshi Sundareshwar is attracted by the sweet, ordinary facets of a young couple's connection. Given there's a famous Hindu temple of the name Meenakshi and Sundareshwar aka Shiva Parvati are expected to be a match made in heaven but in urban context, such pieties don't always hold true and the movie is both fond and flippant about the myth.
Meenakshi (Sanya Malhotra) is a smart, confident woman and hard-core Rajni, correction, Superstar Rajni fan.
Sundareshwar (Abhimanyu Dasani) is a jittery, soft-spoken engineer determined to find a job and not join his dominating daddy's sari business.
Cinema lights her world and puts his to sleep.
She pairs her kari dosa with jigarthanda.
He relies on Google searches for any romantic crisis.
Nevertheless, the twain bond over cactus -- easy relationships being their thing.
Immediately after the wedding, Sundar receives an appointment letter from a software firm in Bengaluru where he must conceal his married status to stay employed.
If it's better for you, it;s better for us, says his understanding wife.
Unlike him, she has found regular success at job interviews, winning her otherwise disgruntled father-in-law's appreciation if not approval.
From being in love to being alone, the duo's independent journey over the course of a year gives them a taste of unexpected freedom and unusual challenges.
For a while they have fun around their technologically-aided flirtations until the proverbial trouble in paradise pops up its ugly head that only a divine intervention of Thalaiva-ic proportions can straighten out.
Meenakshi Sundareshwar has its share of conflicts in the form of Sundar's daddy issues, Meenakshi's vague feelings around a possible ex and a sprinkle of domestic nok-jhonk but none of it ever become the centre of drama.
The problem is balance.
A marriage involves two individuals and both their contributions and sacrifices matter equally -- sometimes simultaneously, sometimes in succession. Take it for granted and the relationship stands on shaky grounds.
Though aesthetically pleasing (DoP Debojeet Ray) and rich on frothily choreographed avatars of composer Justin Prabhakaran and lyricist Raj Shekhar's eclectic soundtrack, Meenakshi Sundareshwar does have a few chinks in its armour.
Not all its wit lands -- the quirky boss jokes seem a bit heavy-handed, the misadventures have an off timing, some of the issues remain unresolved and the unfunny precocious kid foretelling his family's reactions as well as his tortured tutor arc could entirely be done with.
Director Vivek Soni, previously assistant to Abhishek Chaubey, on Udta Punjab and Sonchiriya, doesn't bend the rules of the genre as much as try and revitalise the era of endearing.
Back when people were gentler, accepting and things could get tough and troublesome but nobody stopped living or laughing.
Essentially, Meenakshi Sundareshwar is a Basu Chatterjee slice-of-life packaged in a glossy ad film whose source of heart are its two genuinely likeable leads.
Sanya Malhotra is unbridled joy in motion painting her Meenakshi in passion and serenity.
The actress has a chameleon-like prowess to change from emotion to emotion within seconds both conveying and holding back.
Abhimanyu is just the man to play Sundaram embodying what a sincere heart and heartfelt apology cannot achieve.
Meenakshi Sundareshwar streams on Netflix.
Rediff Rating: