I don't remember Rajinikanth beheading anyone so brutally in any of his previous films. Or glamourising so much of blood and violence.
This is an altogether different version of a brutal Rajinikanth, something you and I had probably never imagined before, observes Divya Nair.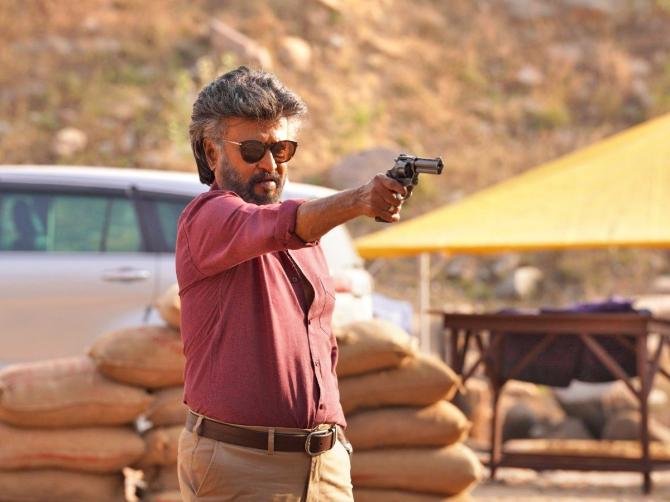 Those who know the Thalaiva through his films would agree that Pandian is to Rajinikanth what Vijay is for Amitabh Bachchan, Prem for Salman Khan and Raj/Rahul is for Shah Rukh Khan. The three-film old Nelson takes an ambitious leap in his career casting Rajinikanth as Tiger Muthuvel Pandian in Jailer.
In the first few minutes of the film, you see him as a retired senior citizen caught up between domestic chores and shooting YouTube videos with his naughty grandson. His request for 'pudina chutney' is turned down by his wife (played by Ramya Krishnan) and he is reduced to polishing shoes and buying groceries for the family, a situation Nelson craftily uses to slide in the plight of the retired fathers in our lives.
This honest cop's honest son is assistant commissioner of police Arjun (Vasanth Ravi) who faces a bit of professional trouble and pressure due to his uprightness.
But overall, it's a happy family.
All's well in paradise until Arjun decides to come in the way of smuggler Varman (Vinayakan) and one day, Arjun goes missing.
No one in the department knows what might have happened.
When Muthuvel discovers that his son might have been killed by his colleagues, he is overcome by guilt and decides to avenge the death.
Before you know it, Rajinikanth has transformed himself into an assassin of sorts, the 'no mercy' kinds. He begins tracking the people who might have harmed his son, eventually hoping to finish off the man who is responsible for it.
Rajini's transformation is startling.
Frankly, I don't remember Rajinikanth beheading anyone so brutally in any of his previous films. Or glamourising so much of blood and violence.
When Rajini slides the box of tissues at the dinner table for his wife and daughter-in-law to wipe off the splattered blood on their faces, it's rattling and unsettling. You have to quickly remind yourself this is a Nelson film where anything is possible.
To make up for the violence and aggression, Rajini is accompanied by Yogi Babu and a bunch of comedians including Redin Kingsley, VTV Ganesh and Jaffer Sadiq, further establishing Nelson's supremacy over dark comedy in intense sequences.
Just when you wonder about the plot, if any of this even makes sense, you are treated to a string of stylish cameos.
You have the Hindi-speaking Jackie Shroff as a local bomb-maker from Bihar, Kannada-speaking Shiva Rajkumar as Narsimha, a reformed don, who now trains men as snipers and wrestlers.
And of course, the one and only Mohanlal, the Malayalam-speaking arms dealer from Mumbai.
There is an Andhra Pradesh angle as well to the story but revealing it all would kill the fun.
So there you go -- all your favourite stars, in voguish settings, basically also promoting violence and helping their friend, the erstwhile jailer Tiger Muthuvel Pandian reunite with his son.
At some point, you want to pause and ask Nelson, 'If Jailer has so many influential acquaintances, why is it impossible to find out what happened to his son?'
But no Indian commercial film has ever thrived on logic, has it?
So, we wait for Nelson to take us through a few more hours of racy BGM thanks to Anirudh, a bunch of snazzy dialogues and comebacks, a few more twists until we get to the big reveal.
If Beast was a disappointment, Jailer, to some extent, helps Nelson redeem himself.
In fact, Jailer is carefully written for the theatre audience who should ideally whistle or hoot during the key moments of the film or simply attempt to complete the punch dialogues during the calculated pauses to fully elevate its entertainment value.
If you are planning to watch it with a bunch of non-Rajini fans or in a less crowded theatre in your city, or maybe the Hindi version, chances are you'd complain a little more.
The Tamil version of Jailer has its own entertaining moments.
But mind you, this is Nelson's version of the superstar. And it comes with its fair share of grey and dark moments.
Blame it on my bias, I think Rajini's style is unmatched even when he is sharing the screen with some of the biggest South stars of his generation.
He may be 72, but when he wields a gun, takes a puff, shakes a leg, or simply even puts on his trademark glasses and ties up his shoelace getting ready for action, you'd bet no one can dare take his place in the sun.
After a long time, you will see Thalaivar engage in some fight sequences, even bash up the villain, something that was missing in his previous films.
Vinayagan outshines in his role as the Malayalam-Tamil speaking smuggler, a strong and convincing anti-hero. But I am forced to wonder what if he was a wee bit more powerful, maybe even smarter than he claimed/seemed to be? It would have been more damdaar to watch them clash in the climax.
The sets are relatively smaller than what you'd imagine for a superstar like Rajinikanth but the actor's towering presence, dialogue delivery and charisma ensure that you're glued to your seats.
This is an altogether different version of a brutal Rajinikanth, something you and I had probably never imagined before.
Overall, Jailer is Rajinikanth's superstar show all the way. I paid Rs 300 for a 'first day, first show' and I think it was entertaining enough.
Jailer Review Rediff Rating: