Dream Girl 2's understanding of womanhood boils down to her boobs, sighs Sukanya Verma.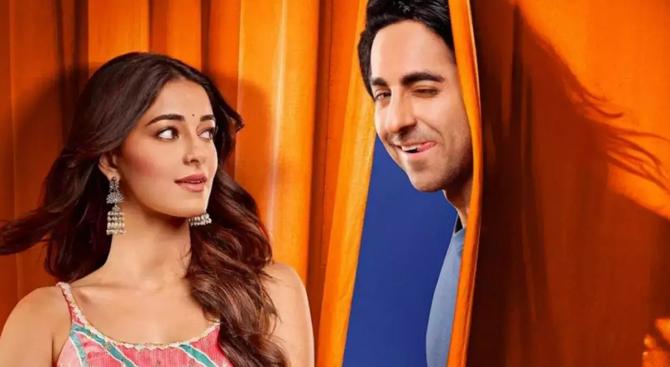 Being a woman is tougher than pretending to be one.
Dream Girl 2 tosses some token sympathy her way, but its understanding of womanhood boils down to her boobs.
Two oranges in a bra and the horniest buffoons of Agra turn up dancing to her tune.
Why bother with empty talk when 133 minutes of your movie are only going to trip over her anatomy for pedestrian pleasure?
Back in 2019, a man's instinctive comfort in exploring his feminine side and potential feminist over a relentless supply of saucy zingers and Ayushmann's coy, cheeky salvos elevated Director Raaj Shaandilyaa's Dream Girl beyond yet another guy-posing-as-girl schtick.
But its shoddy sequel has neither the spirit nor sass, falling back to the same old phony comedy of contrivances that's been done so much and so better.
Harking back to Govinda's heyday humour when the likes of Aunty No 1 and Coolie No 1 tickled the bone in all their silly clamour and confusion, Dream Girl 2's dated comic routine struggles to update a politically-incorrect premise.
It's like digging for 'woke' elements in a distinctly David Dhawan space. Dhawan's comedies worked better because they owned up to their absurdity and enjoyed the process to the hilt.
But Ayushmann's stardom is rooted in ethical grandstanding.
Even his farce needs to have meaning.
Dream Girl 2's brainless fervour may cut him some slack, but its hackneyed jokes are more exhausting to watch than him juggling between two sexes.
The action shifts from Mathura to Agra where Karam's Pooja voice gets a body (both belong to Ayushmann, of course) when his heavily in debt dad Jagjit (Annu Kapoor) and lovelorn buddy Smiley (Manjot Singh) convince him to take up a job as a bar dancer in Vijay Raaz's seedy nightclub as well as marry a depressed guy called Shahrukh (Abhishek Banerjee).
Shahrukh's religion is never a contention.
His family members are a loony grandpa (Asrani-on-wheels), a screechy dad (Paresh Rawal), a stepbrother (Rajpal Yadav), an over gregarious aunt (Seema Pahwa) on the verge of divorcing third husband (Vijay Raaz) and a sister that Smiley wants to marry, but makes no difference to the proceedings.
Shaadi and nikaah are uttered in nearly every breath of this movie.
Out-of-work Karam agrees to play along since he needs quick bucks to marry his lawyer girlfriend aka Papa Ki Pari aka romantic sidekick with zero say or sense (Ananya Panday).
Dream Girl 2 has no story, only bad jokes in its big garish bag of entertainment where about 75 percent of its large cast fall for either coquettish Pooja or macho Karam's charms.
Its birdbrained logic is merely an excuse to force in stale gags and scenes of tomfoolery by a bunch of tried-and-tested comic veterans.
Seema Pahwa donning a facial mask, Annu Kapoor dyeing his hair for the nth time, Paresh Rawal's Sunny Deol-Sunny Leone quips, Vijay Raaz in trashy gold suits for laughs, it pains to see these intelligent actors in low-level slapstick.
Ayushmann's cross-dressing efforts aren't half bad.
The man sure has fun sounding and swaying like a siren.
There's even a restaurant role swap scene not too different from the one in the 1993 Robin Williams comedy, Mrs Doubtfire.
But much as he may curl those long tresses of his wig, this low IQ rumpus (yeh Shilpa Shetty nahi Suniel Shetty hai, anyone?) raises only doubt and no fire.
Dream Girl 2 Review Rediff Rating: