'In school, I would get very upset when guys called me 'moti.' I would pick up fights.'
'But once I started working, I got mentally prepared for it because my weight was my bread and butter.'
Going back in time with Guddi Maruti.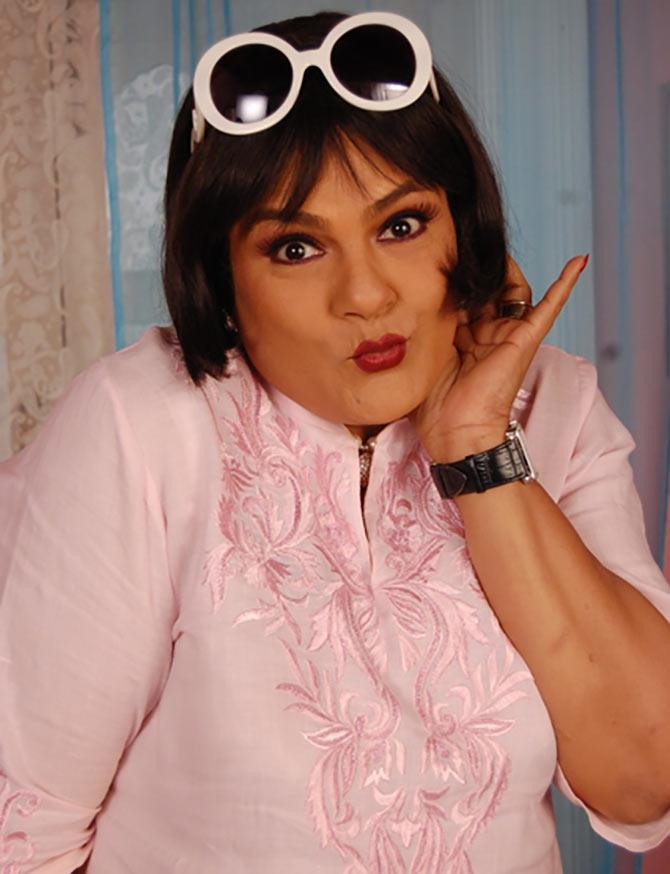 Actress Guddi Maruti was seen in movies like Shola Aur Shabnam, Biwi No 1, Chamatkar and Khiladi before she vanished from the scene nine years ago.
Guddi, whose real name is Tahira Parab, now lives in a sprawling house in the posh Bandra locality (in the western suburb of Mumbai), and seems quite content with her lot.
We go back in time with this actress, who made a comeback with the recent Hum Sab Ullu Hai, which unfortunately, sank without a trace. Patcy N/ Rediff.com listens in.
How did you get your name Guddi Maruti?
My nickname is Guddi.
My father Maruti Parab was an actor-director (he directed films like Sab Ustaad Hain, Hum Sab Chor Hain, Baaghi Shehzaada and Kahin Aar Kahin Paar).
I would visit him on his shoots and that's how I got my first film as a child artist Jaan Haazir Hain. I was in Standard 6 at the time.
Manmohan Desai wanted to change my name. I was 18 then and working in his film Naseeb. He thought Guddi was nice enough.
But when people would ask who is 'Guddi', people would say, 'Marutiji's daughter.'
So the name Guddi Maruti stuck.

When did you decide that you wanted to be an actor?
I was pushed into acting. I got Jaan Haazir Hain when I was still in school because dad was doing a film with Dev Anand's Navketan films.
When I was 14, I did Vijay Sadanah's Sau Din Saas Ke.
They wanted a fat girl for the song Moti Palle Pai Gayi. (Actress) Preeti Ganguly had lost weight then, so she wouldn't fit it. So they thought of me.
After that, I kept getting offers.
I wasn't keen on studies anyway, so I did not mind acting. But it wasn't planned.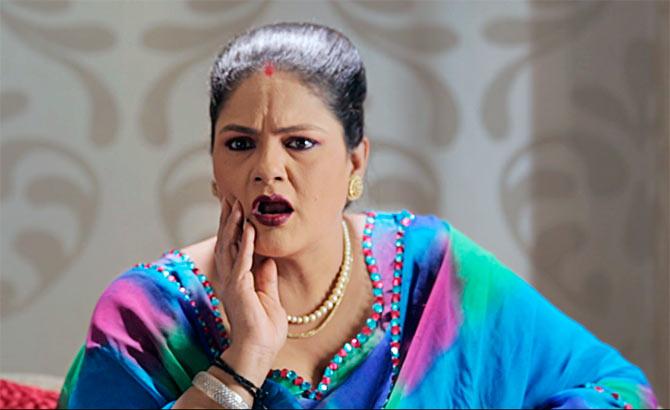 Image: Guddi Maruti in Hum Sab Ullu Hai
Did you feel your roles were monotonous since the jokes would always revolve around weight issues?
When my father passed away, I had to work to support my family. Thankfully, I was getting work and money, so things were good.
I was never ambitious to want to do different kind of roles. I was in very comfortable in my zone. I knew my limitations.

Many actresses told me that I should try and become a heroine.
Preeti Ganguly tried to do that but she was out. I needed work and could not take risks.
Did you like working in the industry?
When I joined, people were like my uncles because they all knew my father. I was taken care of. I loved the industry because I was born and brought up here.
(Actor) Jagdeep uncle had done a lot of work with my dad, so he would guide me a lot.

Those days hunting was legal, and my father would go hunting to Bhopal with Johnny Walker uncle and some others.
He would go fishing with Shammi Kapoor.
Kishore Kumar was a foodie and my dad loved cooking. My mother would prepare lovely food for him.
Did you ever get upset when remarked about your weight?
In school, I would get very upset when guys called me 'moti' or say things like 'kaunse chakki ka aata khati hai?' I would pick up fights.
But once I started working, I got mentally prepared for it because my weight was my bread and butter.
When I started working, my father made me understand that I was not the film's heroine. I was the comedian, so I should be able to laugh at myself.
Did you ever try to lose weight?
Yes, five or six years ago. When I was working, I was not allowed to lose weight. If I would even say it, people would panic.
When I did Sorry Meri Lorry (in 1995), I lost 10 kilos. One day, (writer-director) Adi Pocha looked up from the monitor and said, ''Guddi, my serial is Sorry Meri Lorry. You hardly look like a lorry.'
So I had to gain weight again.
But I have lost weight now.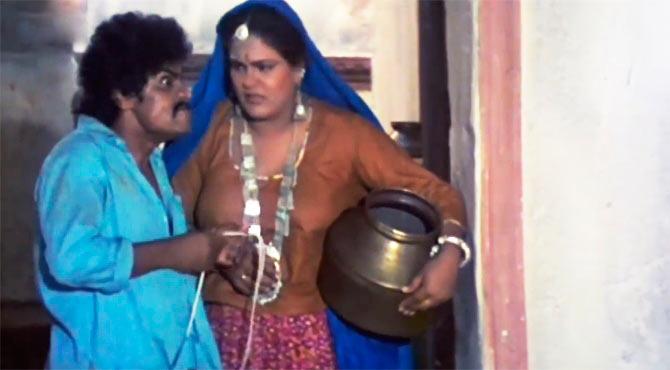 Image: Guddi Maruti and Johnny Lever in Kasam
You did a lot of movies with David Dhawan and Govinda.
I did a lot of films with Pahlaj Nihlani as well. He was a very good producer.
David Dhawan is very creative with his comedy. Since he was an editor before, all his films are crisp, sharp and to the point.
Govinda was excellent. It was fun working with him. He would improvise on the spot, and change dialogues. You always have to be alert when you're working with him.
How has comedy changed over the years?
Comedy has changed a lot. Nowadays, all the comic scenes are done by the lead stars, not comedians. Johnny Lever is the only (comic) actor still getting work.
In olden days, the pattern was different. There would be one comic track with proper comedians. The hero and the heroine did the song and dance, and the romance. The villain would do his part.
Shubha Khote, Mehmood and Johnny Walker would do only comedy. Even when I joined, there were comic tracks. But they slowly stopped by the mid-1990s.
There is no work in films. But there are lots of comedy shows on television.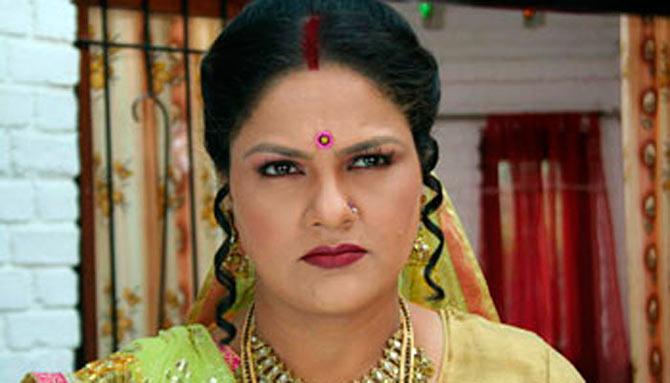 Image: Guddi Maruti in Doli Armaano Ki
Why did you stop working?
I got married to a businessman and was planning to start a family. But I had a problem (conceiving). The doctor asked me to stop working for some time but that did not help.
I thought of working again but by then, the working scene had changed.
In my entire career of 35 years, I never had to ask for work. So I waited for the work to come to me.
Earlier Pahlaj (Nihalani) or David (Dhawan) or (filmmaker) Vimal Kumar would just call. But now, it's compulsory to have coordinators and managers. And you have to give auditions too.
In those days, we never even made agreements; everything was done on word-of-mouth.
Meanwhile, I signed some television shows but I worked on my pace. I did a negative role in Doli Armaano Ki and I enjoyed that.
But TV shows are shot in Naigaon (north-west Mumbai) and I cannot travel that far. If I have to report at 8:30 am, I have to leave home at 6 am. If we pack up by 9 pm, I will reach home two hours later.
Also, for daily soaps, you have to work everyday.
It's too much hard work.
Serials are very complicated. You don't get to improvise, you have to stick to a certain style.
Failure has never affected me, even when I did not get work for a long time. I do not miss being in front of the camera.
Why don't you attempt stand-up comedy?
Eighteen years ago, Vrajesh Hirjee and I did Sorry Meri Lorry, which was stand-up comedy.
We did not have a script-writer on our show. We were spontaneous. Nowadays, stand-up comedians get script-writers.
Which comedians did you enjoy watching?
I loved Mehmood and Kishore Kumar's work.
I have only done one film with Mehmood. When I was doing Sorry Meri Lorry, he came home and told me I was doing good work.
I loved the comedy show called Here's Lucy. (Lucille Ball) was a fantastic actress. I wish I would get something like that.
Among the new generation of actors, Krushna and Sudesh's comic timing is very good. Even Bharati does good stand-up comedy.
First, there was Tun Tun, then Preeti Ganguly and then me. Now, it is Bharati.