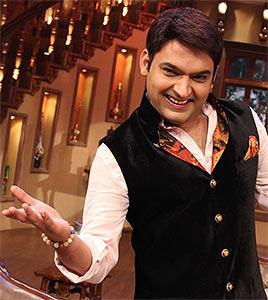 Kapil Sharma, the anchor of Comedy Nights with Kapil, is the funniest man in India.
Applauding is a good way to stay warm inside the freezing Studio 7 at Film City in Mumbai's Goregaon.
A television programme, a queer mix of a sitcom and a chat show, is being shot.
Someone from the audience asks for the air conditioning to be turned down but is offered a polite lecture on how that could cause the halogen lamps to blow up. Conversely, a man on stage protests the heat while his face is gently powdered. His Hindi is rapid and nasal. The makeup man barely cracks a smile, but when he scans the crowd in mock exasperation, they erupt into giggles.
He is, after all, the funniest man in India.
He is also the biggest draw on television today.
Apart from Bollywood stars, three young names enjoy massive following in the country today, says Anirban Das Blah, managing director of entertainment management and marketing company CAA Kwan: cricketer Virat Kohli, rapper Yo Yo Honey Singh and comedian Kapil Sharma.
Sharma's Comedy Nights with Kapil, which debuted on Colors in June 2013, has dominated the non-fiction space in television with more than 50 per cent popularity share, according to Shailesh Kapoor, CEO of Ormax Media which researches the appeal of film and TV personalities.
Aamir Khan, Salman Khan and Amitabh Bachchan, who have all hosted shows during this time, trail way behind the 33-year-old from Amritsar.
In its span of 73 weeks, Comedy Nights has been the top weekend show for 58 weeks, the channel claims.
Such is its popularity that film stars fall over each other to participate in it to promote their work. Bachchan, Salman, Shah Rukh Khan have all made a beeline to Sharma's set.
Blah says the show is a perfect fit for movie promotions because of high ratings, a clean image and family following.
The show is also picked because it "lends itself to some customisation which helps send out the right messaging on the movie," according to Amrita Pandey, who heads marketing and distribution at Disney India. Plus, it is cheaper than paying for exclusive movie promos on a top general entertainment channel.
Other personalities like badminton star Saina Nehwal, celebrity chef Sanjeev Kapoor, journalist Rajat Sharma and Bhojpuri actors Ravi Kishen and Manoj Tiwari have featured too. The cast toured Dubai recently and plans are afoot to cover Europe next.
Sharma's appeal is not only evident from the reservoir of celebrity guests but also the merchandise bearing his by-now famous refrain, babaji ka thullu (the rustic phrase used by the comedian to refer to times when one feels short-changed is interpreted by some as suggestive).
He debuted on Hindi television with The Great Indian Laughter Challenge, which he won in his third attempt in 2007. Previously, he had participated in its Punjabi avatar, Hasde Hasande Ravo.
He soon moved to Mumbai to perform on comedy shows on television and host a dance competition.
All the while, Sharma had been harbouring an idea that would, among other things, showcase his singing and theatre skills.
At the same time, Colors CEO Raj Nayak was scouting for content in the comedy realm -- it was a match made in heaven. Nayak says Comedy Nights is a collaborative effort between the channel's creative team and Sharma's K9 Productions.
Sharma, who lives in Andheri now, maintains the ready repartee of his early days in entertainment, though he has lost significant body weight and sports a thicker mop of hair.
Alongwith Johnny Lever and Mehmood, his mother, he says, is a major influence. "The innocent comments she makes without realising their humourous impact have been instrumental in me looking at life in a lighter perspective."
This acquired innocence manifests in the form of cheeky questions to celebrities.
So Sunny Deol is asked if the dances in his films are choreographed by the fight director.
In another show, Anupam Kher, after he discloses that he watched The Great Dictator 19 times, is told: "I understood it at the first go."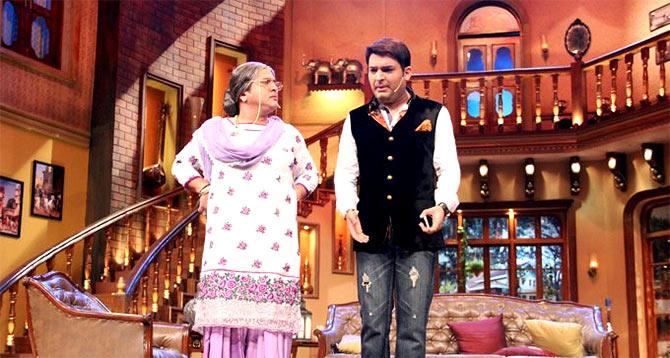 Image: Ali Asgar, as Dadi, and Kapil Sharma on Comedy Nights With Kapil
The show is seemingly inspired by The Kumars at No 42. The BBC show portrayed a British-Indian family, where the son's showbiz ambitions were encouraged by letting him interview celebrities in a crude studio at home. There have been several spin-offs globally, including one in the US with a Mexican family and in Australia featuring a Greek-Australian family.
In India too, there were less successful and rather unoriginally titled versions like Batliwala House No 43 and Kudkudiya House No 43.
To its credit, Comedy Nights is a clever tweak on the original format.
Its hour-long episodes comprise a stand-up segment and comic skits performed on a large set with room for physical comedy. In portions reminiscent of stage shows by Pakistani comedian Umer Sharif, Sharma assumes the role of Bittu who struggles to control a quirky family and neighbours while entertaining celebrities.
Sharma also has a reassuring permanent guest in Navjot Singh Sidhu, who is easily tickled and often steps in with char-anna couplets.
There are several theories on why the concept works.
The non-fiction entertainment category on television is sparsely crowded and under it, comedy is neglected.
The success of Comedy Nights also smacks of celebrity infatuation. Actor Saqib Saleem, who starred in Hawaa Hawaai and took part in the show, says, "People want to see film stars on the small screen, not acting but being candid."
Omung Kumar, who accompanied actress Priyanka Chopra on the show, concurs. "The audience can talk to, touch and dance with the stars there."
Kumar says that on his recent trips to Pakistan, Dubai and Toronto, even when he was being frisked at airports, people knew him not as the "director of Mary Kom but the guest on Comedy Nights."
The show's lowbrow humour is accessible.
Even a few viewings reveal that Sharma is skilled at roast comedy, where the joke is at the expense of the onlookers or other performers. When a young boy from the audience comes onstage and launches into a B-boying act that might as well have been an elaborate seizure, Sharma is quick to enquire if he suffers from a condition.
To compensate for the insults, Sharma starts by talking about how broke he is.
"At other times, I make fun of my family. If a man can laugh at himself, the audience will not feel offended."
At times, his barbs can be offensive, especially the ones targeted at his on-screen wife and her bee-stung lips.
Still, people want more of him.
"We have had guests from families of CEOs, income tax commissioners, police commissioners in the audience. They say, insult us if you must but we want to come on TV," says director Huzefa Qaiser.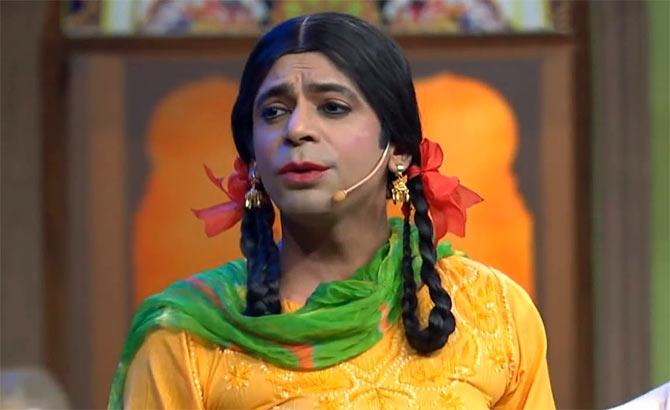 Image: Sunil Grover as Gutthi On Comedy Nights With Kapil
Film offers and ad deals too have knocked on the square-faced comedian's door.
Brand consultant Harish Bijoor says Sharma's "charm is in his simplicity. He is a very comic version of the lad next door."
According to Forbes, Sharma's annual earnings as of January 2013 were Rs 2.25 crore. He was signed by OLX and Honda recently. OLX South Asia CEO Amarjit Batra says Sharma was picked because like the brand, he "came from nowhere and became a household name".
It was said earlier this year that Sharma would star in a Yash Raj production but, according to later reports, they "mutually decided to part ways" because Sharma could not work out a schedule balancing his TV and film obligations. He is set to debut in an Abbas-Mastan film instead, alongside Arbaaz Khan and several female actors.
Onstage, Sharma has the support of a big cast.
"The characters are well-established and there is a reason to come back to watch Gutthi or Dadi," says Ormax's Kapoor. In fact, on his list of popular characters, Sunil Grover who plays Gutthi is ranked five.
Grover's portrayal of a small-town girl who engages in shy banter has struck a chord with audiences to the extent that when s(he) intermittently left the show, it was feared ratings could drop.
At times, Grover wants to add fresh dimensions to the character but realises that "when viewers like something, they want to see it again". So his Gutthi continues to offer breathless introductions and earnest dances.
The other characters too draw from small towns or certain stereotypes like the tendency of older women to pair salwar suits with sneakers. The family includes somewhat audacious characters like an aunt in a desperate hunt for a suitor and a grandmother with an alcohol problem.
Loud claps mark the sudden entry of Ranbir Kapoor who smiles and waves before going behind the curtains. Spectators who had suggested questions for the celebrity interaction are urgently asked to rehearse them.
"Move the zebra over there," says a production assistant, causing a girl in a black-and-white dress to reluctantly give up her seat.
The crowd -- a mix of invitees, fans and paid viewers -- looks fresh out of the salon, like guests at a Delhi wedding. It seems prescient because later, a faux ceremony does unfold onstage where Kapoor and other guests are made to dance to Punjabi tunes. They borrow dupattas from women in the front row. The script appears evidently thin, with a skeleton of punchlines and scope for ad-libbing.
"There is a rough script but we also play off each other a lot. Kapil is a superb improviser," says Kiku Sharda who plays three characters (a milkman, a middle-aged aunt and a young girl) on the show.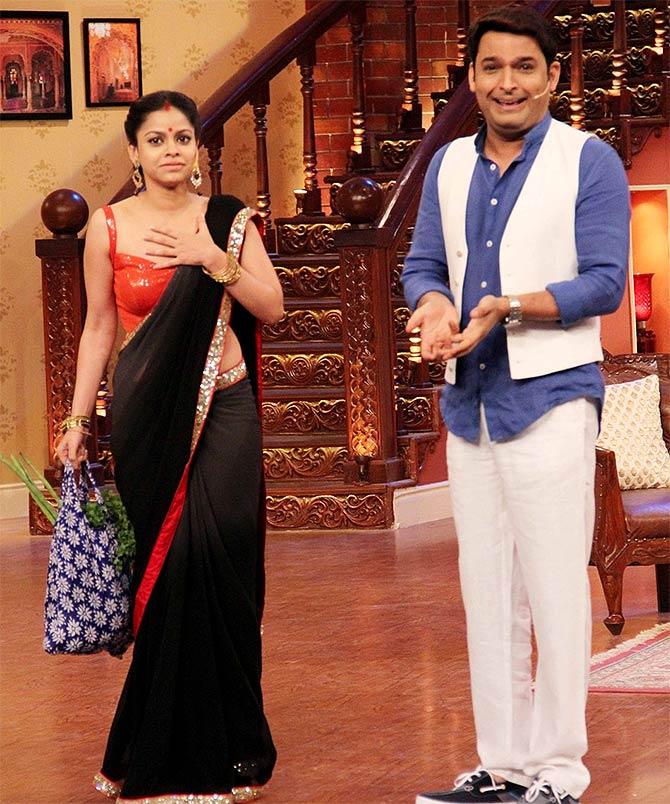 Image: Sumona Chakravarti and Kapil Sharma On Comedy Nights With Kapil
The affable everyman Sharma becomes inaccessible off set. While a dhaba-canteen dishes out tea and snacks outside, the audience falls in queue, collects belongings and disperses.
Kapoor exits soon after, leaving a trail of hurried selfies.
Post-shoot, the actors seem aloof, although unclear whether from reticence or general exhaustion. They disappear into the six vanity vans parked around, some emerging shortly for a smoke on a makeshift deck.
Sidhu, all chatter while on set, keeps to himself too.
Zanjeer, Sharma's labrador, is a fixture on the sets and the production team gathers after work to toss him toys. Sharma still has the stand-up monologue to record and is said to be working on that script. He does not come out for at least an hour. Comedy is indeed serious business.
The popularity of Comedy Nights is fairly stable now, and ratings fluctuate by 10-20 per cent depending on who the guests on a particular episode are.
Creating 120 minutes of content is nearly as challenging as making a film in a week, confesses director Qaiser. "It can get repetitive but that cannot be helped."
To maintain interest, the show experimented with a debate format and has been introducing new characters.
With Sharma's film commitments, the number of episodes will go down to one from two a week. "We will get time to reinvent," says Qaiser.
Another challenge, some say, could be in getting new celebrities over time because the number of saleable celebrities in India is limited. "There is a high point and a low point in popularity. Sharma needs to make hay when the sun is really shining bright. And that is well nigh now," notes brand expert Bijoor.
Between the film, Comedy Nights, live tours and scaling down to one episode a week, Sharma seems to be hedging his bets well.