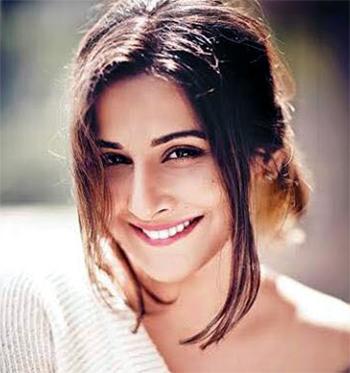 'Promotions are hectic, crazy, but I enjoy it.'
'I enjoy the adrenaline rush, the numbness it brings because then you can't feel any nervousness or excitement for the film.'
'On the day of the release, you only sleep, wake up late in the afternoon and say, 'Accha, film release ho gayi'.'
Vidya Balan tells us her kahaani.
One of the friendliest and warmest celebrities, Vidya Balan keeps her make-up minimal for an on-camera interview with us.
She folds her legs and gets comfortable on the couch but make sure that bit is left unseen on the camera.
After an interesting chat with Jahnavi Patel/ Rediff.com, Vidya confides that she's had a sleepless night.
"It's so hot here," she explains. "I was in Dubai and it has such a pleasant climate. I came back last night."
She adds that she cannot sleep with the air-conditioner on because of a sinus problem.
"But I woke up in the middle of the night because it was so hot and left it on for a while," she says.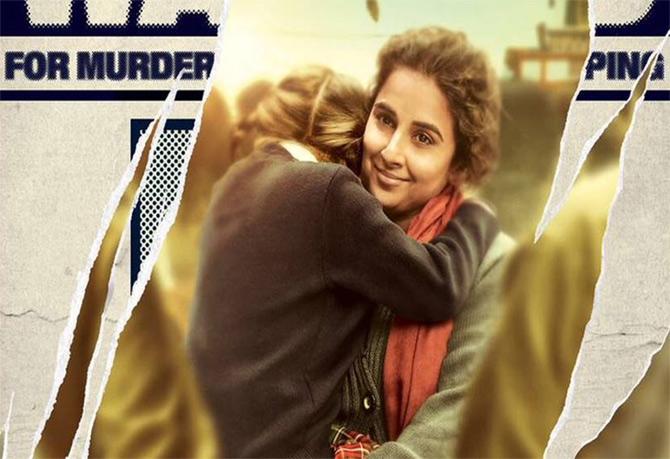 IMAGE: Vidya Balan in Kahaani 2
People loved Kahaani and now, everyone is looking forward to Kahaani 2. Is that more of an encouragement than pressure?
Yes, it is! It's wonderful that people have expectations from Kahaani 2.
Those expectations have increased after they watched the trailer.
It's a very positive and healthy thing for us. We are very excited. I feel no pressure.
If we thought we had to better Kahaani, we wouldn't have been able to make this film at all. We have approached it as a completely new film.
Comparisons will happen but that's okay.
There were wanted posters of Vidya stuck all over. Did you get some weird calls after that?
Ya, lots of those weird calls happened.
I realised that the communication cut across all strata, age groups... that was very satisfying.
It was encouraging as a starting point because it was the first communication of the film. It immediately drew people's attention to Kahaani 2. It immediately intrigued them.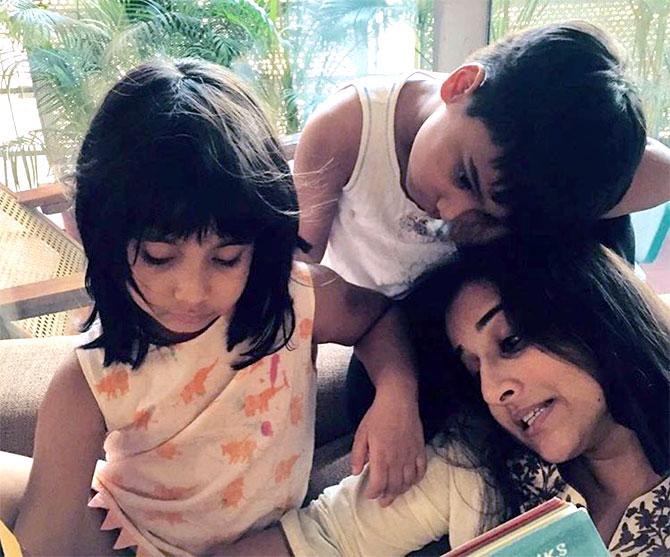 IMAGE: Vidya Balan with her niece Ira and nephew Ruhaan. Photograph: Vidya Balan/Instagram
Can you tell us how?
My maid thought I have been accused of something falsely!
My sister's kids' nanny got a call from her brother saying that someone who looks exactly like your didi is a fugitive on the run and she has been kidnapping children.
A doctor messaged me saying that her daughter refused to go to tuitions all alone even thought it was two buildings away because her friends told her Durga Rani Singh (Vidya's character in the film) was randomly picking up kids.
People from the media told me that there was a criminal who looked like me.
Did you play along then?
As a matter of fact, my sister did. She was dropping off my niece and nephew -- they are five-year-old twins -- to school.
They saw these posters all over... they have seen my posters before but this time, they saw a sad looking me. So they were very concerned and asked her why I was looking so sad in those pictures?
My sister said that I had kidnapped a child.
They got really upset and started telling her it isn't possible. 'It's pretend, na? She can't kidnap a child,' they were saying.
Finally, they told her that I can't do that.


Video: Vidya Balan on her thrilling experinces in life and on the sets of Kahaani 2. Videographer: Afsar Dayatar

Was shooting for Kahaani 2 as exciting as for the first one?
Exciting in different ways.
On Kahaani 2, the adrenaline rush was very high because we were shooting in hot temperatures but we were so excited about telling the story. We felt the story had to be told.
That really kept us going despite the terrible heat.
We'd land up on set in the morning and we'd feel sapped. It was 50 degrees in Chandannagar (near Kolkata).
Kahaani was a different experience. That was the first time the team came together. Sujoy and I were working in Kolkata in lovely weather. We were working hard because we had a very tight budget.
It will always remain as one of my most special experiences.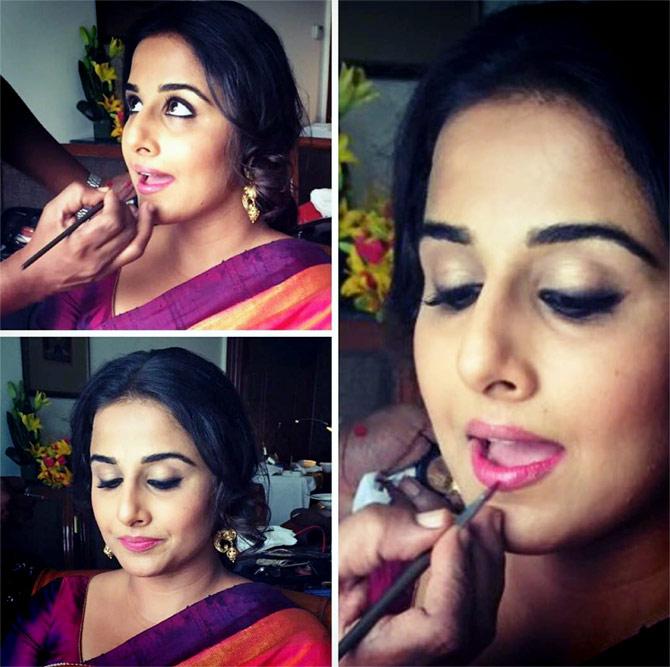 Photograph: Vidya Balan/Instagram
How hectic are the promotions?
They are hectic, crazy, but I enjoy it.
I enjoy the adrenaline rush, the numbness it brings because then you can't feel any nervousness or excitement for the film.
'On the day of the release, you only sleep, wake up late in the afternoon and say, 'Accha, film release ho gayi'.
How much does Vidya Balan, the celebrity, relate to an ordinary married woman's life? Is there pressure to start a family or take responsibility of the house?
No, there isn't. That's really Siddharth's and my prerogative. Our families are wonderfully supportive in that, they don't even ask us.
The media asks us more about that, honestly, and they ask me more about it.
As far as taking responsibility goes, I like my house a certain way. I like things to be organised a certain way.
Siddharth and my habits are similar but having said that, I am very particular about things. I make sure things happen the way I want them, especially because I spend so much time away from home.


IMAGE: Siddharth Roy Kapur and Vidya Balan. Photograph: Pradeep Bandekar
You are promoting Kahaani while Siddharth is promoting Dangal. Do you even meet these days?
We hardly meet (laughs). By the time I finish my promotions and go home, invariably, he's asleep.
Then I am rushing in the mornings again.
Sometimes I have a late morning and still sleeping when he leaves.
So we hardly get time at times like this but that's okay. We know it is each other's job and have to deal with it.
Now we will meet after Kahaani 2 releases.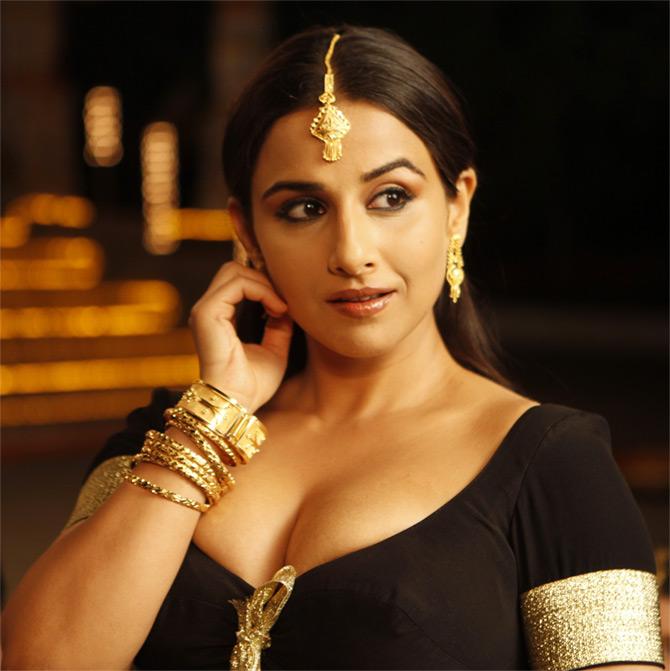 IMAGE: Vidya Balan in Dirty Picture
Which has been your toughest role till date?
Undoubtedly, The Dirty Picture because it was very far removed from who I am as a person.
I enjoyed it while doing it but it was tough -- just exposing yourself like that, physically, smoking continuously and going through those upheavals emotionally as a character.