'Mumbai is very different from the rest of India.'
'It can be ruthless if you don't have work or friends.'
'The struggle time and times of disappointment are horrific and can break you.'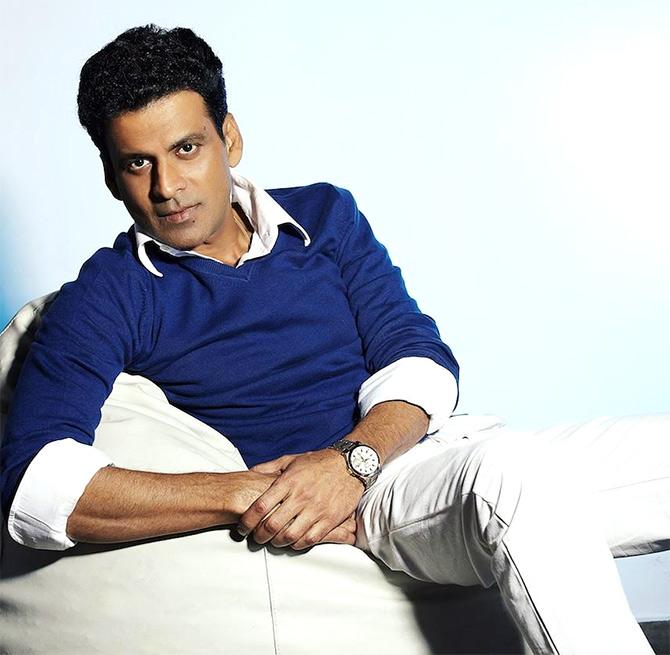 Glimpses of Satya's delightful gangster, Bhiku Mhatre, keep coming back to you as you watch Manoj Bajpayee render yet another powerful performance in Bhosle, a brilliant and brave portrayal of the universal story of migration.
This gem of a film premiered at Toronto's International Film Festival of South Asia.
Bajpayee, who received a standing ovation for his performance as the retired cop, Ganpath, said amidst thundering applause, "I don't know what to say, people don't usually praise me."
After Aligarh and Gali Guleiyan, Bhosle forms a trilogy where the actor uses restraint, confined spaces and poignant silence to explore the different facets of loneliness.
"It's an old man's journey through the post-retirement years and zooms in on the relationship he forms with his immigrant neighbours.
"The film is different in a way that it speaks about people becoming immigrants in their own country. The theme resonates with most of us and is a story that had to be told," Bajpayee tells Rediff.com Contributor Firdaus Ali.
Does acting come easily to you?
Acting is the most difficult job in the world.
Like all professions, an actor must do riyaaz constantly to hone his skill.
You can't fake emotions.
You have to live in the skin of the character for a long time to create celluloid magic.
An actor is nothing without the vision of the director. The director needs to have a vision that will cross boundaries, that makes the audience sit on the edge of their seats and that pushes the envelope.
It is this vision that brings out the best in an actor.
For most actors, it is the script that chooses them and not the other way around.
I have played versatile roles and tried not to repeat my performance.
If I play a cop, it's all about the human being under the uniform.
If I am playing a gangster, it's all about the undercurrent of emotions running through him.
It is true that an actor leaves a part of himself in all the films that he does.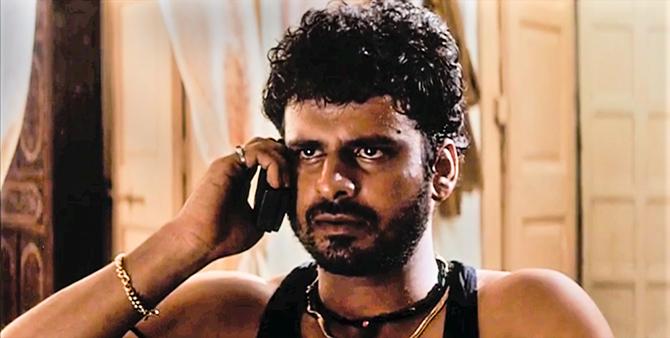 How has 'the actor' evolved?
In traditional cinema, the actor was a behrupiya who pretended, emoted and often dramatised the roles that he played.
Today, an actor has to be passionate, understanding and extremely sensitive to people's desires, conflicts, emotions, dreams and dilemmas. All this, while having a thorough understanding about his own capabilities as an actor.
The times when I did Satya was different. There was no concept of a proper script, schedule or budgeting back then.
Things have changed since.
While films are more evolved now, multiplexes screening big banners are a threat to good, small-budget independent cinema and this impacts the actor doing small but meaningful films.
Who are the actors who have inspired you?
I have been inspired by many actors.
Watching an Amitabh Bachchan film in my village was a cinematic treat.
Big B's mesmerising entry and the whistles he got for his punchy dialogues are unmatched even today.
But it was actors like Naseeruddin Shah and Om Puri who changed the definition of acting for me.
Naseer is a methodical actor who sticks to the script. He is the perfect performer.
Om, on the other hand, can be methodical but also organic when needed. He made reel incidents seem real, as if they were happening in front of you.
Ardh Satya and Aakrosh are great examples.
I still talk of him in the present tense, as if he is alive today.
His death was a personal loss.
Om was a gentle, pure soul, who had become disillusioned with the decaying world around him.
I learnt a great deal from theatre director Barry John. He owns the stage and teaches you how you can too.
His acting school was a great learning experience.
But my greatest learnings have been from Raghubir Yadav. Raghubir has taught me a good deal and I stand by his ideology that if a performance is good, it will get the recognition it deserves. That makes him stand apart from the crowd.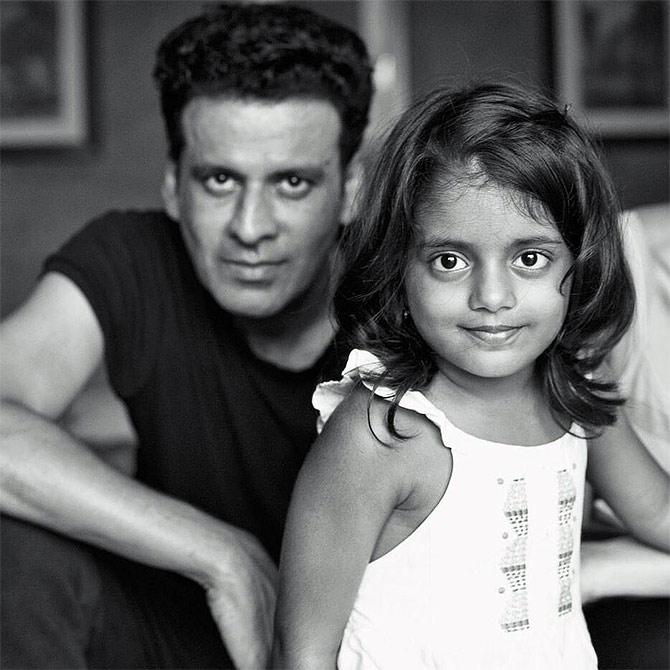 What were your early days like?
I was born in Belwa, a small village in Bihar.
Being the son of a farmer, I inherited a lot of responsibility towards my family.
I was an active participant in school and loved poetry recitals and debates.
One day, I read an interview with Raj Babbar who hailed from a small town like me and had hit gold in Bollywood. That was a defining moment and I decided to go after my dreams.
I left my parents' home at the age of 17 to get a post-graduate degree from Delhi University.
It was there that I took to theatre, starting off with street theatre.
I did street theatre 18 hours a day without pay and would often take the bus to the National School of Drama and watch the students in awe.
My experience with street theatre fuelled my dreams of joining the NSD.
After three rejections, I finally got in, but as a teacher.
I treasure my time with the NSD.
My advice to anyone who wants to purse acting is to enrol in stellar Indian institutes like the NSD and the FTII. You will come out a changed human being and definitely a better actor.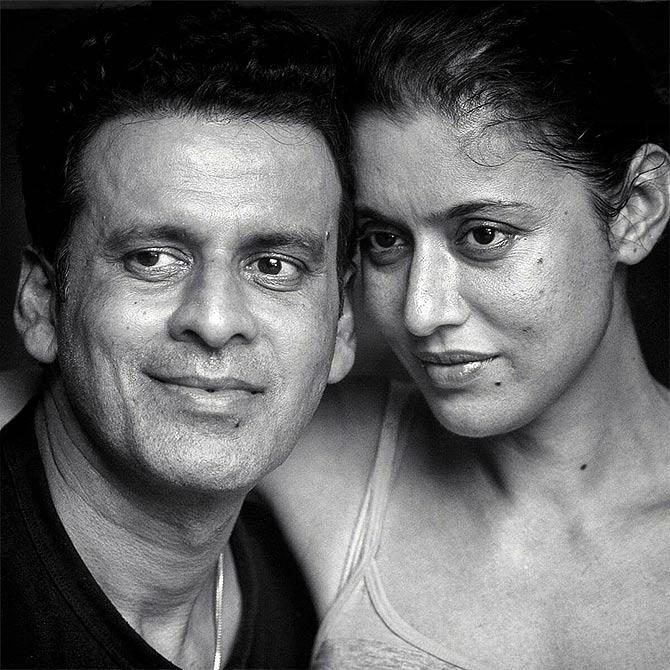 Was the early struggle an easy one?
Like most who come to Mumbai to make it big, I too had a long period of struggle, anxiety, disappointment and disillusion.
It was routine then to give your photo to an assistant director, who would promptly throw it into a bin right in front of your eyes.
In order to turn insult into hope, I would choose to work on a character from a story appearing in the daily newspaper and perform for friends in the evening.
This went on for a while and I would try to add some of my learnings from street theatre and NSD into the roles I enacted.
This kept me professionally alive and prepared when the first role came along.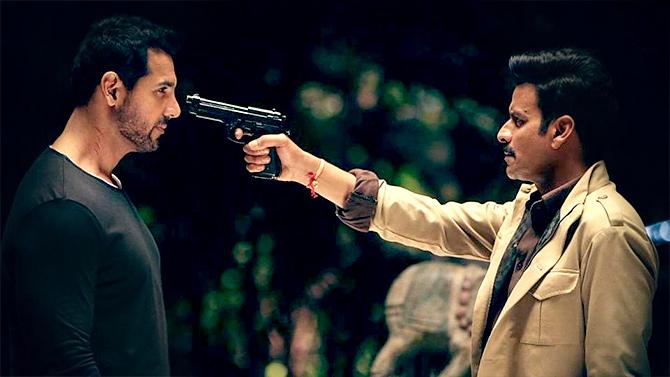 How do you select your roles?
When choosing a role, I always remember the reason why I came to Mumbai to become an actor. And then, the selection process becomes crystal clear.
I choose roles that speak to me and which speak to the audience.
I have done some commercial films like Satyameva Jayate, produced by Nikkhil Advani who is an old friend, and Baaghi 2, directed by Ahmed Khan, who had choreographed my song Sapnon mein milti hai in Satya.
This was more due to friendship than the lure of commercial films or money.
Acting is a balance between dedication and preparation. You have to make mental and physical notes to get under the skin of the character.
Once the camera and lights go on, the individual has to leave and the character has to take over.
In theatre, being over-prepared can be a blessing. But cinema is a fluid medium and the actor has to keep a fine balance. To over-prepare may appear rehearsed.
An actor has to keep some things unknown for the organic magic to happen.
In the end, the actor's skill and director's vision have to be in sync.
Your role in Aligarh was much appreciated. How did you prepare for the role?
Aligarh was an amazing film.
A journalist once wrote that playing a homosexual character was professionally suicidal for any actor but I decided to take up the challenge.
The film is based on the true story of Ramchandra Siras, a professor of Marathi at the renowned Aligarh University. He was suspended on the grounds of morality.
Although the character was very fragile, I was stubborn about not wanting to play a gay stereotype, often depicted in Hollywood or Bollywood.
When preparing for the role, I was conscious that a gay person is much more than his sexuality.
I decided not to focus on his sexual preference. Instead, I enhanced the professor's love for music and literature. For this, I started learning Marathi and read Marathi novels and practised reciting Marathi poetry to create the right ambience.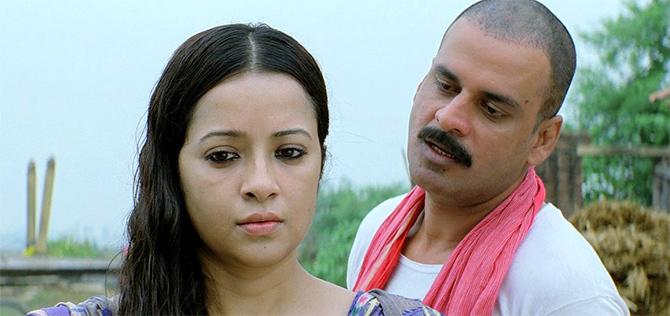 How did Gangs of Wasseypur become a cult film?
Gangs of Wasseypur was director Anurag Kashyap's tribute to commercial cinema.
To my great fortune, he saw the characters in flesh and blood right from the time he was narrating his script.
But his biggest fear was that I would repeat my performance of Bhiku Mhatre.
In order to avoid this, we developed the film's protagonist (Sardar Khan) as a bizarre character, who was an anti-thesis to the commercial hero.
Sardar Khan is bald throughout the film and works at his own pace.
His quest for revenge is often spoilt by his love for sex. This is perhaps why people don't feel too bad when he gets shot in the film.
I focused on portraying Sardar Khan as a womaniser rather than a rough and tough gangster.
How did Bhosle come about?
Bhosle took several years in the making due to financial issues.
It is a quiet film about the burning topic of migration.
What makes the script different is that it is a story about people becoming immigrants in their own country.
We are seeing a lot of this every day -- people, who are made to feel that they don't belong because of religious, linguistic or cultural differences.
This gives rise to mistrust, clashes and identity crises.
The film is personal to me.
When director Devashish Makhija narrated the script, it struck a chord. I felt that this story has to be told.
Six producers were lined up for the film but, after the first narration, all of them ran away so the project was shelved for four years.
Frustrated with the wait, I decided to put all my money on the film.
I believed in the story and the message that it was sending audiences.
But after just 10 days of shooting, the funds ran out.
After some hesitation, I called a friend who was vacationing in the US and the friend had the cheque ready in a matter of days.
Bhosle is about an old man named Ganpath Bhosle, who has just retired from the police force.
It talks about his post-retirement life within four walls.
I had 60-70 dialogues in the film, which got reduced to 30 and then 10.
I speak through my silence; my theatre experience helped me prepare for the role.
The film was shot in a tight space and we used to shoot 17-18 hours a day.
The film is relevant, especially in times of intolerance.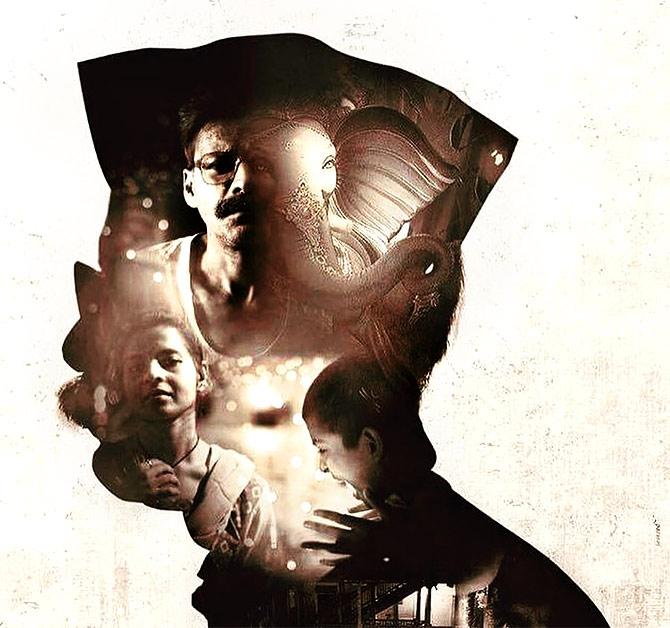 Did Bhosle mirror your own migration experience from Belwa to Mumbai?
Yes. For any actor who leaves his home and his parents to find work in a new city, the struggles are monumental.
Bhosle speaks of what one has to learn and unlearn in order to assimilate their new home.
It also unravels how humans evolve, the loss they face, the identity issues they go through while migrating from one place to another.
Mumbai is very different from the rest of India.
It can be ruthless if you don't have work or friends.
The struggle time and times of disappointment are horrific and can break you.
But when success hits you, the city engulfs you totally.
Many a times, there's no coming back.
If the city has mercy on you, it spits you out and you are changed forever.
You are free then to rule the world!