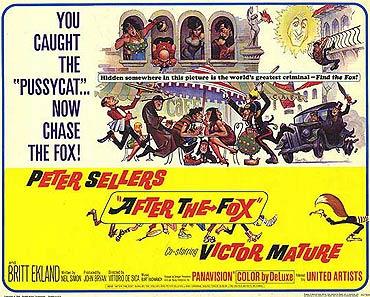 We had
earlier reported
that Farah Khan's upcoming
Tees Maar Khan
seems to be a ripoff of Italian master Vittorio De Sica's
After The Fox
. 
Now, it emerges that Khan and co-producers UTV have officially bought the remake rights from Metro Goldwyn Mayer.
"The plot of the film (of pretending to shoot a film to get away with a robbery) is the same as
After The Fox
, which is very funny," says Khan. "But for some reason, the film didn't do well at that point, I don't know why. And we've changed everything else. Akshay isn't a master of disguise, the girl isn't his sister, we're on a moving train, and the villains have been
changed. Everything's made bigger and brighter, and more relevant to today's scenario."
"And I haven't tried even once to make Akshay act like Peter Sellers," she added.
Italian neorealist master De Sica, best known for the 1948 classic
Bicycle Thieves
, ventured into spoofy territory with
After The Fox
, a 1966 comedy featuring Peter Sellers as a master of disguise who mounts a fake film production in order to get away with a daring gold heist.
In the process, the filmmaker lampooned fellow filmmakers Michelangelo Antonioni, Federico Fellini and himself, among various other cinematic luminaries. Clearly this gives Khan, the director of
Om Shanti Om
, quite the room for Bollywood-spoofing.
"I'm always torn apart by critics for my stories, and this time I can say the joke's on them and the story is by Neil Simon," laughs Farah, two days ahead of Tees Maar Khan's release.