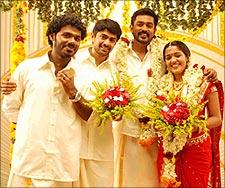 Paresh C Palicha reviews the Malayalam movie, Ithu Nammude Katha. Post YOUR reviews here!

Not long ago, the Malayalam film industry was one of the favourite hunting grounds for filmmakers from other languages on the prowl for good stories. The trend seems to be reversing now as we see more and more Malayalam films following the technical wizardry of either Tamil or Hindi films; sometimes even getting 'inspired' (a diplomatic term for a blatantly copied work without the source being acknowledged) to use the same story also.

Then there are those who formally acquire the rights of the stories from other languages to remake into Malayalam. Ithu Nammude Katha directed by Rajesh Kannankara is one such film starring Asif Ali and Nishan. This is a formal remake of the Tamil film Naadodigal with the story credited to Samuthirakani.

At first you do have your doubts as to how a typical 'Madurai story' will work in the verdant milieu of Kuttanadu where the land is submerged in the backwaters. But to the director's credit (who has also done the screenplay and dialogues), he makes it work, albeit in subdued manner.

The story is about three friends -- Vinod (Asif Ali), Santhosh (Nishan) and Kochumon (Abhishek) -- who are yet to enter the life of employment, entrepreneurship or just proving one's worth. Vinod, who is rank holder in BA History, is studying hard to get a government job as it the only way his uncle played by Jagathy Sreekumar will allow him to marry his daughter Kalayani (Ananya). Santhosh on the other hand dreams of opening a Computer Training Centre and is in love with Vinod's sister played by Nimisha. Kochomon wishes to fly off to the Gulf, and is virtually discarded by his father played by Indrans.

Things go awry after the trio helps Mahesh (Vineeth Kumar), Vinod's school friend to elope with the daughter of his mother's rival played by Devan. The incident affects all three. Santhosh loses one of his legs, Kochumon his hearing and Vinod loses Kalayani, as he cannot get into government service after having a police case against his name.

On the surface this film looks like a frame to frame copy of Nadodigal. But it still works though it is difficult to pinpoint the reason why. Maybe it is actors or the subtle tweaks that the director has given to the screenplay.

This film scores a few points in the technical department too. Vipin Mohan's camera captures the scenic beauty of the region really well.
Asif who has mainly done 'happy go lucky' characters in his short career is a revelation to say the least. He is shown here as a mature fellow with leadership qualities. The casting seems to have been purposely done to surprise us. Nishan as Santhosh, a person with a comic streak too is good. Abhishek making his debut as a comedian is good too. Ananya has done the same role that she did in the Tamil and is proficient enough.
All in all, though Ithu Nammude Katha is a remake, it still works.
Rediff Rating: