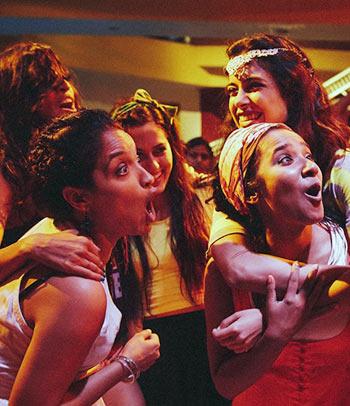 It's so good to see a film that revels in womanhood, says Sukanya Verma.
Being a woman is an experience so diverse in its challenges and charms, her narrative cannot stay confined to one story.
Pan Nalin's refreshingly freewheeling Angry Indian Goddesses picks a whole bunch to capture her highs and lows while pointing out the discrimination she tolerates/fights on regular basis.
A crisp prelude offers a glimpse into their daily battles and outbursts relating to gender bias and objectification even as they all -- Half-British Bollywood starlet Joanna (Amrit Maghera), Madhureeta, a pop singer (Anushka Manchanda), Pammi, a housewife (Pavleen Gujral), Suranjana, representing the corporate world (Sandhya Mridul) and her six-year-old daughter -- gather for the wedding of their dear friend and photographer Freida (Sarah Jane Dias) at her old family villa in Goa.
Adding to the girl power, there's late arrival and activist Nargis (Tannishtha Chatterjee) and Frieda's feisty domestic help Laxmi (Rajshri Deshpande) too.
It's a scene of genuine warmth and camaraderie; the sprawling house reverberates with laughter and gossip, candour and lust. They're not wearing any make-up, the masks they wear for the world slip off easily, no need for them here, nobody passes judgement, they're among friends, they're safe.
Goa's wispy, free-spirited air, its silky beaches, lush greens and snug alleys paint the scenes with tenderness and shine. Place or person, it's remarkable how well Swapnil S Sonawane's camerawork recognizes the beauty of the unembellished.
Often in our movies, female bonding is an occasion to celebrate fashion or plot schemes but in Angry Indian Goddesses, they connect over nostalgia, insecurities, hope and hot neighbours on whose bare torso they'd love to play a game of chess.
Their conversations, though frustratingly censored for the use of strong language (though they did leave out a F-word or two), builds a world of its own, one so attractive, intimate and comfortable, one you feel part of.
Even if there are too many of them to focus exclusively on and the issues remain predictable, Angry Indian Goddesses triumphs in its collective chemistry and sisterhood.
It's only when Nalin consciously cuts short the vacation to focus on gender inequality in a more aggressive fashion, Angry Indian Goddesses begins to read out like a erratic checklist of topical troubles and broad conclusions.
There's also a rather obvious attempt to cram in as many issues possible -- rape, homosexuality, childlessness, suicide, divorce, legal battle and revenge but Nalin's balanced approach doesn't allow Angry Indian Goddesses to drown in sensationalism or solemnity.
Ultimately, its abrupt shift of tone and dramatic impulses aims for the reckless heart not the rational mind.
Despite these inconsistencies, Angry Indian Goddesses should be watched purely for its terrific leading ladies.
Save for the barely visible Tannishtha (her scenes got chopped off by the censors), Sandhya is a reliable mix of vulnerable and plucky, Anushka and Pavleen's endearing vibes towards one another stand out, Sarah Jane Dias sparkles in enigma and sensitivity, robust Rajshri Deshpande gets into the skin of her character and Amrit Maghera is droll and luminous.
Considering the treatment it got by the censor board, I don't know if Angry Indian Goddesses changes anything. Still, it's so good to see a film that revels in womanhood as much as this one.
Rediff Rating: