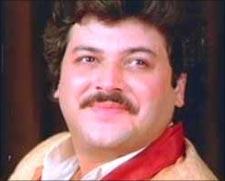 Veteran BJP leader Sushma Swaraj has expressed her concern for yesteryear's Bollywood actor Raj Kiran, who was traced to a mental asylum in the US, after an almost a decade.

Swaraj tweeted, 'It is a matter of great satisfaction that actor Raj Kiran has been traced after 10 long years. Unfortunately, he is in a mental asylum in America'.

The superhit song Tum Itna Jo Muskura Rahe ho from the movie Arth was picturised on Raj Kiran but many may remember him for his role in Subhash Ghai's Karz. He has also given remarkable performances in films like Kaagaz Ki Nao, Ghar Ho To Aisa.

Rumours surrounding the actor's death had been doing the rounds for since some time until he was traced to the US. Rishi Kapoor, who also starred in Karz with him, was a good

friend of Raj Kiran and decided to make enquiries about his whereabouts.

On a recent trip to the US, Kapoor met Raj Kiran's brother Govind Mehtani and found out from him that Raj Kiran was alive and in a mental institution in Atlanta. His family -- including his elder brother Govind and younger brother Ajit and his wife and son -- had abandoned him because they could not bear with his mood swings.

Raj Kiran had gone into acute depression. It is believed that the actor went through a series of domestic crises, which left him in this state. He was in Byculla Mental asylum in Mumbai, India before leaving for the US.

Raj Kiran now has to fend for himself and apparently he looks after his own treatment by working within the institution.

Rishi Kapoor wanted to meet him but his brothers did not have his phone number, now Kapoor wants to bring back Raj Kiran to Mumbai and also wants to help him get roles in films.