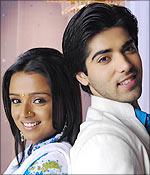 Sapna Babul Ka... Bidaai, one of Star Plus' most popular shows ended its three-year run recently with a two-hour finale.

The show began in October 2007 as a narration of different treatments accorded to a fair-skinned girl (Sadhna) and a dark-skinned girl (Ragini) in the society.

It garnered good and stable ratings through its run making Sara Khan, Parul Chauhan, Angad Hasija and Kinshuk Mahajan household names.

Parul Chauhan shares her best moments on the show.

Do you think Bidaai should have continued?

Yes, because it had good TRPs (Television Rating Points).

Will you miss the Bidaai team?

The Bidaai team was like a family to me. I shared a very good rapport with all the artists. I got fame, money and friends from this show. Ashita Dhawan (who plays Malti Babhi) composed and sang a beautiful bidaai song for the farewell episode.

Did you miss Sara Khan (who is locked inside the Bigg Boss house now) while giving the last shot?

My first scene was with her. So I really felt very dejected while filming my last scene without her. We have spent almost two and a half years together and had a fun on the sets. Everyone cried on the last day. Angad cries only when he is shooting or acting. But he hugged me and cried on the last day. I was very touched.

Can you talk about your most memorable moment(s) on the show?

Sara and I are very good friends. We shared the common vanity van and rooms wherever we went. We never allowed anyone else to come to our rooms. We pasted our pictures on the door and kept all our stuff there.

When did you first come to know that you have become a star?

Three months after the launch of the show, somebody from the channel told me that there was this guy from Chandigarh who mailed them saying that he wanted to meet Parul, even if it is just for a minute. Unfortunately, I couldn't meet this fan of mine because of my hectic schedule.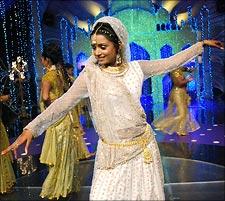 You are Sara's best friend. Did you know that Sara was married to Ali Merchant two years ago as reported by a section of the media?

Believe it or not, it came as a shock to me when I read and saw the pictures. We knew that she was engaged to Ali but she never talked about being married to him. I will ask Sara about her marriage after she comes out of Bigg Boss.

And when are you planning to get married?

I am seeing Yashdeep Nain (one of the suitors in Perfect Bride reality show). I am not thinking of marriage now because I want to concentrate on my career. I might think about it after two years [smiles].  

You were seen mostly seen in Indian outfits on the show. Are you ready to experiment with your looks and new roles?
If I can carry off western clothes with the same confidence, then why not? I want to experiment with different and challenging roles.
What next?
I got an offer to do a reality show and two other shows. But I plan to take a long break before I commit to anything.