Such is Sharma's clout that very few are willing to take sides in this controversy.
'It's like talking about Salman Khan.'
'No one wants to ruffle feathers.'
Avantika Bhuyan on why India's biggest television star finds himself in the eye of a storm.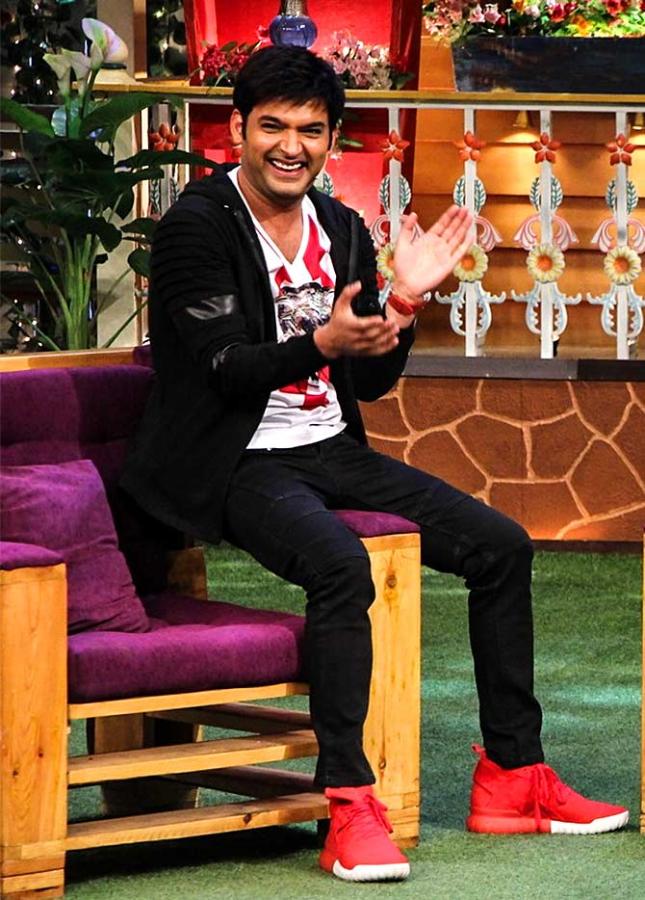 IMAGE: Kapil Sharma knows just how to make people laugh on his show.
On March 20, a day after Yogi Adityanath took over as chief minister of Uttar Pradesh, reports of another drama, which happened 30,000 feet in the air, would send social media into convulsions.
The crew of The Kapil Sharma Show, the popular laugh-fest on Sony TV, was on Air India's flight AI 309 from Melbourne to Mumbai.
According to various media reports, Kapil Sharma, the host of the show, was inebriated and didn't take nicely to his staff eating before him and vented his spleen at Sunil Grover, the key performer after Sharma, and others.
Details of the spat came out when the two took to Twitter soon after landing.
Grover announced that he would no longer be a part of the show.
In the edition of The Kapil Sharma Show, aired on March 26, Sharma was his witty self, except there was no Grover.
In his place, Sharma had inducted comedians Raju Srivastava and Ahsaan Qureshi among others.
Sharma is television's most bankable star.
He paid advance tax of Rs 23.9 crore (Rs 239.6 million) for 2016-17, which is way ahead of Bollywood heavyweights like Ranbir Kapoor (Rs 16.5 crore/Rs 165 million), Aamir Khan (Rs 14.8 crore/Rs 148 million) and Karan Johar (Rs 11.7 crore/Rs 117 million).
On the Ormax Characters India Loves list, Sharma has been the number one nonfiction character since the start of Comedy Nights With Kapil in 2013.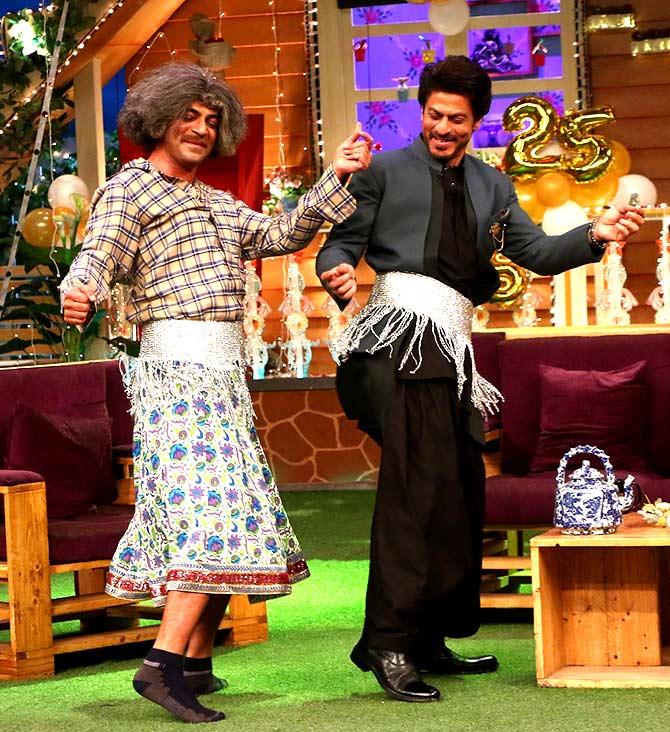 IMAGE: Sunil Grover's Dr Mashoor Gulati has some fun with Shah Rukh Khan.
The popularity has come with its share of controversies.
His fallout with the Colors channel last year was bitter, after which he moved to Sony.
His tweets to Prime Minister Narendra Modi about bribes being demanded by a Brihanmumbai Municipal Corporation officer for construction of his office at Versova (northwest Mumbai) won him innumerable enemies in cyberspace and brought on counter-allegations by the BMC that he had flouted norms not only for the Versova building, but also for his apartment in Goregaon (also in northwest Mumbai).
And now after he is perceived to have ridden roughshod over Grover, people have begun to wonder if success has really gone to Sharma's head.
Comedian Raju Srivastava, who has had a close association with Sharma for the past nine years, says the pressures of stardom have gotten to Sharma.
"When someone becomes a star, ek ajeeb pressure ho jaata hai (a strange pressure builds up). If a college has its annual day, it wants to call Sharma. If it's a politician's birthday, call Sharma."
Srivastava calls Sharma witty, warm and gabru jawaan and says he is surprised when he hears stories of Sharma's misbehaviour.
"When I hear stories that he slapped his driver or hit the watchman with a belt, I find it hard to believe," he says.
Such is Sharma's clout that very few from within the film and television industry are willing to take sides in this particular controversy.
"It's like talking about Salman Khan. No one wants to ruffle feathers," a celebrity management professional tells me.
When I call other actors of the show such as Chandan Prabhakar and Roshni Chopra, I am told the team is not talking to the media at the moment.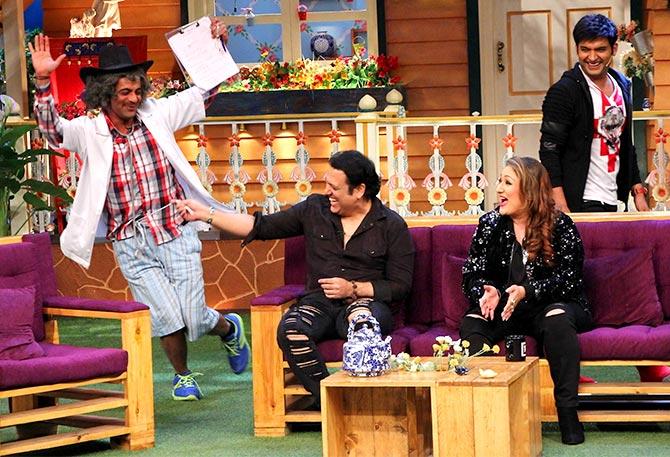 IMAGE: In the good old days: Sunil Grover and Kapil Sharma make Govinda and his wife Sunita laugh.
The few who share stories about Sharma express their surprise at the controversy.
"He is very protective about the people he works with and those who have grown with him. I remember this one instance very clearly. A guy from a village came to him, requesting for work. Sharma made him the spot boy, to do small chores," says a person associated with the show.
"Sharma kept observing his work and when he realised how dedicated the boy was, made him a full-time cook and would even incorporate him in some of the gigs from time to time."
Model and actor Simran Kaur Mundi, who worked with Sharma in the film Kis Kisko Pyaar Karoon (2015) , remembers him as a thorough team player.
"On the sets, he would take keen interest in what everyone was doing." Her thoughts are echoed by a person associated with the show. "When the briefing happens, he says, 'We'll do it together'," he says.
And he always makes time for his fans.
Drishyam actor Ishita Dutta, who is working with Sharma in the upcoming film Firangi, shares instances from the shoots in Bikaner and Chandigarh when the makers were trying to conceal the look of the film.
"The moment people get to know that Kapil is shooting, they gather in hordes. So, what he would do is change his clothes to interact with his fans, come back to the set and change back into the costumes again."
There are a lot of softer sides to him, according to the person associated with the show: His ardent love for animals and also his relationship with his mother.
"He gets his funny bone from her. She is hilarious. A lot of what he is today is because of her," says Mundi.
In spite of all these aspects, what is it that makes Sharma controversy's favourite child?
"Drinking," I am told in hushed tones by some, again on request of anonymity, while others reiterate Srivastava's opinion that Sharma is having trouble dealing with stardom.
Sharma's brand of humour has also come under criticism in the past, with it being panned as lowbrow and misogynistic by some -- he constantly made fun of members of the audience, his on-screen wife Sumona Chakravarti's bee-stung lips and her on-screen father.
Raaj Shaandilyaa, who has written 400 scripts for Sharma during Comedy Circus and some parts of Comedy Nights With Kapil, recalls Sharma as a brilliant writer.
"Together, we presented some elements of Pakistani plays differently. There was also a glimpse of typical Punjabi humour," he says.
The insult humour, which drew flak from women's rights groups, was deliberately toned down when Sharma moved to Sony with The Kapil Sharma Show.
So, have these controversies affected his brand equity?
"There was no impact in his equity when the BMC issue happened. But Grover leaving the show could have an impact on his equity, as it impacts the show directly," says Ormax Media CEO Shailesh Kapoor.
According to data available with Ormax, Dr Mashoor Gulati's (the character played by Grover on the show) popularity has been growing month-on-month over the last six months: From a 7 per cent share in Ormax Characters India Loves in May 2016 to a 21 per cent share in February 2017.
In the same period, Sharma's popularity share has remained stagnant at 40 to 50 per cent.
There are episodes in which Grover's screen time is as high as 40 minutes and his lines outnumber Sharma's.
"Hence, the impact can be sizeable. If the show loses its ratings, it is bound to impact Sharma's popularity, too. Also, the media coverage has been more in favour of Grover, which doesn't help Sharma's equity," he says.
Even in the middle of these controversies, people close to Sharma believe that it is his wit and spontaneity that can help him sail through -- even without Grover.
For instance, during his debut appearance on Koffee With Karan, when the urbane host asked him about his late-night and early-morning tweets, Sharma sportingly replied, 'I want to say two things. Don't drink and drive. And don't drink and tweet.'