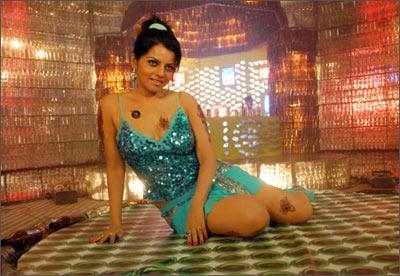 People are making a beeline to Hunasuru Krishnamurthy's floor in Abbaiah Naidu Studios in Bangalore. The reason? To see for themselves the sets which have been erected out of 40, 000 beer bottles!
The sets have been constructed to picturise an item song on Shradhdha Sharma for the Kannada film Jeeva. The film starring Prajwal is being directed by choreographer-turned-director Prahu Sreenivas.
Sreenivas wanted to add some novelty to the song picturisation and came up with the idea of using beer bottles. Needless to say, the sets have become the talk of the town!
Art director Mohan B Kere who designed the sets is delighted that many people are checking out his creation. Cameraman Sabha Kumar had a tough time lighting the sets, though. The producers -- Prem and Paramesh -- disclosed that they had spent nearly Rs 25 lakh on the song.
The beer bottles were brought from Tamil Nadu and were cleaned with chemicals so that they looked sparklingly clean. The bottles were then fitted on the walls. A circular dais was erected in the middle of the set to facilitate Shradhdha to shake her legs.
Text: R G Vijayasarathy