'My in-laws are very supportive; my mom is very critical of me.'
'It's been six months since my wedding; I need to get back to reality.'
Drashti Dhami on marriage, her TV comeback and how she's balancing it all.
Popular television actress Drashti Dhami, who tied the knot in February, made a comeback on the telly with the pre-independence era love saga Ek Tha Raja Ek Thi Rani on Zee TV.
After her real life wedding, she got a much grander one on screen too, when her character on the show gets hitched to costar Siddhant Karnick's Rana Indravadan Singh Deo.
In this interview with Rediff.com contributor Rajul Hegde, the actress talks about her personal life, her take on marriage and her experience with the show.
How are you balancing home and work after your comeback?
My in-laws are very supportive.

Before marriage, while I was dating, I used to be really stressed out thinking that I had to spend time with family and meet Neeraj (husband).

But now it's a little relaxed because no matter what time I go back home, I get to spend time with him and his family. I meet my mom very often too.
There are times I reach home late and if my father-in-law doesn't meet me for three days, I get a message from him "Missing you, haven't seen you for three days".

My mother-in-law loves me very much, whether it's onscreen, offscreen or pulling her son's hair (laughs).

But my mom is very critical of me. I received a message from my mother, saying, 'I am so proud of you and impressed that you have become such a good actress.'

This was the real compliment because she can really crib about me (laughs).
How did you end up marrying non-actor Neeraj Khemka?
It's a personal choice, some of my actor friends are dating or married to actors. But I always wanted to marry a non-actor. I have very limited actor friends. The close ones are Sanaya Irani and Nakul Mehta.
You have won a dance reality show Jhalak Dikhhlaa Jaa. Can we see you and your husband take part in a couple dance reality shows like Nach Baliye?
It is less likely that we will come together on-screen because Neeraj is a very camera-shy person.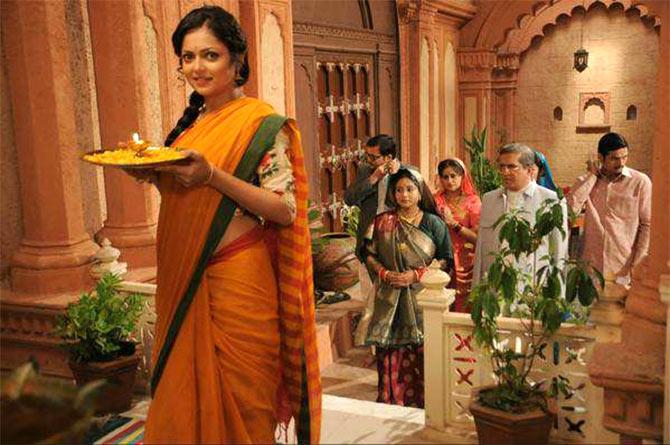 Image: Drashti Dhami in Ek Tha Raja Ek Thi Rani
You are playing a queen in Ek Tha Raja Ek Thi Rani. How exciting is it?
I am really blessed to play Gayatri.

Fortunately, it's set in pre-independence, and not in a mythological era, so there is lot of classy elements to the costume.
Initially, I did not give any inputs because I didn't do any kind of research on what people wore back in 1940s.

So I didn't interfere because I had to do certain things for the look. But now the team has asked me to give inputs. So we are trying to figure which colours look good. I like the hair-do and the make up in this show.

I have realised that simple make- up makes you look better and stand out. What I found challenging is to speak in the dialect that people spoke in then.
What is your equation with your co-actors, especially Siddhant Karnick who plays your husband?
Finally we have started some scenes together.

Siddhant is a fun loving guy, sweet and well mannered person. All of us have a good time, chatting, lunching- be it with Anita (Raaj, who plays her onscreen mother-in-law) or Moon (Banerjee, her onscreen mother).

We have a lot of fun on the sets. A few days ago, I saw one of Anita's old films on TV and I clicked a picture and sent it to her saying 'I am watching you.'
There is lot of buzz around this show but the TRP's aren't good. Any pressure?
I don't know if it's a talked about show or not but we aren't getting that kind of TRPs.

But honestly, we are all working very hard. Everybody is so optimistic that the show will do better.

I think it's always gradual, like it has happened with all (Geet and Madhubala) my shows.

The first three months are so low that you feel like the show might just shut shop and then it suddenly picks off. I am sure all the hard work will pay off. We will get there (smiles).
The partners in all (Geet, Madhubala and now Ek Tha Raja Ek Thi Rani) your shows are Angry Young Men?
Yes. I just make them better people (smiles).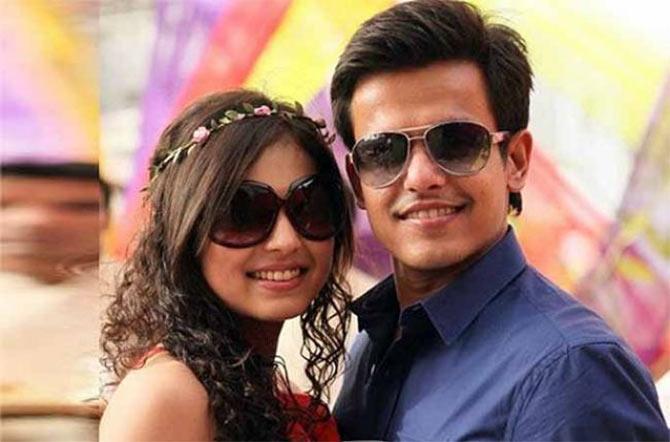 Image: Drashti Dhami with husband Neeraj Khemka
Do you think the journey in the show will get easier for you since you have a huge fan following?
I am blessed to have so many people like me.

I have to share this one incident with you. When I went to an Indian restaurant in Istanbul, a chef came up to me and asked, 'Aap Madhubala hain na?'
I said yes.

He brought a Turkish girl to meet me. I later found out that a few girls had formed a group called Drashti Dhami fans. And there was this one girl who used to translate all the Madhubala episodes Turkish for the group to watch I didn't have words to say because it was so unreal.
At the same time, I also get criticised for my weight.

Post marriage, I have gained lot of weight which I am trying to lose now. You are the face of a show, you're being paid for it. It's been six months of my marriage; I have to get back to reality.

Last year, during Jhalak Dikhhla Jaa, your hosting skills were not appreciated much. Given a chance, would you host a show again?
Every actor is not an anchor and every anchor is not an actor.

I gave it my best, but honestly, I feel I'm a better actor than a host.

If I have to place things in order, it would be first acting, dancing and then hosting. Any kind of failure makes you low but I personally didn't enjoy hosting. So it was okay when they replaced me.

I enjoyed hosting the Golden Petal Awards since it was just for a day and it was scripted. I am not a witty person. My jokes are way too sarcastic. So only friends would understand it. I wouldn't be able to do it on stage.