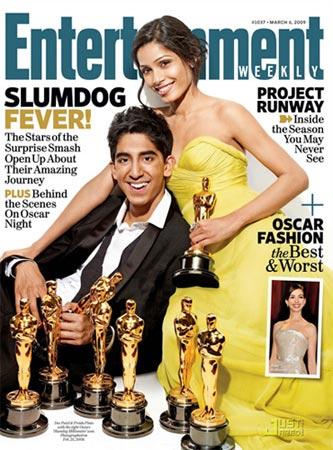 Slumdog Milliionaire on screen couple Dev Patel and Freida Pinto could not keep their real romance under wraps for long as they were spotted kissing during a dinner date in Israel.
Patel reportedly jetted to Tel Aviv, Israel to visit Pinto on the set of her new movie Miral, and the pair was later caught sharing a kiss during a romantic dinner, contactmusic.com reported.
The couple who played childhood sweethearts in the Oscar-winning movie, have frequently dismissed rumours they are dating for real, even after their co-star Anil Kapoor hinted they were romantically involved.
Kapoor had previously said, "When I meet them I feel there is something happening. (I think) this is the beginning of something exciting happening. They definitely make a great pair. Both of them look very good together."
And thereafter came a reaction from 24-year-old actress who insisted "We're not dating," while 18-year-old Patel added, "No, we're not seeing each other."
Text: PTI