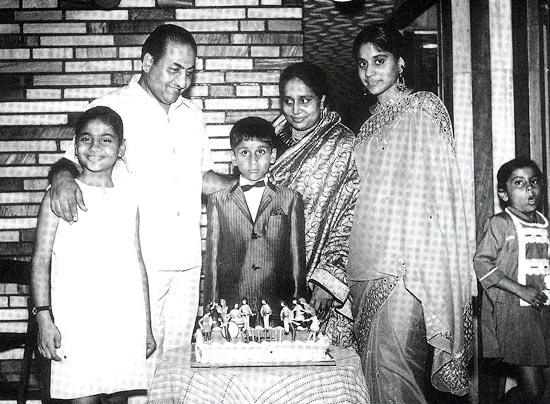 IMAGE: Mohammed Rafi with his wife Bilquis, and children Yasmin, Shahid and Nasreen.
'Laxmikant-Pyarelal called upon Abba to ask him to sing this ghazal. "Please sing this ghazal for us. The producer is keen that only you should sing this ghazal, so that it will have the desired effect. But he doesn't have money enough to pay you".'
Abba's heart was bound to melt on hearing this. He consented immediately.
His daughter-in-law Yasmin K Rafi remembers the legendary Mohammed Rafi who would have been 91 today.
Yasmin was married to the late Khalid Rafi, Rafisaab's second son.
Raj Kapoor and Shammi Kapoor took a keen interest in the music of their films. Raj Kapoor in particular paid great attention to the songs and music of his movies.
Shammi Kapoor generally made it a point to be present in the recording studio whenever a song picturised on him was being rehearsed. He would observe and listen to every movement and variation with total absorption, as Abba sang. He would even tell Abba, 'Rafi Bhai! I will act the way you are singing.'
When Dil Ke Jharokhe Mein Tujko Bithakar (Brahmachari) was being rehearsed, Shammi Kapoor told Abba, 'Rafi Bhai, why don't you try and sing the first verse of this song in a single breath? What do you think?'
'I laughed at his suggestion,' Abba told us, 'but I did sing exactly as he wanted, holding my breath as he had directed me to. When I finished Shammi Kapoor just looked at me, flabbergasted.'
'I quipped, "What do you want to do now? Do you wish for me to sing or do you want me to stop breathing? I will only be able to sing if I live".'
Everyone present in the studio burst out laughing.
Whenever Shammi Kapoor joined us for recording, there would be great fun and laughter in the studio.
Rafi Saheb's singing came to be identified with Shammi Kapoor more than any other actor. It might not be wrong to say about them, that they were one soul in two bodies.
The day Abba passed away, Shammi Kapoor was away form Mumbai, in Vrindavan. But when he returned, he headed straight to Rafi Villa to offer condolences. Like everyone else, he could hardly believe that Rafi Saheb had left us.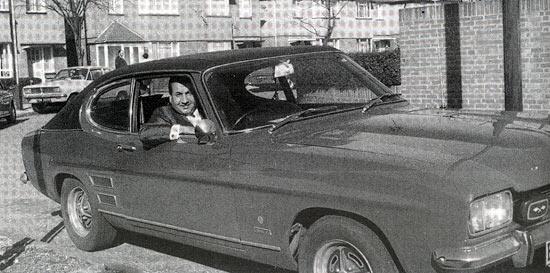 IMAGE: Mohammed Rafi in London.
Shankar-Jaikishen's film Barsaat (1949) was made under the RK banner, with Raj Kapoor playing the lead.
Raj Kapoor had hitherto always used Mukesh as his playback singer. But Shankar-Jaikishen wanted Rafi Saheb to sing Main Zindagi Mein Hardam Rota Hi Raha Hoon as they had been told that only Mohammed Rafi would be able to do justice to this song with its peaks and troughs and variations.
When Abba met them for the rehearsal, Shankar-Jaikishen confessed that they were nervous. They played him the tune and told him, 'There. Now that you have the melody, we leave it to you to sing the song as you deem fit.'
But Abba, who was always supportive of every new music director who approached him, countered this with, 'I trust you completely. You are the music directors, and I am quite prepared to perform this song as you tell me to.'
This first song of Rafi Saheb, under Shankar-Jaikishen's baton, was a super hit. Their partnership, beginning with this song, continued to establish new paradigms of success in Hindi movies, for the next two decades.
Although for Raj Kapoor films, Shankar-Jaikishen mostly used Mukesh's voice, but for other films and heroes they preferred Rafi Saheb.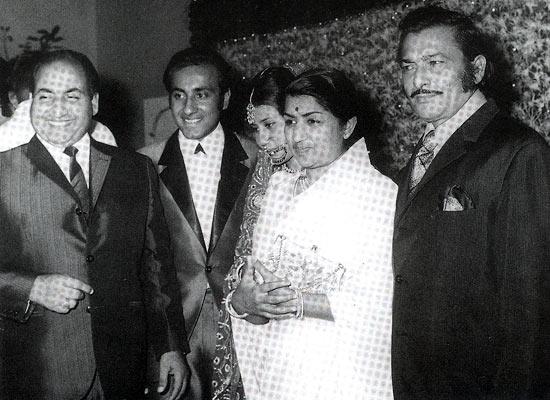 IMAGE: Mohammed Rafi with Lata Mangeshkar and Madan Mohan at Yasmin's wedding reception at the Taj Mahal Hotel, Mumbai.
Khayyam Saheb was an accomplished music director and for most of the time, he had excellent relations with Abba.
Rafi Saheb sang some of his finest songs under Khayyam's baton. For instance, the solo Jane Kya Dhoondhti Rehti Hain Ye Aankhen Mujhme and a duet with Lata Mangeshkar Jeet Hi Lenge Baazi Hum Tum (Shola Aur Shabnam) and in Shagun (1964), Tum Chali Jaogi Parchain Reh Jaengi.
In the sixties, the two got together to produce an album which had bhajans on one side and ghazals on the other.
In the mid-sixties, Khayyam did not have many films to do. Those days he wanted to organize a 'Khayyam Nite' with Rafi Saheb.
Based on his own experience, Rafi Saheb advised him, 'You must first establish your work and name, before you hold a stage performance. That is when you will benefit.'
Khayyam did not take kindly to this advice.
He replied, 'Do you think I am a lesser light than Shankar-Jaikishen, Ravi or Roshan? So, Rafi Saheb has become conceited. Now I will give the place of Rafi to Mahendra Kapoor.'
For almost seven to eight years after this episode, Khayyam did not work with Abba. Even after he started getting films regularly, he still did not use Rafi Saheb. Notwithstanding their long estrangement, Abba was quite happy to work with him in later years, as if nothing had ever transpired between them and went on to give voice to some of Khayyam's finest compositions in later years.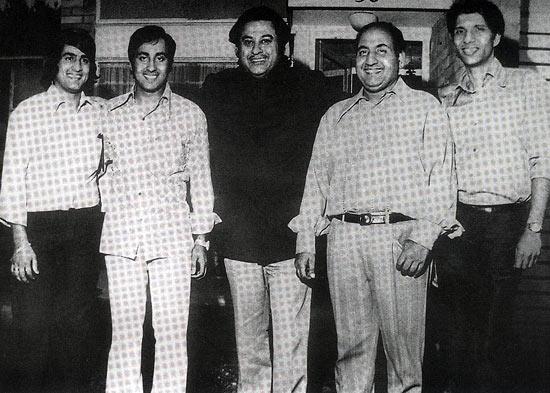 IMAGE: Mohammed Rafi with Kishore Kumar and his sons.
Kalyanji-Anandji and Rafi Saheb worked together for almost two decades. For their first film, the song Lakdi Jal Koyla Bhayi, Koyla Jal Bhayo Raakh from Bedard Zamaana Kya Jaane (1959) was sung by Rafi Saheb.
Some of these songs are memorable: Govinda Aala Re Aala Zara Matki Sambhal(Bluff Master), Watan Pe Jo Fida Hoga Amar Woh Naujawan Hoga (Phool Bane Angarey), O Mere Bechain Dil Ko Tune Chain Diya (Aamne Samne) and Chale Thay Saath Milke, Challenge Saath Milkar (Haseena Maan Jayegi), to name a few.
In the sixties, when Rafi Saheb was doing regular 'musical nights' with Shankar-Jaikishen, Kalyanji Bhai asked him to do a similar programme for him. Since Abba was too busy at the time, he apologised and suggested, 'You could ask Lataji, instead.'
'Rafi Saheb, but you do sing for us,' Kalyanji Bhai said.
Abba replied, 'Lataji also sings under your music direction. Well then, why not ask both of us?'
This incident prejudiced Kalyanji Bhai against Abba and he started to avoid him. But after a brief interval his anger mellowed, and he continued to work with Rafi Saheb.
Rafi Saheb performed for the first time in 1961 under Laxmikant-Pyarelal's music direction with the ghazal Tere Pyaar Ne Mujhe Gham Diya, Tere Gham Ki Mmar Daraaz Ho (Chaila Babu). This was also Laxmikant-Pyarelal's first film, although it was released much later.
Laxmikant-Pyarelal called upon Abba in person to ask him to sing this ghazal. 'Please sing this ghazal for us. The producer is keen that only you should sing this ghazal, so that it will have the desired effect. But he doesn't have money enough to pay you.'
Abba's heart was bound to melt on hearing this. He consented immediately.
After the recording was completed, the filmmaker very sheepishly offered Abba one thousand rupees. Abba took the money without demur, only to immediately hand it over to Laxmikant-Pyarelal saying, 'Go buy yourself some sweets, the two of you. This is a reward for your lovely composition.'
This was Rafi Saheb!
Abba helped many producers and music directors in this manner.
Laxmikant-Pyarelal's first film was Parasmani, in which all the songs sung by Rafi Saheb became hugely successful. 'Roshan Tumhi Se Duniya, Raunak Ho Tum Jahan Ki in particular became a great hit with the fans. That is how Laxmikant-Pyarelal's musical journey began with Rafi Saheb, and their association lasted over two decades.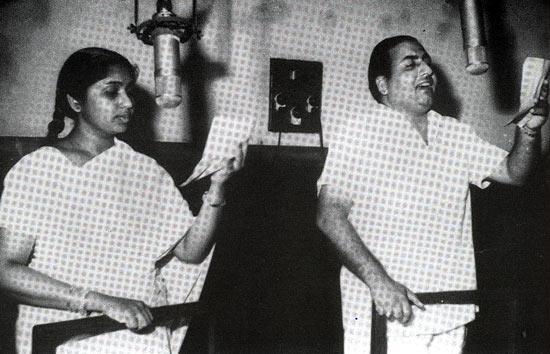 IMAGE: Mohammed Rafi with Asha Bhosle.
Dosti was a superhit mainly due to the singing prowess of Mohammed Rafi. People continue to be fascinated by the songs of the movie -- Rahi Manva Dukh Ki Chinta Kyon Satati Hai, Mera Toh Jo Bhi Kadam Hai Vo Teri Raah Mein Hai and Chahunga Mein Tujhe Saanjh Savere, Phir Bhi Kabhi Ab Naam Ko Tere.
At the time when Laxmikant-Pyarelal were composing Chahunga Mein Tujhe Saanjh Savere they were quite dissatisfied and came to Rafi Saheb for setting right what they thought was a mess.
They told Abba, 'Who better than you to guide us in this matter? We want to sing this melody in your presence, to know your opinion.'
Abba heard the tune, and said he liked it immensely. Abba would be quite excited whenever a song or a tune was to his liking.
He told Laxmikant-Pyarelal, 'I stand guarantee for this song's success. I am quite prepared to sing this, you prepare for the recording.' Indeed, Abba was proven right. The number was an overwhelming hit. Dosti won three Filmfare awards, among them one for Laxmikant-Pyarelal as best music directors, Majrooh Sultanpuri for best lyricist and Rafi Saheb for best singer for the song Chahunga Mein Tujhe.
Abba always tried to keep clear of controversy. When Abba received the Filmfare Award for best singer in 1977 for the song Kya Hua Tera Wada, Vo Kasam Vo Iraada (Hum Kissi Se Kam Nahin), it was a happy occasion for our family and my happiness knew no bounds.
That same year Laxmikant-Pyarelal also got the best music-director award for Amar Akbar Anthony.
At the award function, it was customary for the recipient of the best singer's award to sing the winning song. Abba was apprehensive whether Laxmikant-Pyarelal would agree to play R D Burman's tune, and in order to avoid any misunderstanding or bad blood he decided against attending the awards ceremony.
When Laxmikant-Pyarelal got to know of this they were quite upset and Pyarelal immediately called Abba: 'Rafi Saheb, you will certainly go out there to take your award, and we will provide the accompaniment with our orchestra for R D Burman's tune.'
Reassured, Abba attended the function. He was handed the best singer's trophy by O P Nayyar. Although my dream of witnessing the occasion first-hand remained buried in my heart, since I had been denied permission to attend the function.
When Abba returned home his face, all wreathed in smiles, drove away my blues.
Excerpted from Mohammed Rafi My Abba -- A Memoir by Yasmin K Rafi, published by Westland Books and Tranquebar Press, with the publisher's permission, Rs 250.