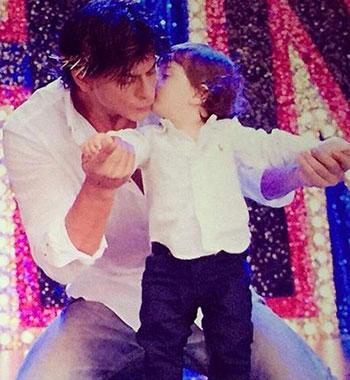 Farah Khan's latest blockbuster is unique in more ways than one.
Starring Shah Rukh Khan, Deepika Padukone, Abhishek Bachchan, Boman Irani, Sonu Sood and Vivaan Shah, Happy New Year is about a bunch of 'losers' trying to rob a business magnate (Jackie Shroff) while competing in an international dance contest in Dubai.
Critics may have thumbed it down but Farah Khan's latest offering is laughing all the way to the bank with its Rs 100-crore innings.
Here are some fun facts about the big-budget money spinner.
1. AbRam's debut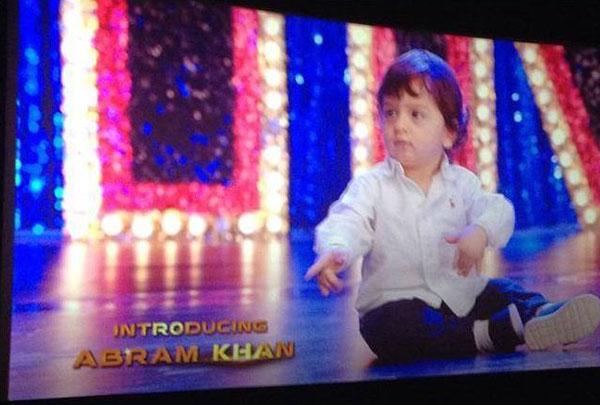 Image: AbRam Khan make a cute debut.
Kept away from the media's prying eyes since his birth in May 2013, SRK's third-born AbRam's first-ever big screen appearance during the end credits of Happy New Year makes for an adorable surprise.
Not even two, the little tot is quite the star already.
2. SRK's 'home'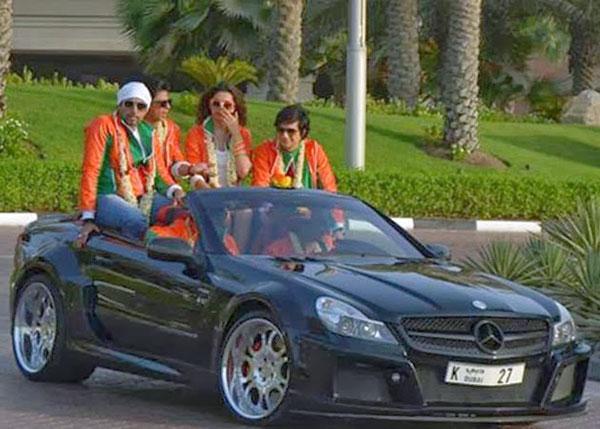 Image: Abhishek Bachchan, Shah Rukh Khan, Deepika Padukone and Vivaan Shah live it up in Dubai.

Everyone knows about King Khan's sprawling mansion, Mannat, in suburban Mumbai but did you know he owns a swanky bungalow in Dubai's upscale Palm Jumeirah?
At Happy New Year's Dubai premiere, the actor was full of praise for the glitzy city and called it his 'home'.
3. Atlantis getaways, Bollywood style


Image: The fabulous Atlantis -- The Palm plays a key role in Happy New Year.
Not only is Happy New Year filmed extensively in the luxury hotel resort, Atlantis -- The Palm (110 rooms were booked to accommodate the crew!), it is currently offering a 10 percent discount on its 'Holiday Like a Superstar' package along with memorabilia from the movie.
A first for Bollywood, perhaps?
4. Exit KatWoman. Enter DPad


Image: Deepika Padukone's masti in Happy New Year.
Katrina Kaif, who has worked with both Shah Rukh Khan in Jab Tak Hai Jaan and Farah Khan in Tees Maar Khan, was originally approached to play the bar dancer, Mohini, in Happy New Year. But she turned down the offer because she had already committed the needed dates to Bang Bang and Dhoom 3.
Her loss turned out to be Deepika Padukone's gain as the lissome lass reunited with the team responsible for her big Bollywood break, Om Shanti Om.
5. Beefing up for Farah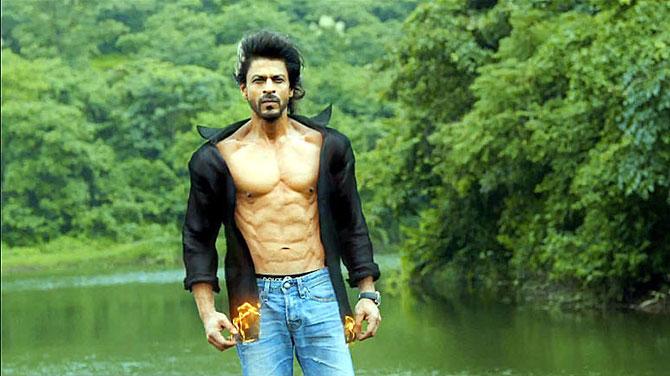 Image: Shah Rukh Khan showcases his abs in Happy New Year.
SRK famously bared his six-pack for the Dard-E-Disco item number in OSO, joking how he'd promised his director Farah Khan that if he ever goes topless it would be for her movie.
The gimmick worked!
In HNY, he takes the idea further, building eight-pack abs to flaunt during the entertainer's fight and song sequences.
Yes, the gimmick worked. Again!
6. Choreographer-turned-director-turned lyricist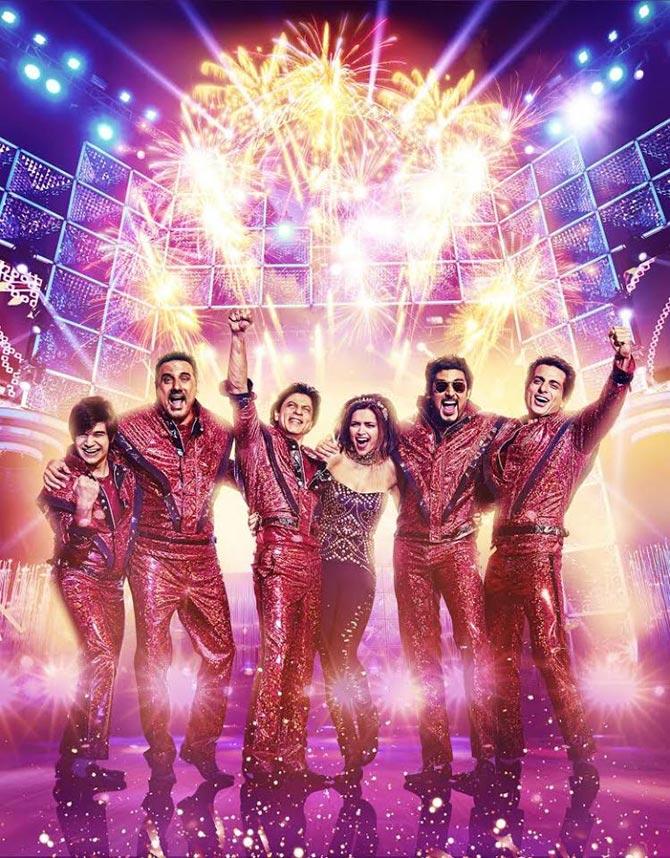 Image: Vivaan Shah, Boman Irani, Shah Rukh Khan, Deepika Padukone, Abhishek Bachchan and Sonu Sood get glitzy in Happy New Year.

Farah Khan's witty mind came in handy while scribbling Nonsense Ki Night, a song that celebrates all things silly in her signature tone.
Here's a sampler: Ho Dance not coming, courtyard crooked
Eating cake by being stupid
Buffalo going in the water.
7. Calling One, Two, Three Charlie!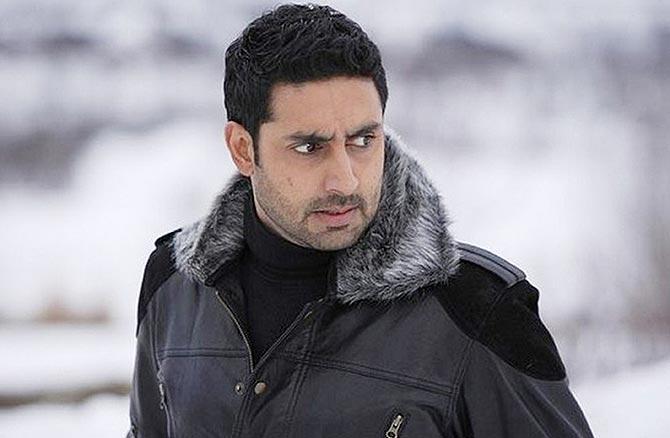 Image: Abhishek Bachchan gets intense in Players
Interestingly, SRK goes by the name Charlie in the heist flick. His co-star, Abhishek Bachchan, had the same name in another heist flick, Players.
8. Lucky Number Three!



Image: Farah Khan's Main Hoon Na, Om Shanti Om, Tees Maar Khan and Happy New Year.
Farah Khan has directed four films so far. Besides a loony sensibility, all four have one more thing in common -- each of the titles has three words. There's Main Hoon Naa, Om Shanti Om, Tees Maar Khan and, now, Happy New Year.
9. The end credits tradition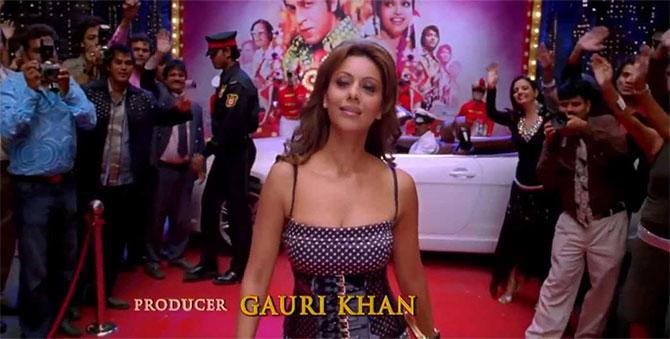 Image: Gauri Khan walks the red carpet during the end credits for Om Shanti Om.
Farah Khan was hit by a brainwave to picturise a closing credits song featuring the entire cast and crew when she choreographed the Bollywood-themed Broadway musical, Bombay Dreams.
She used that idea in Main Hoon Naa with great success. Then, Om Shanti Om's starry line-up gave the audiences a silver screen glimpse of SRK's better half, producer Gauri Khan. The stars of Tees Maar Khan's end credits were Farah's cute triplets Anya, Czar and Diva. Happy New Year marks AbRam's much talked-about debut.
10. Happy 15 for Vishal-Shekhar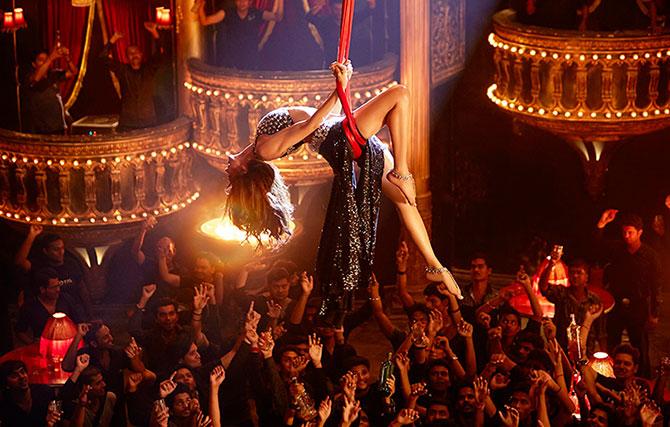 Image: Deepika Padukone in the song Lovely from Happy New Year
Composer duo Vishal-Shekhar, who began their journey as music directors in Bollywood with 1999's Pyaar Mein Kabhi Kabhi, complete 15 years with the soundtrack of Happy New Year.
Vishal Dadlani also makes a special appearance as Anurag Kashyap's lover in the movie.
11. Starring Daisy Irani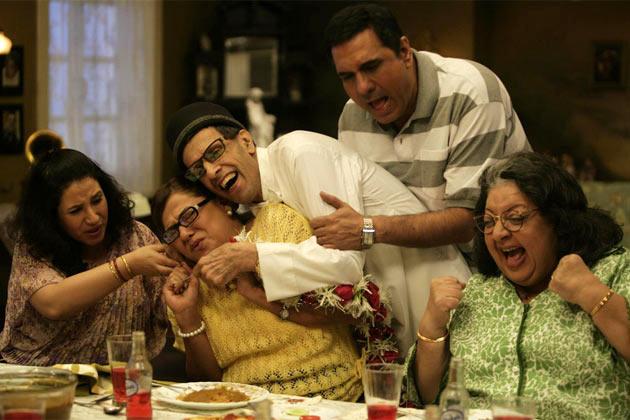 Image: A scene from Shirin Farhad Ki Nikal Padi, featuring Boman Irani and Daisy Irani (extreme right)
Yesteryear child star Daisy Irani is her usual gutsy self as Boman Irani's badgering mom in Happy New Year, a role she also essayed in Bela Bhansali Sehgal's Shirin Farhad Ki Toh Nikal Padi as well, which is Farah Khan's debut as leading lady.
Daisy, incidentally, is Farah's maternal aunt. Farah's mother Menaka, Daisy and Honey (Farhan and Zoya Akhtar's mother) are sisters.